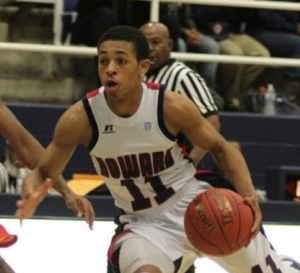 A revamped men's basketball team is off to a 2-1 start after starting the season last weekend in Burr Gymnasium. The Bison defeated Washington College 69-52 last Friday and routed Gwynedd Mercy University 83-66 on the following Sunday afternoon.
Howard has not won the first two games of the season in over a decade, and with 10 new precocious freshman, more wins hope to follow over the next four years.
Freshman James Daniel scored a game-high 28 points in his collegiate debut against Washington College, shooting 6-10 from beyond the arc while adding seven rebounds and three steals. After a 16-point performance against Gwynedd Mercy, Daniel's first two games as a Howard Bison led him to receiving MEAC Rookie of the Week honors. Daniel, who's a Hampton, Va. native, ended his weekend debut with an average of 22.0 points on 9-of-17 shooting from 3-point range (.529), along with 4.0 boards and 1.5 steals.
"My teammates found me. We had a great team defensive effort and just played hard," said Daniel.
Also located in the young backcourt of freshmen is Largo, Md. native Keon Hill. The 5-foot-9, 170-pound guard played two minutes in the game against Washington College, but became a key factor to the Bison offense against Gwynedd Mercy, scoring 22 points on 7-10 shooting from outside.
"Friday, I did not play as much so I talked to the coaches and they said just be ready," said Hill. "I had to make the best of the opportunity. When I came in, I just had to make shots."
The youth in the frontcourt was also relaint for the Bison as freshman Marcel Boyd ended the weekend with 17 points and 16 rebounds while redshirt sophomore Oliver Ellison contributed heavily on the defensive end, recording a total of six blocks.
The two-game weekend also showed promise for the only returning starter on the team, Prince Okoroh. The junior forward, who's considered a leader for the Bison, averaged 13.5 points, 4.5 rebounds, 2.5 blocks, 4.0 steals and 2.0 assists.
"[Okoroh] plays with such passion. He pushes these guys to be great in everything they do as far as effort and energy," said fourth-year head coach Kevin Nickelberry. "These guys have been doing a great job of following him."
Okoroh and the copious amount of new faces in the program are contributing to a drastic change in the future of men's basketball for Howard. The atmosphere is replete with energy and a positive stance as the culture is currently in the process of changing.
"This is the year we had been waiting for. We knew this year we would be able to change the culture of the program," said Nickelberry. "I'm excited about the 10 new players we have and the players that are showing interest in the program right now because of our style of play."