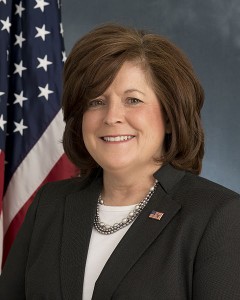 Official photograph of the former United States Secret Service Director, Julia Pierson
Photo by The United States Secret Service
After several security breaches involving the Secret Service, Julia Pierson, the first female director of the U.S. Secret Service, resigned.
In a statement, Homeland Security Director Jeh Johnson announced Pierson's resignation and temporary replacement. According to Johnson, Joseph Clancy, the former agent in charge of the Presidential Protective Division of the Secret Service, will be the Interim Director.
Last week, a Secret Service agent apprehended Omar Jose Gonzalez, a decorated Iraq war veteran, after he scaled the White House fence and sprinted through the front door. Initial reports by Brian Leary, a Secret Service spokesman, said Gonzalez was detained near the front door. However, on Tuesday, during a House Oversight and Government Reform Committee hearing, lawmakers discovered that Gonzalez was detained in the East Room of the White House.
Additionally, during the hearing, lawmakers grilled Pierson on the numerous security lapses that have occurred since 2011. According to congressional briefings, in November 2011, a man fired a semiautomatic rifle into the White House while Sasha Obama was in the residence. Believing the gunshots originated from a shoot-out between rival gang members, the Secret Service dismissed the gunshots.
Further congressional inquiry during the hearing uncovered that an armed private security contractor shared an elevator with President Obama during his trip to the Centers for Disease Control and Prevention two weeks ago.
After her troubling testimony during the hearing both high ranking Democrats and Republicans called for Pierson's resignation. Once her resignation was announced, many lawmakers made statements supporting her decision.

"I will work with my colleagues and the Administration towards returning the agency back to the standards the President deserves," Rep. Jason Chaffetz, R-Utah, a member of the Oversight Committee, said in a statement Wednesday.