The children's eyes grew bigger and bigger as he walked closer and closer to their table. Pretending not to notice their stares, he sat between them as they slowly managed to squeeze closer to him and gazed in awe. "He's a pretty big guy," whispered one of the students while another nodded. "He looks important," a third added. "Maybe he's famous!"
Jonah, one of the most talkative of the group, finally stood up on behalf of his classmates and blurted, "Who are you?" with a confused look that turned into a grin.
Smirking, the guest panned the room to see all the anxious kindergarteners waiting for his answer. Dramatically, he responded "Well, who are you?" in a high-pitched tone, matching the voices of the children with a smile so contagious that they began laughing hysterically. Then the children went around the room introducing themselves to the 6-foot stranger who sat among them.
Following a few more giggles and jokes, he finally answered, "My name is Caylin!"
"And you play football!" Jonah added. The other children whispered, shaking their heads in agreement as they noticed both the football in his hand and the wording on his hoodie. "HOW-ARD Foot-ball," read one girl. With a confused expression, Caylin pretended not to understand Jonah's statement or hear the group of students reading his hoodie. His fake confusion puzzled the students as he covered up the lettering on his clothing.
This provoked them to come up to his chair and point to the word "football" on his hoodie while half of the class scurried to the place in the classroom where he had attempted to hide the football when walking in. Amazed by their vigilance and humor, he laughed with them, exchanged jokes and answered all of their extraneous questions about football and his identity.
Later taking the class out to the playground, Caylin began to play catch with the students, go over mock plays with them and even pretend to run a ball through the defense the students created. They were overwhelmed with giggles and excitement. He taught them key pointers on how to catch and throw a football.
Only 5 and 6 years old, the students clung onto Caylin's words and seemed to thrive from his patience and humility. As pupils in a public school with limited recreational funds, his presence meant the world to them, but it also meant everything to Caylin Newton.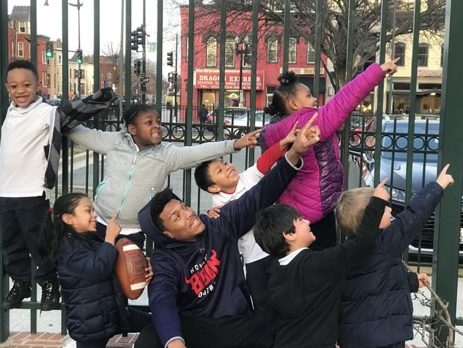 "My Own Man; My Own Person"
Caylin is often portrayed only as the quarterback at Howard University or the younger brother of Charlotte Panthers quarterback Cam Newton. However, he transcends his athleticism and his last name. His accolades didn't make the cut when introducing himself to the children at Cleveland Elementary School. Instead, he spoke humbly as a human being, one with flaws and talents, likes and dislikes. He encouraged the children to see themselves in the same way.
"I'm my own man, my own person, and I'm building my own legacy," Caylin typically responds when bombarded with questions solely connecting him to his brother's accomplishments.
By not succumbing to the expectations of others, Caylin has created a path for himself rooted in faith, family and community and he intends to continue to live by these principles.
"A lot of people may think he's stuck up or arrogant because of who his brother is, but he works hard like everybody else," says teammate Kyle Anthony. "He gives whatever he has left."
This is true in many aspects of Caylin's life. Not only does he give whatever he has to his team, but he also gives all he has emotionally and spiritually to his family and faith while sowing seeds into his community, such as visiting schools to spend time with younger students.
"He's genuine, trustworthy, hardworking, dependable and funny," notes Caylin's childhood friend, Isiah Washington.
By being family-oriented, faith-driven and community-minded, Caylin keeps himself grounded in the important things such as striving to make an impact on others. One way he remains level-headed, he says, is by surrounding himself with the love of his family and close friends.
'One Big Happy Family'
As the youngest of three children, Caylin grew up loving football. From watching his brothers, Cecil Newton Jr. and Cam Newton, play collegiate and eventually go on to play professional football, Caylin was inspired. Their dedication to bettering themselves served as a daily reminder to work hard and embrace growth in whatever form it comes.
At an early age, Caylin learned the importance of family. It was made clear that love and unity would be the foundation of his home life — whether it was living room conversations, phone calls, going to church, family gatherings or sporting events.
"We're just all so close — my brothers, my mom's side of the family and my dad's side of the family," Caylin says. "We're really just one big happy family."
His brother Cecil believes that Caylin's mental age surpasses his chronological age. He has even taken to Instagram to say, "I'm blessed with two brothers, but the youngest is actually the oldest."
Aside from having a family so tightly knit, faith has always been at the center of everything for Caylin. This is especially true since his father, Cecil Newton Sr., also a former NFL athlete, serves as pastor of Holy Zion Ministries in Nunan, Georgia.
"As a pastor's son, I grew up in an old school church," he says. "We went to church a lot — Bible study, revivals, you name it. "
Early on, his grandmother emphasized the power of prayer and ensured that everyone in the house prayed. His family reinforced a spiritual connection with God in almost every aspect of his life.
"Faith and church was always there. I can't even remember when I learned about God or how to pray," Caylin recalls. "That's how invested our family was in faith."
The combination of faith and family meant that Caylin always had an outlet. And it instilled the importance of love, compassion, empathy and generosity — traits Caylin highly values.
"He's a leader, someone who trusts and believes in God wholeheartedly, and he's someone teammates look up to," Anthony says.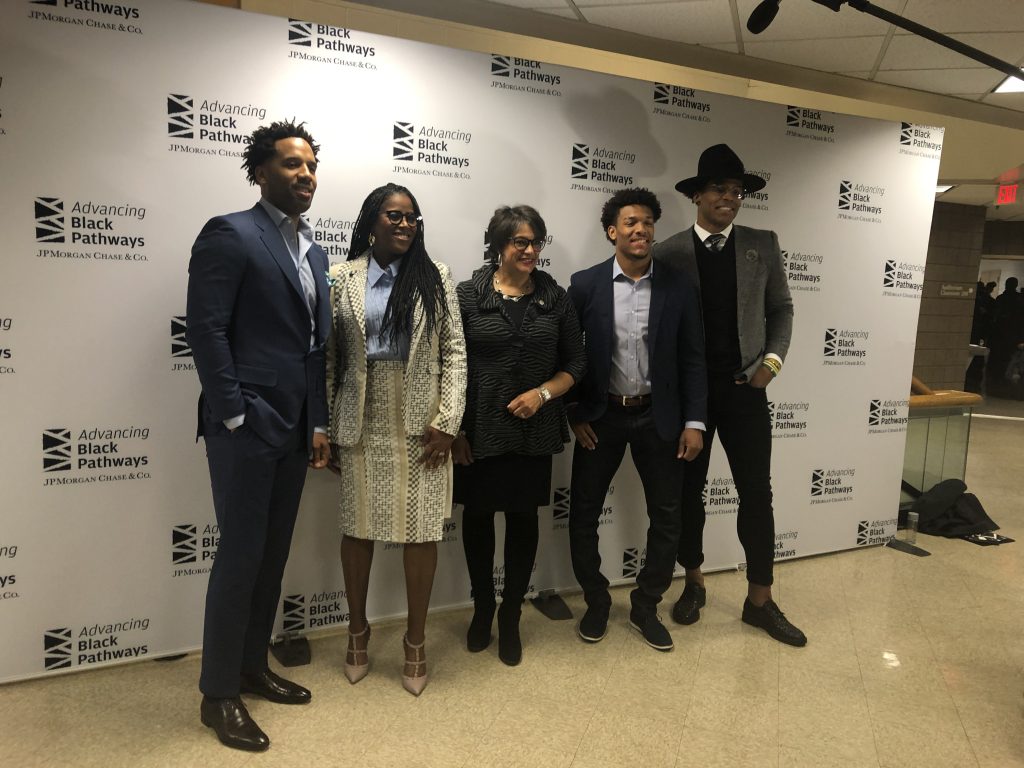 Bridging Community
As a teenager, Caylin learned how important it was to be the voice of reason and love. He became active in building community through sports and faith as the student spiritual leader of his high school's chapter of the Fellowship of Christian Athletes. He was also motivated to make sure that the chapter was not dormant.
He worked alongside his brothers in church outreach missions throughout Georgia and with Cam's foundation in Atlanta. The Cam Newton Foundation sponsors several holiday events in which Caylin has taken a leadership role. This includes Cam's Thankgiving Jam, a program providing meals to more than 1,000 children; Kicking It With Cam, a celebrity kickball tournament created to raise money for the foundation's initiatives; and Cam's 7×7 tournaments.
By participating in these initiatives, Caylin was able to see the role he could play in changing the world and using his life to exude wisdom and encouragement to those in most need.
As a college student in Washington, he has volunteered at the Special Olympics, schools and recreational centers. He has also been a keynote speaker at several events across the District of Columbia and at Howard University.
Caylin has also tried to build meaningful relationships on and off the field with his teammates. After the loss of head coach Mike London and offensive coordinator Brennan Marion in 2018 to the College of William and Mary, Caylin worked even harder to ensure that Howard's football players remained closer than ever. This was crucial for many athletes as the uncertainty of their future at Howard grew.
The quarterback has been instrumental in creating both a safe space for the Howard Bison football team and a family environment so that all the players truly understand and support one another.
"Caylin has made the team more a family by planning team bonding sessions whether it be riding bikes downtown, watching a movie or playing cards," says teammate Demontre Buckson. "He's a leader."
He takes the initiative to connect with every teammate individually and authentically. "We bonded over the first three seasons of 'Game of Thrones,'" Buckson added.
Anthony feels Caylin respects his opinions and says their bond is based on "honesty."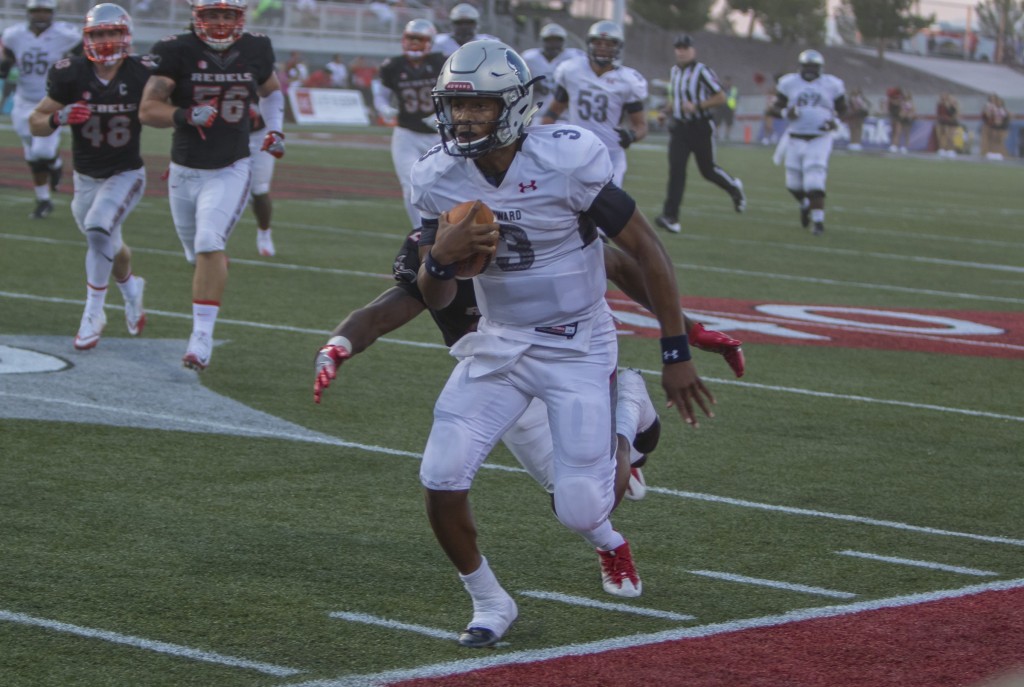 Goals On and Off the Field
As he enters his senior year at Howard University, Caylin is focused on working out, eating right and doing all he can to be the best for the 2019-20 football season.
Howard is not known as a pipeline football team, although it has had three recent alumni in the NFL: Antoine Bethea (2006), Ron Bartell (2005) and Tracy White (2003). It is not typically a prospective option for high school and collegiate athletes interested in reaching the dreams Caylin shares — going pro.
"It was my dad's decision to settle on Howard," Caylin says. "So that's what we did and don't regret any of it."
He shares how pivotal faith has been throughout his entire football career. "I was never the biggest or the fastest," Caylin says. "Faith and hard work got me to where I am, and I'm going to keep going."
With his optimism, faith and work ethic, the odds began to seem less insurmountable.
The football program at Howard is important to Caylin, but it is just as important to be in a place where he is expected to achieve great things and encouraged to follow through with impact.
If Caylin is unable to achieve his impact through a football career, he expressed his readiness to enter the field of sports marketing. He is a a sports management major who has experience in marketing for Under Armour and D.C. United, Washington's professional soccer team.
With Under Armour, Caylin helped marketing teams understand the value and history of HBCUs. He also focused on assisting the sports apparel firm in attracting a more diverse consumer base. At D.C. United, he has been shadowing marketing managers and learning about the team's appeal to its fan base.
Caylin also has a strong interest in philanthropy. "My goal is to be able to give back and help people."
Instead of playing into the narrative expected of him, he continues to walk in his own light. He describes himself as just a man trying to work with the talents given to him, but making sure he is fulfilling his purpose before his position.
He is reminded of this in a letter from Jonah, the kindergarten leader at Cleveland Elementary School, thanking Caylin for coming to play football with him and his friends. And Jonah remembered Caylin initially not by his title, but by his character.
"Caylin was nice, and he was funny," Jonah recalled. "Oh, and he played football, too!"
Brianna Nargiso is a junior majoring in journalism at Howard University.