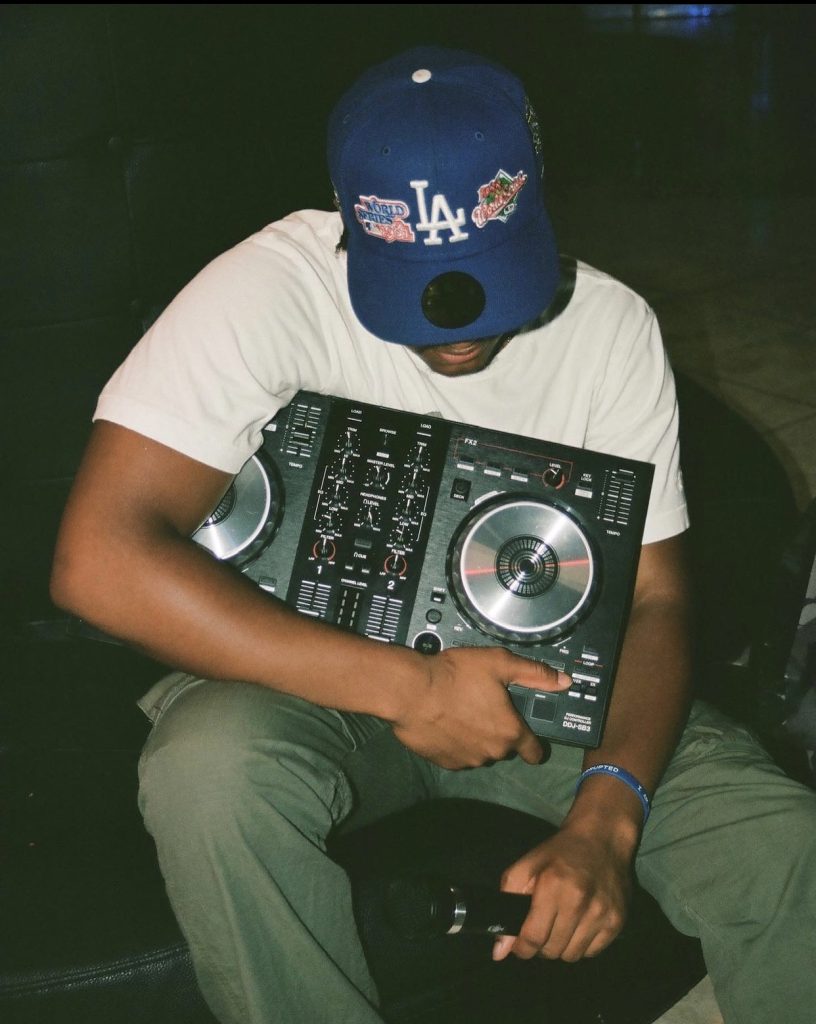 As the beginning of a new semester at Howard begins, hundreds of students are looking forward to unwinding on the weekend with friends listening to their favorite music. The Howard party scene is as strong as ever, with several student DJ's controlling the vibe of parties and campus events.
Ajani Collymore, better known as DJ ASC or AJ, is a senior biology major and chemistry minor from Prince George's County, MD by way of Saint Lucia. He began his DJ career while in quarantine during the peak of the pandemic in 2020.
"I primarily was self taught. I would sit in the guest room of my house and mix for hours and hours until I was able to mix for one hour with no errors. Then one turned into two, and so on and so forth."
Even though he self-taught, AJ seeked advice from other Howard DJ's as he honed in on the craft.
"I would send these mixes to my brother DJ. KDIMES and he would give me pointers on ways to improve the quality of my mixes which meant the world to me at the time because he had already been an established DJ on campus," AJ shared.
Kay-Dee Dimes or KDIMES, a senior transfer student and DJ at Howard shared, "I simply tell him: If this is something he really wants then he has to work. May miss a few things but if it's something he wants then sacrifice will be necessary."
A part of Howard culture is being a 'hustler', meaning that you're never just a student. Everyone always has a business to promote or crafts to share. AJ picked up on this and would soon find his niche for music.
"I found my passion for DJing in a very organic way. When I had arrived at Howard, I noticed all my peers having these hustles to make money and contribute to the village that is Howard University. And fast forward to the spring semester of 2019 where I attended my first ever darty [day party], I saw how music impacted all these beautiful people from all walks of life and I thought to myself, 'I could definitely do this' and fill this void I had of not making an impact on campus as well as finding my Howard Hustle."
An aspect of this 'Howard Hustle' everyone is chasing is the determination and passion one has for their work. After many lessons and failed attempts, that moment of gratitude makes all the hard work that much more rewarding.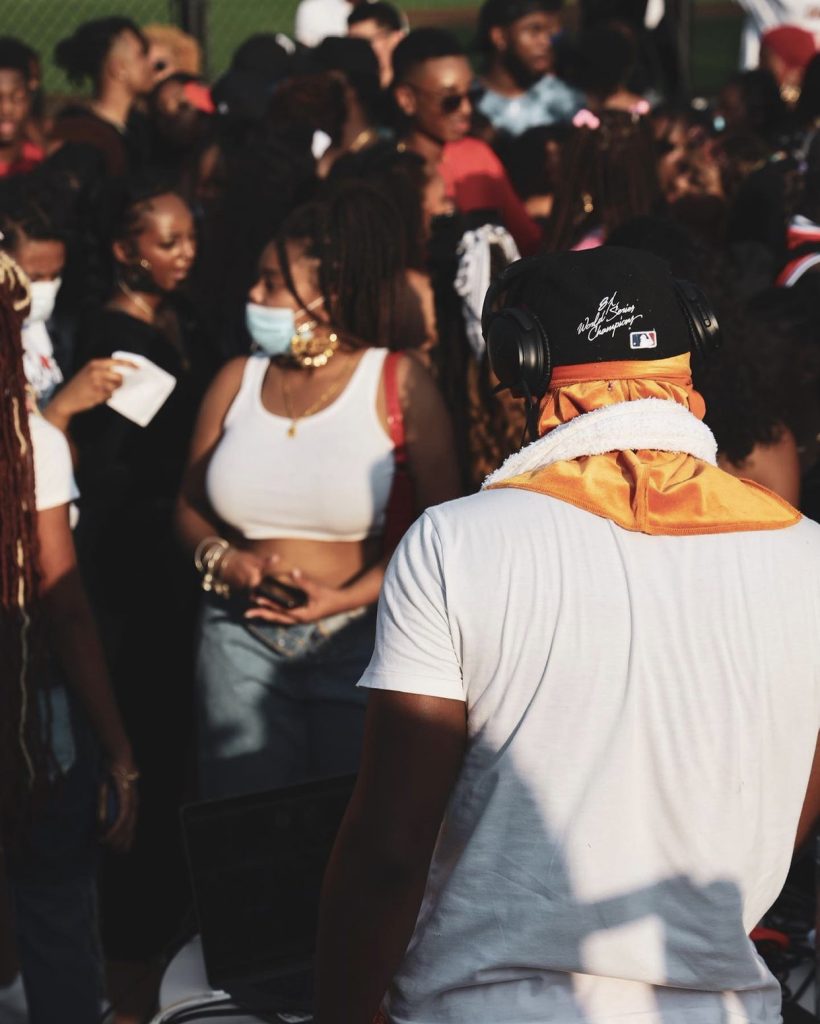 "My biggest moment was doing the 106&Darty in 2021. It was a huge moment for me being able to prove myself as a DJ campus mixing my two favorite genres of early 2000s rap and R&B with the hits of the current times. Being able to express my fashion take on the early 2000s, while having who I consider to be my mentor (KDIMES) MCing the event and going viral on TikTok…definitely a surreal moment that brought me to tears because I remember all the nights of mixing in that guest room for hours and hours. And to see it all pay off was a blessing."
Colonel-Joshua Higgins, a senior honors marketing major at Howard believes the DJ's have an important role determining what songs will entertain the crowd.
"I think my expectations for music at Howard parties and events is to be something that is keen to a large audience as much as possible, being that Howard is so multifaceted and has people from literally everywhere in the world… so it has to be a large palette. I think that the DJ's definitely have a tough task of tending to everybody."
With the level of difficulty however, Higgins shared, "I think that…they do a good job at talking to as many people as possible and leaving everybody something to be happy with when the event is over."
AJ has been booked for countless Howard related events over the last four years and one memorable one was at Bliss Nightclub in D.C.
"My favorite Howard Event to do was definitely this party I did for the Alpha Chapter of Omega Psi Phi Incorporated. It was at Bliss Nightclub around homecoming season and I remember having the crowd turnt and it got to the point where I played this one song for the ques and everyone's flashlight went up and I felt like I was headlining a Rolling Loud show lol. Definitely a party I'll never forget."
While discussing DJ ASC's music taste Higgins said, "I think he's somebody who has a younger ear. It's really attuned to him. It's unique. He's gonna play what he likes forsure and he might even put you onto something…I was literally his neighbor in Drew [Hall] and it'd be music blasting and he would lowkey put the whole hall on something new just from playing music in his dorm room. I think it's always been in his blood to play what he really enjoys and end up putting you onto something that you didn't even know was hard and now you definitely need it in your repertoire."
Higgins has seen AJ's skill set and music catalog grow over the last four years at Howard, going from hall mates to sharing the stage during Welcome Week events for incoming freshmen.
"I was hosting with him actually at the block party," Higgins shared. "He had a great balance of moving from set to set. We had the Jersey [club] stuff going on…then the back to back bangers every Howard student enjoys…then he hit the R&B section when we were ending it off. I feel like he did a great job."
In between doing events over the years, AJ has also created mixes available anytime on his SoundCloud. He mentioned, "I haven't made a new mix in a while, be on the lookout for the return of the mixes soon."
Being a part of the moments new students dream about is a major milestone for Howard creatives. Howard is where AJ has accomplished great success in a short amount of time.
"DJing completely changed my Howard Experience. I'll tell it here first. I contemplated transferring before DJing. As solely a student, I didn't feel like I had any real purpose at Howard. But DJing truly elevated my Howard experience to heights I didn't think were attainable. I've been able to meet celebrities, athletes, get behind the scenes at some of the most exclusive things at the Mecca and I'm thankful to God and everyone who's taken the time to give me advice, come to my parties, or even just say they were rocking with my DJ set."
If you're interested in seeing DJ ASC spin, check his Instagram page and story for updates.