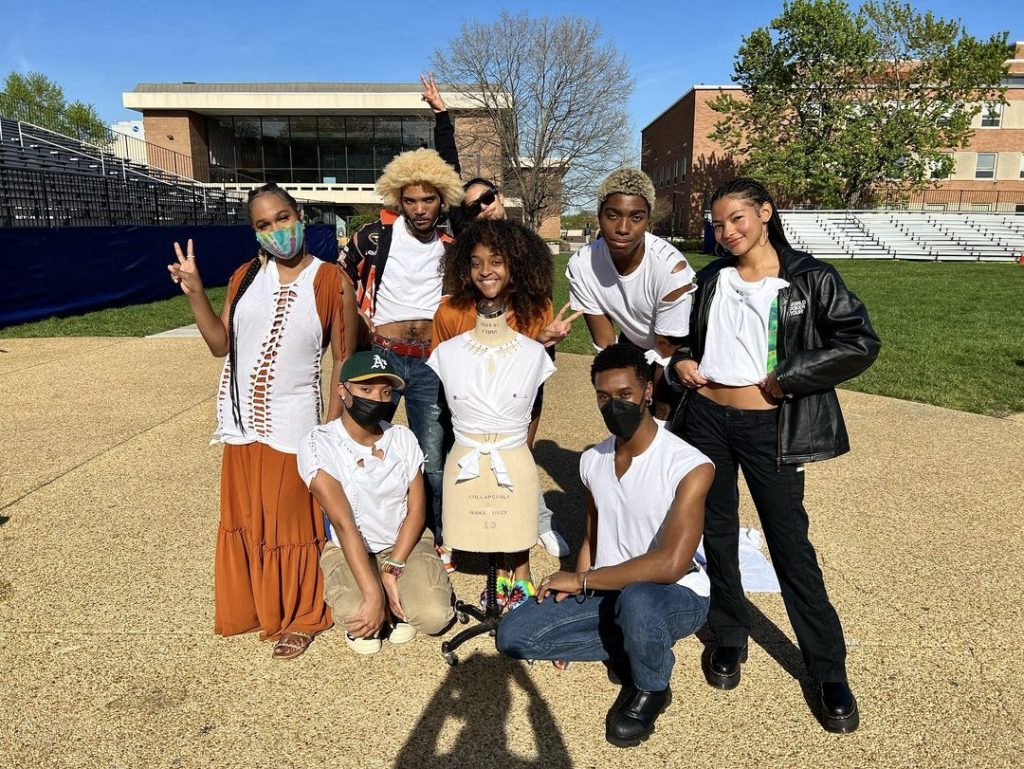 The Howard University community has witnessed many restorations since the campus has been re-opened to students. One such revival is that of the University Fashion Council: an all-things-fashion focused organization operating within the Department of Art.
For a university that's known for setting its students on a successful path to business, law, and other conventional career paths, there's also a large population of students who flourish in the arts, regardless of what their major is. However, in spite of this being the case for so many Bison, there's a surprising lack of opportunity for non-Fine Arts majors to explore their crafts on campus.
This lack of opportunity has created an artistic void that the University Fashion Council has strived to fill, in spite of its past hiatuses. But one shouldn't attribute its most recent inactivity to the COVID-19 pandemic. It's been on an unofficial hiatus since the last time a fashion design major took on the task of resurrecting it in 2016. But it's understandable why the creatives of our community refuse to let it cease to exist altogether.
Jared Bedfield, president of the University Fashion Council, decided to take up the torch. A senior fashion design major, Bedfield has many hopes and expectations for what his organization can accomplish this semester.
"By bringing back the University Fashion Council, I know I want to accomplish bringing more fashion shows to campus, more fashion-related events, and also bring back a larger culture of people getting dressed to go to class every single day," he said. "That kind of died off during the pandemic but the pandemic's really not to blame for that, the world's just rapidly evolving. So just bringing people some inspiration to have a reason, or the motivation, to really wear one of their best outfits to class."
Regarding the pattern of this organization falling into inactivity and re-emerging several years later, Bedfield believes that things will be different this time around.
"What'll be different is the inclusion of all fashion majors because we really want to make a space for us as fashion students to be able to network with each other, but then also collaborate with each other and inspire each other to really put our best foot forward," he expressed.
He explained during the interest meeting that while the organization is open to all Howard students, regardless of major, the E-board positions are reserved for fashion design majors only. "So this way, we can keep it close-knit, and we can also make sure that the future fashion majors are interested in having a space where they can pretty much have a platform to put their work out there," Bedfield explained.
The organization also plans to host a plethora of events with the goal of engaging Howard's fashion-minded students.
"The Bison Ball -we want to make that a little bit more fashion-centered, just to give another dimension to it," he said. But they hope their events will appeal to a wide demographic and bring together the campus as a collective.
"Another event I could talk about is the Howard Fashion Week,"Bedfield added. "There was one last year but not many people really know about it. And if we spread the word a lot earlier, and have a little bit more interesting dates, and get a lot of larger organizations involved with it, it can become a more unified campus thing where people have more school spirit."
In true HU fashion, they also want to create opportunities for the more business-savvy Bison.
"Another event I could talk about is a pop-up shop," said Bedfield. "Pop-up shops have been around on campus before, but we definitely want to centralize Howard designers. And they don't even have to be fashion majors, but Howard designers period who make clothes or make anything artistic and put their work out there into the Howard community on Howard's campus. People can see firsthand what their classmates are really doing outside of just getting good grades or going to parties and stuff like that."
Follow the University Fashion Council's Instagram to stay up-to-date with their meetings and events.