Thanksgiving is known as one of the many holidays with a strong emphasis on family. The idea is that everyone comes together, contributes some type of food, and eats as a family. However, for college students, it can be difficult to live out the full Thanksgiving experience. With winter break right around the corner, and final exams in between, students who live far from their universities may not have the funds to go home and back twice. Many choose to stay at school for Thanksgiving, making for a different and unique experience.
Traditions are altered for those who cannot return home. Friendsgiving is becoming an increasingly popular celebration, where students gather to cook with their friends and replicate the holiday at school. This is a helpful new tradition, which allows students to still find comfort in coming together with loved ones to celebrate.
"Staying back this Thanksgiving was kind of a guaranteed for me, since I'm from Seattle and the flight would be really expensive for a short stay," Howard student, Kamaria Lyles, said, "At first I was sad about not going back, but then I realized I could celebrate differently as I've done before. My friends and I planned a Friendsgiving the weekend before so that we could all celebrate together."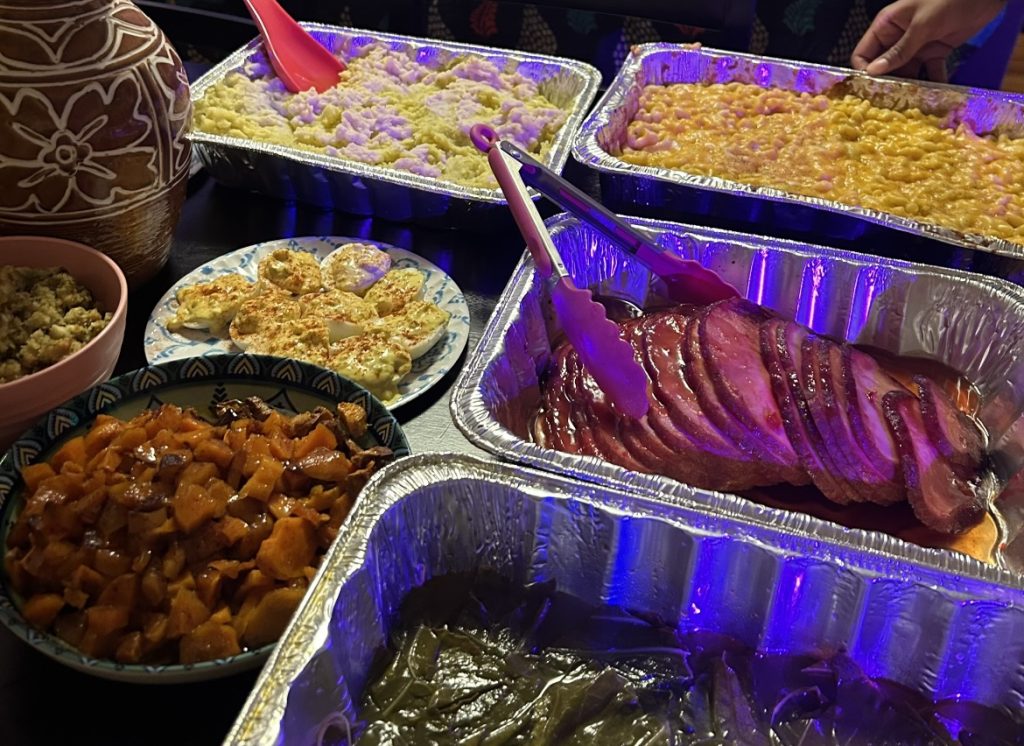 Some students staying home are faced with the challenge of replicating Thanksgiving in smaller portions. The New York Times Cooking section has a wide variety of "Thanksgiving-esque" recipes for smaller groups of people. Dishes such as "Pumpkin Sticky Toffee Puddings for Two" and "Turkey Cutlets Marsala" may seem more manageable for someone cooking in smaller portions.
Howard student, Nyente Takang, celebrated Friendsgiving with a smaller group of people this year, and said that in order to not waste food, they narrowed the menu down to three dishes. "We had turkey legs instead of a full turkey," Takang said, "I'm so glad we thought of that because it would've been way too much food. But it was actually perfect."
Cooking at college can require more than just achieving the right portions. Some students do not have access to cooking supplies, depending on their living situations and whether or not they are staying in a dorm. However, things such as turkey legs, as opposed to the whole turkey, can be made in an air fryer. My Forking Life, as well as other various cooking blogs, has a recipe explaining how to do this. This can be a super easy way for college students to have an easy, home-cooked meal for the holidays.
Teanna Barret is another Howard student who put her own spin on Thanksgiving in order to enjoy it at school. "For my Thanksgiving at Howard, I made my dinner. I had jackfruit enchiladas with black beans, brown rice, and salad. I also made Jamaican carrot juice for my drink. Overall, my experience was good. I got to do laundry, work on my graduate school applications, and catch up with family and friends," she said.
With any available resources and friends by your side, Thanksgiving can take on any form. "I'm actually really enjoying my solo Thanksgiving," Lyles said, "I've gone out to see a movie by myself, talked to my family and friends, and ordered in some Indian food and wine. I have no complaints."
Nowadays, the Internet is our oyster, and there are so many ways to put your own spin on Thanksgiving wherever you are, and whoever you're with.