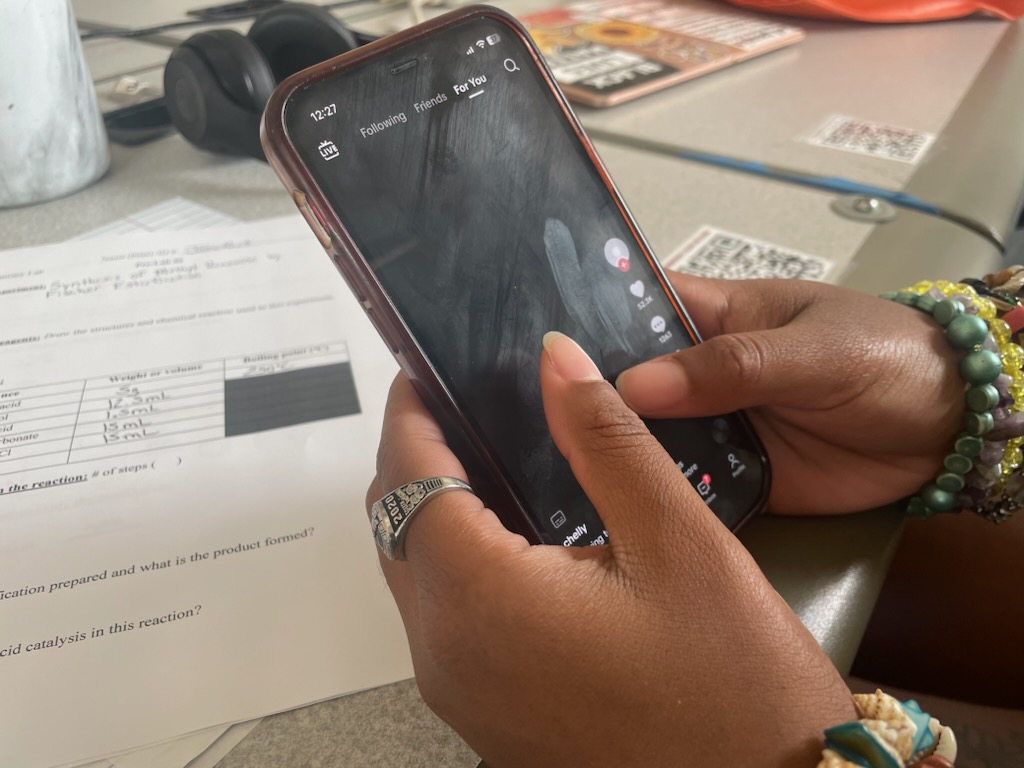 Last week Howard University students were able to scroll through TikTok on their devices from anywhere on campus. As they return from the holiday weekend, students may find themselves unable to access the app on campus.
On Wednesday, Aug. 30, the university issued an email notifying students of the official ban on the usage of TikTok while connected to the school's WiFi and all campus devices. The email – sent by Jarrett Carter Sr., the Director of Operations, Strategy & Communications – said the university is following suit from the U.S. Government's formal ban on the mobile app when being downloaded to federally owned devices. The government's prohibition originally claimed the app's owner, the China-based ByteDance, is sharing personal data with the Chinese government.
The ban, which went into effect on Friday, Sept. 1, left many students worried about how the ban would affect the Bison community.
"People who maybe don't use Tiktok as much don't understand how much of a tool it is," said Leah Dawson, a TV and Film graduate. "TikTok can now be put in the same category as YouTube or even Google to learn a lot of different things and just know what's going on around them."
Dawson is the creator of the popular TikTok account "fitcamHU." Her series "Telfar Tuesdays" went viral on several apps – especially TikTok – prompting other historically Black colleges and universities to post similar series showcasing their HBCU style. The original TikTok has over 400,000 likes and over 2,000 comments.
"This can be detrimental because for a lot of communications majors, it's important to understand technology is for communication–social media, especially," Dawson said. "We have classes in the communications buildings that focus on social media, activity, research, media and stuff."
Many Howard University clubs and organizations use TikTok for content creation and to spread awareness, creating a space for students to explore social platforms and content management. Chandler Pope, a junior TV and Film major, is among those students who serve as a social media chair for organizations here on campus.
"TikTok is really like a premium source of information for people [in] our age group, and especially at Howard, it is a bit concerning," she said.
Pope is involved on the social media team for "Her Campus Howard" – an online digital magazine – as well as the Coalition of Activist Students Celebrating the Acceptance of Diversity and Equality, or C.A.S.C.A.D.E, an organization dedicated to proving safe spaces for queer individuals.
In regards to Her Campus, she assists the team with posting tweets, Instagram graphics, and TikTok videos. The organization's TikTok, Pope said, has a lot of "cute, goofy content."
While C.A.S.C.A.D.E has not been active on TikTok, Pope recently suggested the organization use TikTok to educate younger audiences about the group and the queer scene at Howard.
"We want to reach the underclassmen who are just coming in and trying to find a safe space on campus like C.A.S.C.A.D.E," she explained. "I would be really worried that the ban of TikTok would make it harder to find us."
Pope's organization and its members are not the only ones using the app for educational purposes.
Many educators use trends on TikTok to engage students from all ages, as seen in this post that went viral by user "hey_ms.glass":
As a future educator, Joshua Hughes, a senior math major, secondary education minor from Queens, New York, plans to implement the creative side of TikTok and other social media platforms to enhance the learning experience for his students.
This summer he engaged with Washington's youth through multiple local projects, including working with the Howard Middle School design labs as a programming director, and joining a Washington STEAM (science, technology, engineering, arts and mathematics) camp sponsored by the US Department of Agriculture. While working with middle and high school students can be quite challenging, Hughes used a strategy he likes to call "meet you where they are," and then "pull them up."
"My approach as an educator is to try to pull from those little things because I'm still young as well," he said. "So trying to pull from the good things that they have access to or the things that may be a little funny." Through this method, he believes students will see him as not just a teacher, but somebody who they really can relate to. Hughes cautions primary schools and colleges from completely banning the app, but he does understand the various reasons behind it.
The trend started last year in Oklahoma when Gov. Kevin Stitt prohibited the app's usage on state owned devices and networks. Earlier this year Montana became the first state to officially ban TikTok, when Gov. Greg Gianforte signed Senate Bill 419, which will officially go into effect in 2024. Soon after, 30 states including Florida, Maryland, and Texas would follow suit by either completely banning the app or restricting the usage.
Howard joins several other campuses who have blocked TikTok, including Morgan State University and all public colleges and universities in Tennessee, Montana and Florida.
Carter and the Office of University Communications were unable to comment on the new TikTok ban.