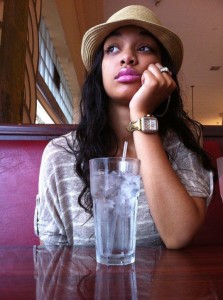 Courtney Evans takes a sip of her Passion Tea and places the cup back on the circular wooden table. Her tearful brown eyes search to fixate on anything as distraction from the topic at hand.
The smell of fresh coffee beans envelopes the Starbuck's adjacent to the Howard University Bookstore as customers stalk around the room, anxious to get their order and begin their morning. Sitting in a dim corner with chilling calm amid the madness are Courtney and her twin sister, Taylor, both juniors at Howard.
It has been a year since Alexis Simpson, their high school friend, was charged in the death of an 18-year-old student at Bowie State University. The twins and others close to Simpson are still trying to cope with the ordeal. What exactly happened that night? This was certainly not the Alexis they knew and loved.
Simpson was charged with first-degree murder after allegedly stabbing her roommate, Dominique Frazier, in her throat on Thursday, Sept. 15, 2011. Within hours of the fatal stabbing, social networks such as Twitter and Facebook were buzzing with news about the incident. It wasn't long before Howard students, too, knew what had happened at Bowie State in suburban Maryland.
"I heard about it on Twitter, and I was at work," said Courtney, who was shocked to hear the name of the suspect. "They were like, it was Alexis…."
Students in the Washington area have had mixed emotions. Some were mad, and others, simply confused. However, for Courtney and Taylor Evans, the situation hit close to home, and they have been in disbelief.
"When you know somebody that you went to high school with, and that's in your circle, you just can't believe it," Courtney explained. "She isn't that type of person."
"She was always so fun and free, like any of us — a normal girl," she said. "I can't imagine what happened to make her stray from that."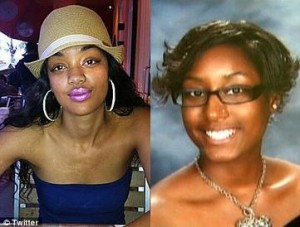 A year later, many are still baffled. What truly went on in that dorm room? Was it an act of self-defense or pure anger gone wrong? As those close to Simpson await her trial on Nov. 14, they try to make sense of it all.
"When you resort to violence," Courtney said, "there's no coming back from that. It's done."
Many of Simpson's supporters want people to remember that she is human and not see a murdering monster as she has been portrayed. They want everyone to know the Alexis Simpson they remember. Alexis the teenager. Alexis the student. Alexis the young woman who is not without faults, but whose life still shines brightly.
Supporters have set up a Facebook page titled "Praying for Alexis Simpson," which is scattered with small mementos and words of inspiration. "No matter what she did, everyone needs prayer," a user wrote on Jan. 3. Later, on April 19, a friend typed with excitement: "Alexis was released on $250,000 bond!!! this week."
Simpson's friends are relieved to know that for the time being she is in the comfort of her home in District Heights, Md., where she is reportedly confined without visitors as a condition of her release.
"I still feel uneasy about the whole situation, because the status of her case is still pending," Taylor said. Hearing that Simpson is optimistic and that she might avoid a life sentence if her legal team is successful with a self-defense strategy gives Taylor hope. "I do feel better about knowing that."
"From what I was told, she is trying to remain positive and keep her faith in God strong."