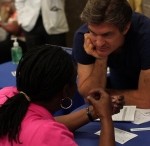 Long lines outside of an arena are typical, but a line coming out of a medical facility is uncommon. This is the type of crowd that TV personality, surgeon and author Dr. Mehmet Oz, also known as
Dr. Oz
, recently drew into the College of Medicine at Howard University.
Dr. Oz came to Washington to provide 15-minute physicals for local residents as well as Howard students, faculty and staff. With the assistance of Howard medical students, Dr. Oz gave free checkups and medical information to more than 800 participants — the largest turnout of his nationwide stops. Participants began lining up early in the morning learn more about diabetes, heart disease and other life-threatening chronic illnesses.
"I consider this a very inspiring event for the medical students and the participants," said Matthew Desir, who studies medicine at Howard. "It helps us medical students gain hands-on experience with field work and running tests, but it also allows us to work alongside Dr. Oz, who is truly amazing.
"I'm also glad that we were able to provide the community with free health screenings. We screened almost 1,000 people today, which is very impressive."
As cameras flashed and videos recorded, people continually mobbed around Dr. Oz to give him a simple hug. Dr. Oz engaged with his audience by informing them of health issues, answering questions one on one or as a group in the auditorium.
Participants responded positively to Dr. Oz and were grateful to have the opportunity to get information on personal health issues directly from him.
"I'm a huge fan of Dr. Oz and just couldn't believe he was going to be here in D.C.," said Allison Holland, who lives and works in Alexandria, Va. "I drove all the way from Virginia just to be at this event, and I am excited to finally meet him."
Dr. Oz opened the eyes of his audience members by comparing the overall test results in D.C to results from other areas, including Florida, Virginia and Georgia. D.C. has higher rates of diabetes, obesity and smoking among young people.
"We try to empower our patients and participants by providing them with information, guidance and support concerning their health issues," said Dr. Oz, who has also given 15-minute physicals at Temple University in Philadelphia and Oregon Health & Science University in Portland.
"I want you all to walk out of here knowledgeable and aware of your health condition," he told his Howard patients. "The more you know the better you can treat and take good care of yourself."