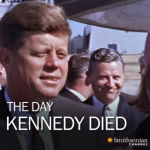 Charles Poe, a Baylor University alumnus, returned to campus recently to screen his documentary, "The Day Kennedy Died," in remembrance of the 50th anniversary of President Kennedy's death.
Poe is the executive producer of the documentary and vice president of production for the Smithsonian Channel. He said the goal of the Smithsonian Channel is to "increase and diffusion of knowledge."
The documentary took the audience from the beginning of John F. Kennedy's day on Nov. 22, 1963, to the chaos that ensued after his murder. The documentary captured the "moment where the world changed, the end of the age of innocence," said Clint Hill, Jackie Kennedy's personal secret service agent.
The movie featured many interviews, including Jeff Franzen, who was 6 years old at the time of Kennedy's assassination and stood no more that 15 feet from the convertible when the president was killed. He recalled seeing the shooting in graphic detail and described the brain matter that spewed from Kennedy's head as "confetti." The audience winced as he told his story.
Other interviews and interactive features are available on the Smithsonian's website. Also see "100 Bugles in JFK's Honor."