Saturday night in the Big Easy should be eventful to say the least. Some of the NBA's most talented young stars will invade our social media timelines, as they throw down slam dunks, shoot three pointers and race through obstacle courses.
The biggest story leading up to the weekend comes from last season's rookie of the year, Damian Lillard, who is competing in three events on Saturday night.  Lillard will be participating in the Skills Competition (which he won last year), the Three-Point Shootout and the fan-favorite Slam Dunk Contest. The Portland point-guard also made his first all-star team and will be participating in the Rising Stars game on Friday night.  Lillard will become the first player in NBA history to participate in five events during All-Star Weekend.  But one has to wonder, will Lillard be running on empty by Sunday's All-Star Game?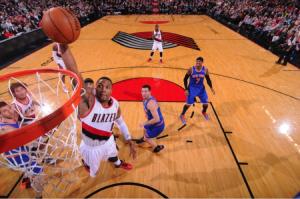 Below are lists of all the contestants for the respective events, and my prediction for each event.
Skills Challenge:
Michael Carter-Williams
Victor Oladipo
DeMar DeRozan
Giannis Antetokounmpo
Damian Lillard
Trey Burke
Reggie Jackson
Goran Dragic
Prediction: Last year, Damian Lillard won the competition, but I believe he has too much on his plate to fully compete to the highest level in any competition on Saturday.  This challenge features all young guards who seem to have bright futures, but I have to go with Victor Oladipo. In his time at Indiana University, Oladipo drew several comparisons to having similar athletic gifts as Michael Jordan. Oladipo should be able to weave his way through the obstacle course with great acceleration out of each turn, but he will need to be efficient with both the bounce and chest-pass stations to win the event.
Three-Point Shootout:
Kyrie Irving
Bradley Beal
Joe Johnson
Arron Afflalo
Stephen Curry
Marco Belinelli
Kevin Love
Damian Lillard
Prediction: I saw Bradley Beal play twice this season and watched him go a combined 6 of 10 from three-point range in those games against Miami and Sacramento. Therefore, I have to side with 20-year-old shooting guard for the Washington Wizards.  Every time the basketball leaves Beal's fingertips, the whole arena believes it is going in, and I think he will be able to outshine Stephen Curry and Kevin Love on Saturday night.
Slam Dunk Contest:
Paul George
John Wall
Damian Lillard
Terrence Ross
Harrison Barnes
Ben McLemore
Prediction: Paul George cemented himself as my pick to win the Slam Dunk Contest on Jan. 18, when he effortlessly threw down a ferocious 360-windmill dunk on a fast-break against the Los Angeles Clippers.  George completed a dunk that may have garnered all 10s from the judges in a dunk contest. George is the biggest star in the competition, and he needs to prove why superstars should compete in the contest, so hopefully he can convince LeBron to follow suit next year.  And in case you haven't seen, here are some of the incredible dunks LeBron casually does after practice. Why does King James continue to tease us?
Jourdan Henry covers sports for 101 Magazine and The Hilltop at Howard University. He also blogs at Peanuts 'n' Popcorn: Sports Posts to Snack On.