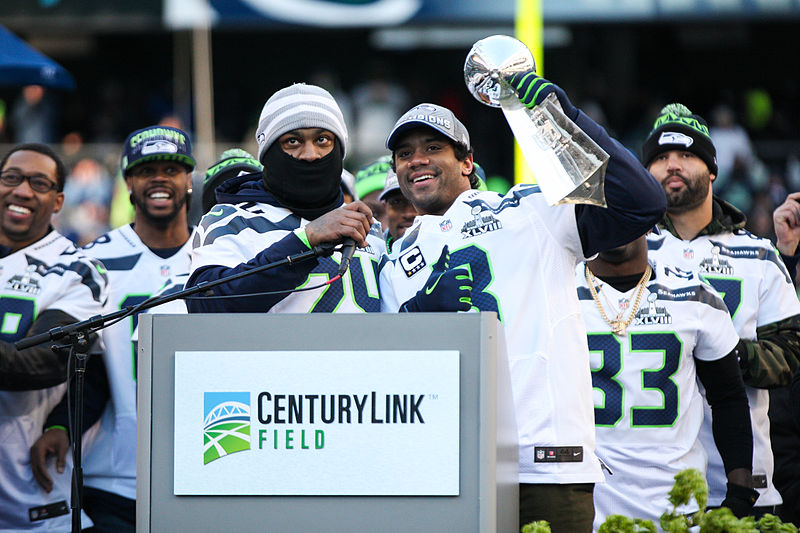 On the second day of Black History Month, Russell Wilson became the second black quarterback to win a Super Bowl title. However, many Americans overlooked this milestone.
On Sunday, Feb. 2, in East Rutherford, N.J., the Seattle Seahawks won their franchise's first Super Bowl, upsetting the Denver Broncos 43-8. With the Seahawls' dominant performance, the media barely acknowledged Wilson's history-making achievement.
Doug Williams became the first black quarterback to win a Super Bowl when he led the Washington Redskins to a lopsided 42-10 victory over the Broncos in Super Bowl XXII.  In that matchup, Williams outplayed John Elway, who is now the Broncos' vice president of football operations.  Williams earned the Most Valuable Player (MVP) award after throwing for 340 yards and four touchdowns.
In a Feb. 1, 1988 article in the Washington Post, former owner Jack Kent Cooke praised Williams after the game saying, "not just to a black quarterback, but to a great quarterback."
On Monday, Williams spoke with Roland Martin on "NewsOne Now" regarding Wilson's performance. "It's truly amazing for a young guy like that to come in and lead his team to a victory," Williams said. "This kid played with so much poise and confidence; it's unbelievable."
Analysts usually describe black quarterbacks as being successful merely because of their athletic prowess rather than mastering the conceptual part of the game. Wilson defies all the negative stereotypes of black quarterbacks, such as having poor leadership qualities and lacking the ability to read defenses.
Wilson not only showed exemplary leadership in guiding his team to a Super Bowl victory, but he also outplayed Peyton Manning, who is arguably the most cerebral quarterback to ever play.
Wilson, a second-year player out of the University of Wisconsin, operated like a veteran during the Super Bowl as he completed 72 percent of his passes and threw for two touchdowns.  However, Manning appeared to be the novice, as he seemed unsettled throughout the game and finished with one touchdown and two interceptions.
"It's something I think about, to be the second African-American to win the Super Bowl," Wilson said the New York Daily News after Super Bowl XLVIII. "That's history right there, man. It's something special, and it's real. There are so many guys before (me) who have tried to change the game and have done a great job of it."
With Wilson's win, he capped off a season that set a record for the most black quarterbacks starting in Week 1 of the NFL season.  The season opened with nine black quarterbacks, including the likes of Robert Griffin III, Colin Kaepernick, Cam Newton, E.J. Manuel and Michael Vick. Still, only 28 percent of the starting quarterbacks wereAfrican-American, a somewhat surprising statistic considering African Americans make up the vast majority of players in the National Football League.
With more impressive young black quarterbacks entering the NFL soon, such as college stars Teddy Bridgewater and Jameis Winston, it appears that we may be entering the golden age of black quarterbacks. One day, African Americans may dominate the quarterback position, much like they dominate nearly every other position on an NFL depth chart.
Jourdan Henry covers sports for 101 Magazine and The Hilltop at Howard University. He also blogs at Peanuts 'n' Popcorn: Sports Posts to Snack On.