In the sixth grade, Allyson Carpenter, then 10 and the youngest student in her middle school, rallied her classmates to sign a petition to get their teacher fired for what Carpenter deemed mistreatment of students.
By the time the principal called Carpenter's mother in to discuss her daughter's activity, young Allyson had collected 800 signatures from the entire middle school's student body, not just the 300 sixth graders in her class.
"I've always assumed the role of advocate," recalled Carpenter, now a second-year student at Howard University.  "When I realized that my classmates were suffering at the hands of an incompetent teacher, I began circulating a petition calling for the teacher to be removed."
With that same fearlessness and passion, Carpenter this summer won election as the Advisory Neighborhood Commissioner for the community surrounding Howard University, and thus, at 18, became the youngest person ever to be elected to a position in the District of Columbia.
Carpenter's mother, Alaina Carpenter, said she is really not that surprised with her daughter's new position.
"She was always fighting for the cause when people couldn't stick up for themselves," her mother said.
Of Her Own Making
Carpenter, a Cleveland native, is many things — deputy chief of staff to Howard's student body president, former intern to Ohio Sen. Sherrod Brown in his Cleveland and Washington offices and currently an intern with Washington's Office of the City Administrator
Yet, none of these roles, Carpenter said, defines her. Carpenter said she is of her own making, constantly molding herself into different forms, all with a single core — she wants to help others.
Carpenter represents Ward 1B10 in Northwest Washington, which stretches from Hobart Place to Bryant Street on the north and south and from Sixth Street to First Street on the east and west. It includes most of Howard University's s main campus.
Advisory Neighborhood Commissions (ANC) are elected positions created in 1974 to represent residents' concerns and wishes on a more local level.  ANCs consider a wide range of policies and programs affecting their neighborhoods, including traffic, parking, recreation, street improvements, liquor licenses, zoning, economic development, police protection, sanitation and trash collection.  They communicate those concerns to City Council members and other city officials.
Commissioners like Carpenter serve two-year terms and receive no salary, but do receive grant money for the general purpose of improving their area and hiring staff.
"If you think about the ANC, it's different from any other elected office in the District, because it really is completely a service position," said Carpenter, who is one of more than 200 ANC commissioners.
"We don't get paid.  We don't get to make laws.  Our power is very limited. My job duties completely require me to work with my constituents.  They vote for me so I can work for them."
Bridging the Gap
Carpenter said she wants to bridge the gap between the needs and concerns of students at Howard and the surrounding community.
This past summer, Carpenter met with elected officials and candidates in the District, looking to get an idea of where Howard students fit into their plans. Allyson left disappointed.
"The only place they see Howard students fitting in is in their actual campaigning process," Carpenter said.  "They want students to hand out flyers.  They want students to knock on doors.  They want students to get people to register to vote, but no where in their platforms is anything that addresses the issues that concern students."
Leighton Watson, president of the Howard University Student Association (HUSA), met Carpenter on the Metro over the summer while they were both interning on Capitol Hill, striking up a conversation on how to help other students at Howard.
Watson said he was impressed by Carpenter's desire to help others.
"She has an insatiable drive to make a difference wherever she is," said Watson, who named Carpenter to his HUSA staff.  "She does not care really about positions or titles. She really cares about making a difference for every Howard University student, which is why we get along so well."
Carpenter took action over the summer.  She and HUSA members and volunteers went door-to-door surveying residents, getting a bearing on problems in the neighborhood. They collected data, which many of this year's HUSA initiatives are centered around.
"If we present ourselves as better neighbors, I think a lot of the complaints that you get about Howard students they'll start to go away," Carpenter said. "We want to bridge the gap. We will bridge the gap."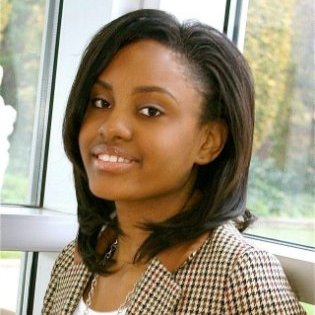 No Sitting on the Sidelines
Keith D. Miles, chief of staff for the Howard University Office of the Vice President for Student Affairs, met Carpenter when she was accepted to the freshman leadership academy, a program for first year students seeking to challenge themselves in leadership and service.
"I think her leadership skillset was developed prior to coming to Howard," Miles said. "She is inclusive of those she serves and always aware of the situation occurring before her, he said.
Carpenter said a pre-college summer program at Harvard University taught her that she had to be active when advocating for her interests. This meant no sitting on the sidelines.
Miles described Carpenter's leadership style as "beyond her years."
"She's very determined," he said.  "I think that says a lot.  She's not one to throw a bunch of ideas out to see what sticks. Before she makes a statement, it's thought out.
Carpenter's mother said while she is proud of her daughter, it is less about her accomplishment than who she is as a person.
"I'm more proud of her as the woman she has become," she said.  "Your gift can take you to the top, but it's your character that's going to keep you there. I'm more proud of her as the young lady of character and integrity she is."
Daniel White is editor-in-chief of The Hilltop and a reporter for the HUNewsService.com.