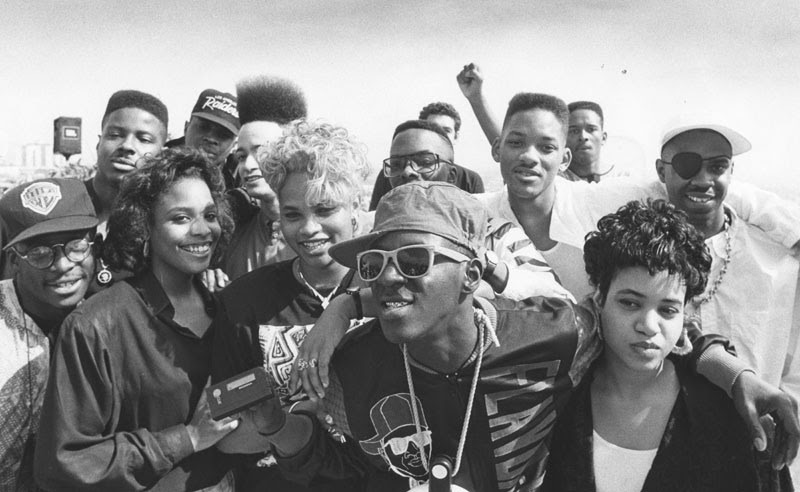 Rapper Kendrick Lamar took home two Grammys this year, which somewhat makes up for last year's snub, but artists and fans say that rap still gets no respect at the annual awards ceremony. That's why Kanye almost "pulled a Kanye" in defense of Beyoncé's self-titled album losing to Beck's "Morning Phase."
Most rap categories are still not televised during the actual ceremony, but announced during the pre-show. This includes Lamar's wins for Best Rap Song and Best Rap Performance, as well as Eminem's awards for Best Rap Album and Best Rap/Sung Collaboration.
"I wasn't surprised," Jaquon Swann, a student audio engineer, said of the omission of rap at the 57th Annual Grammy Awards. "I already knew that the academy doesn't care about rap; they've already proved that. It's a shame, but I wasn't shocked."
It is a situation that sounds all too familiar. The first Grammy award for Best Rap Performance went to none other than D.J. Jazzy Jeff and The Fresh Prince for their hit song "Parents Just Don't Understand." The duo won in 1989, at the 31st Annual Grammy Awards, against J.J. Fad's "Supersonic," L.L. Cool J's "Going Back to Cali," Salt-n-Pepa's "Push It" and Kool Moe Dee's "Wild Wild West."
As D.J. Jazzy Jeff and The Fresh Prince were not in attendance, Kool Moe Dee accepted the award for them. "On the behalf of all MCs, my co-workers and fellow nominees — Jazzy Jeff, J.J. Fad, Salt-N-Pepa and the boy who's bad — we personify power and a drug-free mind, and we express ourselves through rhythm and rhyme," Kool Moe Dee said. "So I think it's time that the whole world knows rap is here to stay."
The celebration, however, was short-lived as the ceremony was met with controversy. Even though D.J. Jazzy Jeff and The Fresh Prince made history by winning the rap genre's first Grammy, the show did not televise the event during the regular broadcast but during a pre-telecast.
To protest what they viewed as an act of disrespect for their hard work, D.J. Jazzy Jeff and The Fresh Prince went to "Yo! MTV Raps," which was hosting a "Boycott the Grammys" party. Fellow nominees Salt-N-Pepa and L.L. Cool J — who, ironically, has hosted the Grammys the last four years — also felt disrespected by the lack of attention to the monumental moment for the genre and accompanied the duo at the boycott party.
The following year, Young MC won the award for Best Rap Performance for "Bust a Move," which was against De La Soul's classic "Me Myself and I" and also, interestingly enough, beat Public Enemy's classic protest song, "Fight the Power."
In subsequent years, the Grammys discontinued and restructured the Best Rap Performance award to include Best Rap Solo Performance and Best Rap Performance by a Duo or Group. In 2012, for the 54th Annual Grammy Awards, the Recording Academy reinstated the award for Best Rap Performance to have fewer categories. Kanye West and Jay-Z won the award in both 2012 and 2013 for songs from their critically acclaimed album "Watch the Throne."
Yet, through Jay-Z's 19 Grammy wins and 64 nominations, the rapper has remained critical of the ceremony. He boycotted the 1999 show, because he felt that rap was not being given the proper respect since many categories were still not televised. He also boycotted the 2002 show out of respect for fellow rapper DMX because the Grammys didn't nominate his 1999 album "…And Then There Was X," which went quintuple platinum.
The tension between the Grammys and the hip-hop community exploded at last year's show. Macklemore, a white rapper from Seattle whose position in the rap category was debated, took home three out of four Grammys in the genre. The controversy arose because Macklemore beat Kendrick Lamar whose debut album "good kid, m.A.A.d. city" featured many singles that were nominated for awards. The album itself is considered a classic.
By the end of the night, Lamar went home empty handed and Macklemore left with four awards, including the award for Best Rap Performance. Macklemore even sent a text to Lamar saying "You got robbed," which he also posted on Instagram.
"There are a lot of people in the Grammy community who don't even vote," music producer DJ Class said. "If the community that loves hip-hop is not buying CDs, showing out to concerts, and spending the money to support rap, then they're not going to see the results they want."
The debate over white rappers' place in a predominately black genre will likely continue for a very long time. The controversy exists because of the accolades won by white rappers, sometimes less critically successful, in favor of black rappers, and it speaks to the larger institutions in place, the Grammys for example, that present these awards.
In his song "Fire Squad," rapper J. Cole spit `controversial lyrics  saying that "white people have snatched the sound," and that "this year I'll probably go to the awards dappered down/watch Iggy win a Grammy as I try to crack a smile."
So, why aren't more black artists boycotting and protesting what they see as a biased validation system?
"When even the most radical thinker is thrust into wealth, that radical behavior is dampened," said Dennis Winston, a Howard University English professor.  "I don't know if the lure of what the music industrial complex offers, the wealth that comes along with being an established artist, is too strong for black artists to boycott the Grammys. And, if they do boycott, I'm not sure if anyone will hear them."
After this year's Grammy Awards, Kanye West went on a rant where he expressed what he would have said when he stepped on the stage to protest Beck's Album of the Year win over Beyoncé.
"I just know that the Grammys, if they want real artists to keep coming back, they need to stop playing with us," West said in an interview with "E!"
"No, we not playing with them no more."
Briahnna Brown is a music writer and editor for 101Magazine.net.