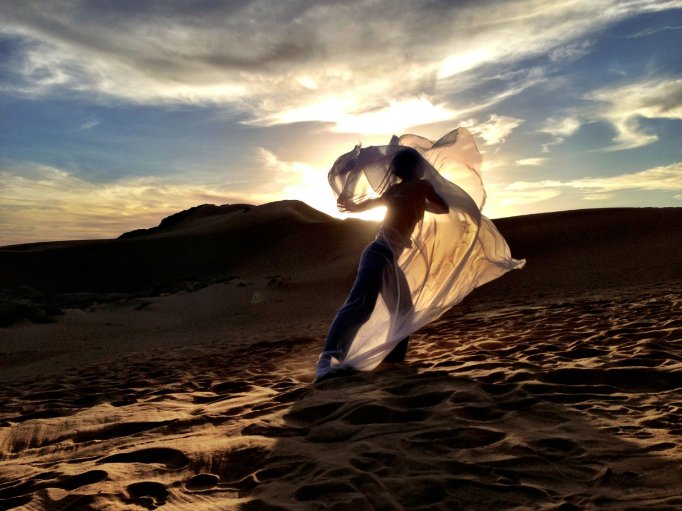 In the United States of America, freedom of expression is a right guaranteed by the Constitution.
Not so in Iran.
"Desert Dancer" is an incredible, biographical independent film by first-time director Richard Raymond about the life and art of Afshin Ghaffarian, an Iranian dancer. Starring Reece Ritchie and Freida Pinto of "Slumdog Millionaire" fame, the film is set to be released on April 10 in most American cities. However, Raymond is traveling the U.S. conducting screenings to garner publicity.
After a recent screening at the Newseum on Sunday, Jan. 18, Raymond spoke to all in attendance about his inspiration and the message of the film.
The film follows the story of Ghaffarian, who grew up with a love for dancing, although dancing is banned in his country. He went to a secret school for arts until he attended the University of Tehran. There, he made friends who introduced him to the partying and drug-dominated subculture in the capital city, where women dance in western clothes without headscarves and other marks of strict Islamic culture.
This experience lead Ghaffarian to start an underground dance troupe with his friends, and after much practice learning moves from YouTube, they decided to put on a secret performance in the desert — hence the film's name — because the regime's control doesn't extend to such infrequently trafficked territory. But Iran's "morality police," the force in charge of enforcing oppressive policies, caught up to Ghaffarian and, after a violent, near-death experience, he fled to Paris, where he sought political asylum. He continues to reside there today as a liberated performer.
"The film is about how dance and art can free you and anyone from any oppressed situation," Raymond said. "It's not about Afshin in a weird way. And I felt that very strongly — how dance, how art can free any individual from an oppressed situation."
Raymond discovered Ghaffarian's story when reading the Sunday Times, and decided to direct a film based on his life about freedom of expression and the pursuit of it.
"I think he's embarrassed," Raymond said. "He had no idea that when he was living this story, that it would be seen by anybody else as an important story as a symbol of so many other things."
To Ghaffarian, dancing is an exhilarating symbol of freedom and passion.
"It was a great experience. It was dangerous, but in Iran danger is part of our lives every day," said Ghaffarian in an interview with The Australian, Australia's leading national news brand.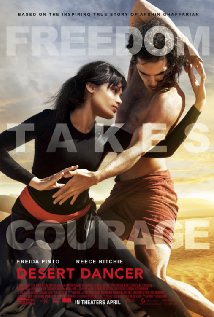 Ghaffarian's and others' stories are being exposed more lately, and they are generating discussions worldwide.
In March 2014, when three men and three unveiled women were arrested for filming "Happy we are from Tehran," a tribute to Pharrell Williams' hit song "Happy," many people took to Twitter with the hashtag #freehappyiranians to pressure the Iranian government for the dancers' release.
Pharrell got involved as well, writing, "It is beyond sad that these kids were arrested for trying to spread happiness," on his Facebook page.
In September, the six Iranians were sentenced to up to one year in prison and 91 lashes. However, the sentences were suspended for three years, and they will not be imprisoned unless they commit another offense.
Nevertheless, it is stories like this — stories about suppression of human rights and the will to overcome it — that get filmmakers like Raymond involved.
"I always feel that it's awareness that creates change in the world, and then human instinct always takes over," Raymond said. "We live in a world where both the ayatollah and the president are on Twitter and Facebook, yet social media is banned in Iran. Satellite dishes are banned in Iran, but every house has a satellite dish. I do believe that those changes happened because of awareness and because of pressure from lots of people."
For purposes of raising awareness, Raymond chose to have English-speaking actors instead of Farsi-speaking actors from Iran because English is a more universal language.
"I felt the plight of the Iranian people is known only too well by the Iranian people, but there are so many people, like I was when I read the newspaper, that didn't know the story so I felt by bringing actors from all over the world to play these parts, it would give it that universal accessibility."
Raymond encourages people who want to help raise awareness about freedom of expression and its curtailment to see "Desert Dancers" in cinemas this spring and to urge others who might be interested to do so as well.
America is the land of the free, and Iran is a seemingly far cry from that. But liberty is slippery and can be lost any time, anywhere if no one is willing to fight for it. After all, the first known charter for freedom of expression in the world was created in Persia.
And Persia is present-day Iran.