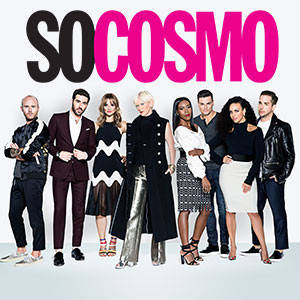 "So Cosmo" is giving magazine-obsessed journalists and viewers a taste of what it's like to work for one of the most recognizable names in the world. The docuseries features a diverse cast of editors taking the audience behind the scenes of what goes into making the infamous magazine.
From the show title, it is clear that Cosmopolitan is all things glitter, cocktails and cute boys. The magazine strives to teach women to love the skin their in, have healthy sex and relationships, and use their voice to stand up for what's right.
In addition to providing a flavor of the fabulous life, "So Cosmo" offers a hint of #BlackGirlMagic. Two cast members, Diandra Barnwell and Tiffany Reid, prove that brown girls can make it in one of the most competitive industries all while being completely fabulous.
Barnwell is the brand coordinator at Cosmopolitan, and Reid serves as the senior fashion market editor. The two women navigate life at the Hearst Corp. by booking celebrities for shoots, attending New York Fashion Week and getting personal training at the hands of really attractive guys. If this doesn't sound intriguing enough, then I don't know what will.
To bust the pink bubble, Joanna Coles announced that she would be stepping down from her role as editor-in-chief, which stirred up all kinds of anxiety in the office. I'm excited to see what else the show has in store.