By Alexis Murray
The "Roots" homecoming fashion show portrayed and represented black excellence from start to finish. It opened with a live recording of Beyoncé singing the Negro National Anthem and a video displaying clips of black leaders, singers and others.
Dapper Dan, one of the surprise guests, kicked off the show with the Dapper Dan x Gucci Collection. The collection showcased his classic designs from the '80s with velour and Gucci logo tracksuits and shoulder puff dresses.
Fashion show coordinator Madison Brim is no stranger to witnessing legends shape black culture as the daughter of legendary stylist and designer Misa Hylton. Brim's intention was to showcase black fashion, hip-hop, music and other elements that personify black culture and its roots.
Music videos showcasing black fashion played on monitors throughout the show, which consisted of all types of clothing from urban streetwear to evening wear. Dionne Ledbetter, better known as DJ Magic and the 2018 Howard's Hottest DJ winner, played songs old and new that highlighted moments in black music culture. New York rap group C.Y.N. and members Niko Brim and Kai Cash were special guest performers during intermission.
With seven Howard University designers in the show, including one alumnus, Brim felt it was important to have a front stage for future black fashion leaders — especially at Howard, known as one of the most fashionable schools in the nation.
Following behind Dapper Dan was Wanda Newby presenting her Miss Wanda collection. The first model was in full leather with a matching hat, topped with multiple silver chains to complete the look. The Miss Wanda Collection also introduced the show to sharp tailoring with a plaid suit that consisted of a puffed shoulder blazer, palazzo pants and a tilted hat.
Kyemah McEntyre displayed her evening gowns, which consisted of a dashiki prom dress and a full cape, one-sleeve dress with her logo, "Mind of Kye," on the back in shape of a black woman's afro.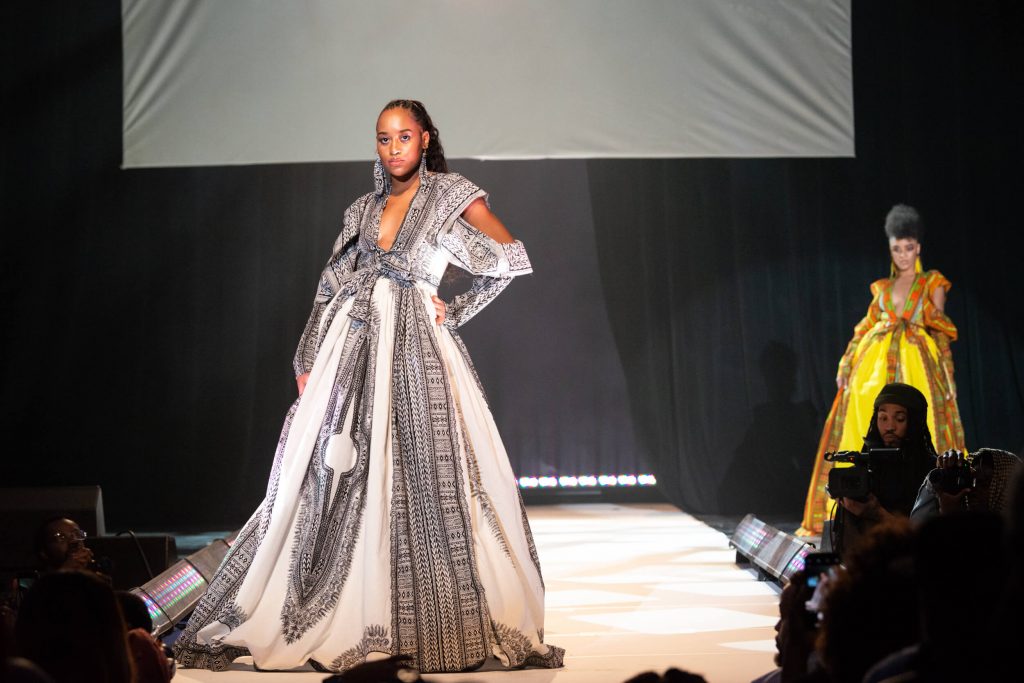 Contemporary designers, Ron David and Camille Wommack, portrayed looks for everyday women who want to strut in style.
Designer Javari Miller gave streetwear and contemporary wear a different approach when he displayed his HHouse of 444 collection. With logo T-shirts, tailored pants and matching sweatsuits, he incorporated cravat ties around the neck and waist area. For womenswear, the designer included one model wearing a draped black poncho with blue trousers and another with a poncho that covered a cutoff dress with a face covering and headpiece to match.
Isaiah Covington also provided a rare approach to his designs with clothing line Bryan Lewin. He incorporated leather, tulle and satin into his womenswear designs, while integrating streetwear and accessories, such as a clear poncho and a foil-like shoulder bag with his menswear designs.
Brands Kaloz and Disciples gave a significant touch to streetwear with designs that featured unique approaches. Both brands gave a feel of the nostalgic early 2000s style with various ranges of color and flare.
Kaloz, designed by Kaitlyn Gilliam, displayed men's streetwear that included athletic shorts and matching body chain vests and womenswear with a denim patch two piece that entailed jeans and a jean jacket. Disciples, designed by Genesis Bates and Kaleb McLaurin, included edgy streetwear with a feminine touch, incorporating butterfly logos on each design of womenswear and menswear. The designers also created a flame two-piece skirt and bralette that included an attached garter that draped below the knee.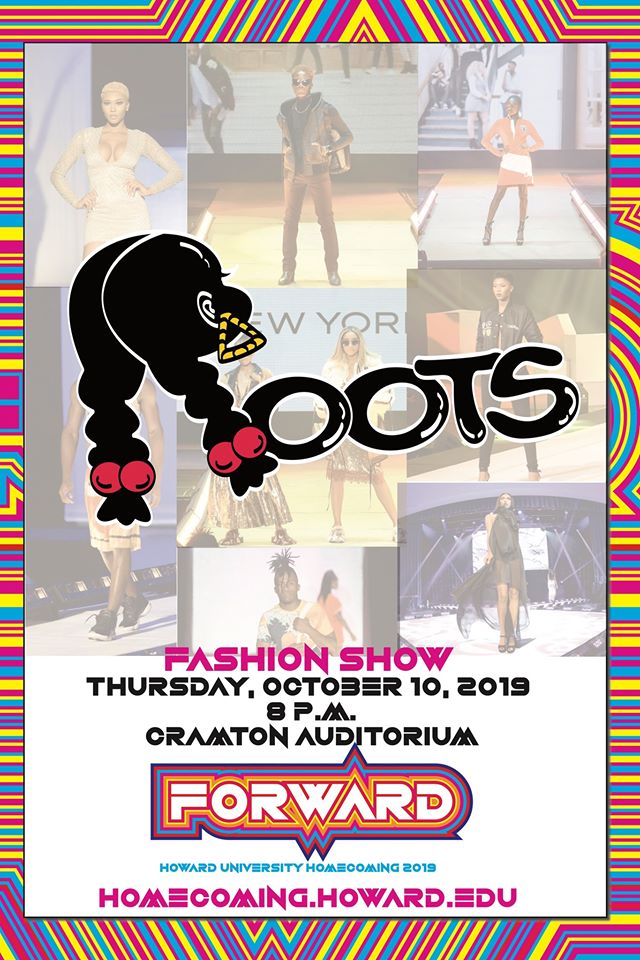 E Pluribus Unum (EPU) and Happy Days Never Frown are two brands in the show that focused heavily on streetwear and statement clothing. Design Duo, Shaquille Frederick and Adam Sanders, presented designs that included bedazzled skulls on each design and logo tees stating "The American Temptation … life, liberty and the pursuit of happiness."
Happy Days Never Frown Designer, Jarrin Sample, showcased designs that incorporated his logo with the letters HD on a frowned face and that displayed sweatshirts and jackets with phrases on the back: "I didn't like the clothes in da store" and "I don't sell these in store."   
Another surprise guest designer was Misa Hylton and her collaborative collection with MCM as global creative Partner. The collection included bright, neon iridescent clothing, leather and different looks that incorporated the classic MCM logo, including a replica of the leather bustier, panty and hat Hylton designed for Beyoncé in the "Apes**t" music video.
The show also featured streetwear brands such as Adidas, Champion and Walker Wear by April Walker. These brands were very significant to the start of hip-hop streetwear and still play a huge role in black culture.
All three brands showcased classic streetwear such as Adidas' three-stripe sweatsuits and logo tees, Champion's archetypal overalls and pullovers, and Walker Wear's logo jersey and denim sets with late rapper Biggie on the back.
April Walker also showcased shoulder bags and dresses that state, "The future been female," mostly referring to her contribution as one of the first women to have a streetwear brand in the early '90s.
Macy's was also a brand that participated in the show displaying contemporary wear and everyday streetwear.
"The No. 1 thing I want our people to know for certain is that through our diversity, there is tremendous strength," Brim stated in her closing speech. "What separates us isn't a weakness. In fact, it is indicative of the vast creativity and boundless possibility that exist within our culture."
Alexis Murray covers culture, lifestyle and trends for 101Magazine.net.