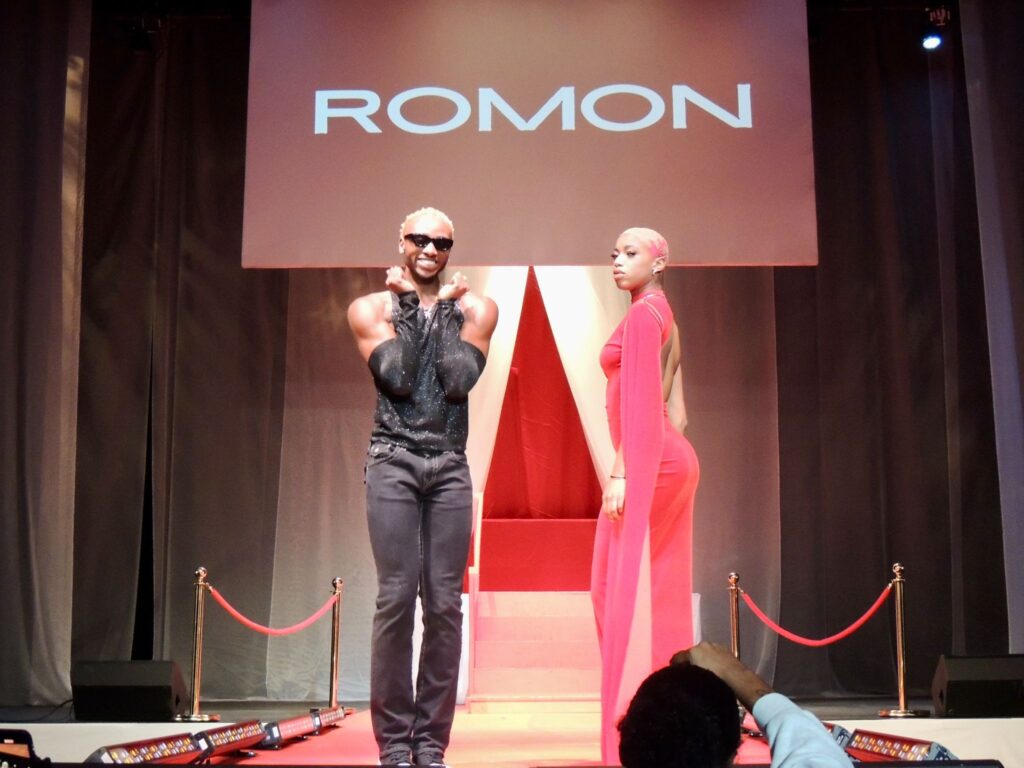 It's always interesting when one decision leads to a series of coincidences so perfectly aligned that it makes you feel like fate is at play. My inability to manage my time properly led to me being late, once again, to my first class of the day. This tardiness led to me sharing a brief moment in the hallway with a fellow tardy classmate peeking into the classroom door's window, too scared to walk in and face our intimidating professor.
"I don't want to go in," he whispered to me, a near stranger to him if it weren't for this one course we shared. After exchanging knowing glances of hesitancy, I walked into the room to face the inevitable look of authoritative disapproval head-on. My classmate, however, couldn't stand the heat and I watched from my seat as he snuck past the door opting to skip the class for the day.
After class, I asked my fashion industry professor if she knew of any designers in the Homecoming fashion show that I could shadow for an article.
"Darian for sure," she said. "He's been working really hard on his collection." She told me he was supposed to be in her sewing class in about an hour. But this was Homecoming week, after all, so the chances of him actually showing up were 50/50 at best.
I sent him an email but it was only three hours later, just as I began to pack up my things, that I received his response. "Yes, I'd love to work with you," he said. "Let me know what works for your schedule." Suddenly, Professor Jackson burst into the room. "Oh thank god you're still here," she exclaimed. "Darian just showed up!"
I walked down the hall excited to meet the designer who would allow me a peek into the fashion world. A world I had wanted to be a part of since I was a kid with financially unsustainable dreams of my future career.
I walked into the fashion studio where my professor was talking to a student facing away from me. I could only assume it was Darian, the hard-working designer himself. Professor Jackson pointed at me and when the designer turned around I came face-to-face with . . . my classmate from the hallway earlier that morning.
As my jaw dropped, his eyes widened and we shared yet another knowing look with each other. Except this time it was different. This time the look was filled with a feeling of familiarity that seldom exists between two people who have only ever exchanged one sentence before that moment.
I didn't know it then, but this deep, yet rare, feeling of "I know you" would set the tone for our friendship that would quickly blossom over the day and a half that he let me into his world.
And my first glimpse of that world was the fashion studio in the fine arts building, which could be found in a state of organized chaos. There were tables with built-in sewing machines littered with scissors, measuring tapes, and safety pins. A mirror hung on every wall, and three of our classmates were in the room working on their projects. I followed Darian into a back corner of the room filled to the brim with dismembered mannequins of all shapes and sizes.
He immediately started showing me his almost-finished designs and explaining the thought process behind some of his pieces. "Make a simple silhouette and make it come alive," he said in reference to a Black velvet mini dress with elongated sleeves. "I have these exaggerated sleeves only because . . . it's runway. Runway's for one or two things in my head. Either I'm an established designer so I'm using this show to showcase my ready-to-wear designs to give me some sales. Or I'm a designer who really is like a creative freak and I want to put on a show and entertain the crowd."
I referenced a piece from Christopher John Rogers' Resort 2023 collection. "He had this knit sweater with sides that went all the way to the ground," I said. "I knew immediately that I needed it." "You see," he responded. "It's like you never know it until you see it. It makes you feel something and that's all I'm trying to do. Make people feel a little something through fashion."
I spent the rest of the hour watching him alter the dress and gossip with the other fashion design majors who were also a part of the show. Issues regarding the models, the pieces the designers were allowed to showcase, and the way the show was being run altogether had apparently been prevalent since the beginning. "Today, I'ma step up and have to take over because I'm not gon' play with them," he reassured another designer who was just informed that only one of her designs would be in the show. "This show will not be a disaster. It has way too much potential."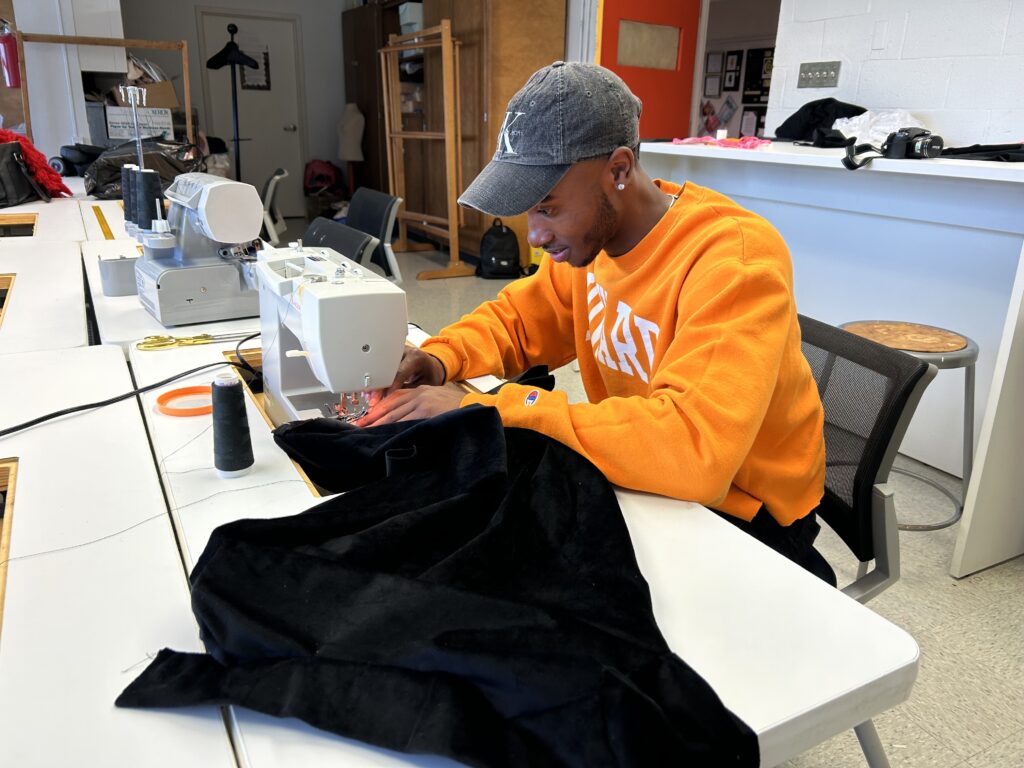 With only 24 hours to the show, I expected the tension from the issues to manifest into full-blown conflict at the final dress rehearsal Darian invited me to later that night. And sure enough, when I stepped into the basement of the show's venue, the space was filled with high-stakes energy. The perfect environment for disagreements that had been swept under the rug to make a reappearance. Not unlike the dramatic crescendo of a kettle's high-pitch scream when it's ready to be taken off the stovetop.
When I stepped into the makeshift dressing room, I saw a mixture of both chaos and stagnation. Some designers were rushing to get the available models into their clothes, others were sitting together with seemingly nothing to do. When I asked one, who happened to be another classmate, about why that was, he blamed a lack of direction from the people running the show. I asked if those people were Howard-affiliated and he replied with a resounding "nope." I looked around the room and made note of the fact that I felt like I hadn't seen a lot of the designers around campus. When I brought this up to him, all he gave me was a nod with a look of pointed agreement in response.
With that revelation in hand, I looked around the room for Darian, but it would be another hour before he arrived. When he did show up, he started making the rounds, checking in with every friend he crossed paths with despite his lack of time. "How are you doing?" was the question he asked every single one of them. But the pressure wasn't lost on him, he almost immediately got so deep into the zone that he didn't notice I had been following behind him for two minutes until I tapped him on the shoulder. I found myself embraced in a hug and we continued in the groove we found ourselves in earlier at the studio.
His focus was impenetrable and he spent most of the night tracking down the models who were assigned to him and dressing them in outfits covered in lace, faux snakeskin, velvet, or the most reflective sequins I'd ever seen. He shared warm moments with his models during outfit changes, and I could tell they were excited to walk in his designs.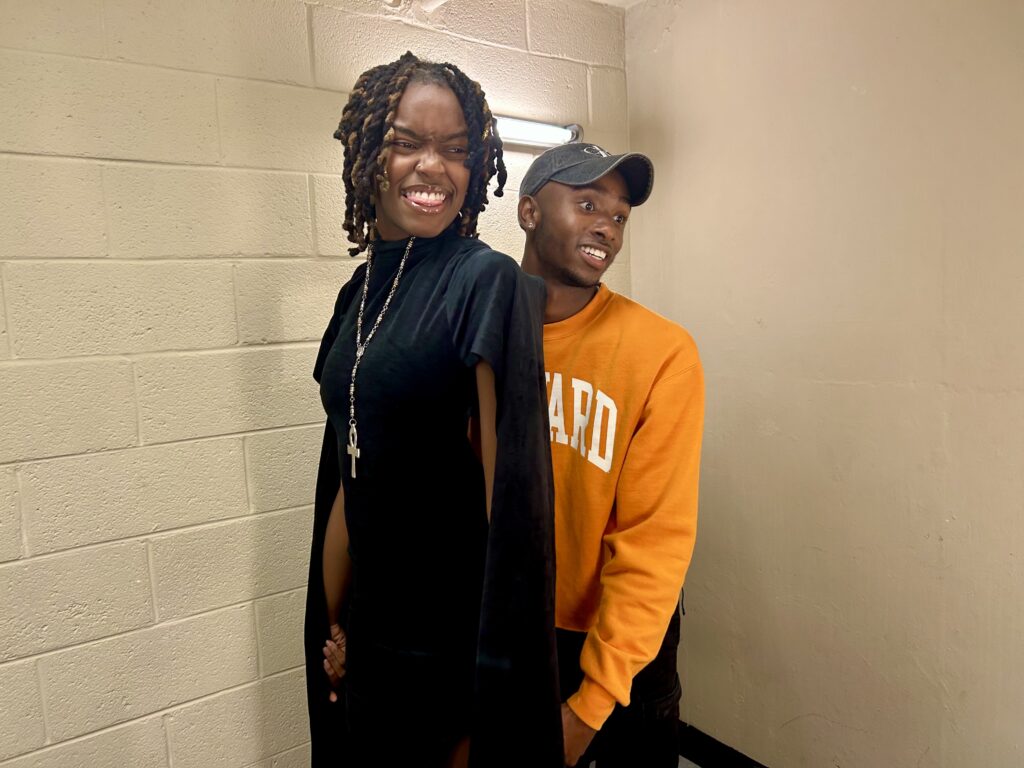 In fact, it seemed that this excitement was the cause for some of the conflict happening behind the scenes. The only distraction that drew his attention away from the tasks at hand was the whispered conversations between him and various people, signifying the drama that was brewing beneath the surface. Anyone with eyes could see that the show was filled with extremely talented designers. But anyone with ears would hear that Darian was the one to watch. And the fact that the models knew it and desperately wanted to walk for him was a major point of contention.
"There's a lot of organizations at Howard," he explained. "We have the ELITE models and Models of the Mecca, and you can tell like everyone's trying to be in the best designers' clothes to represent their org.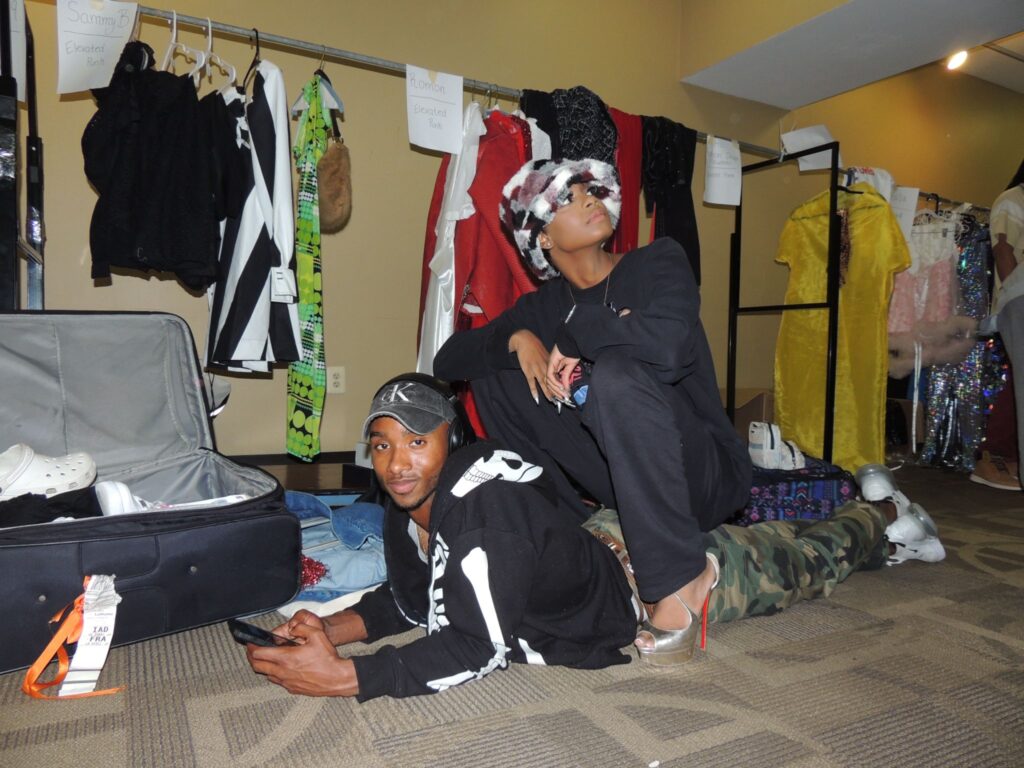 I asked him what the dynamic was between him and the models specifically. "I feel like there's a lot of jealousy in between them because a lot of people want to walk for me," he expressed. "A lot of people want to wear my dresses, but I just made some choices. I also had to change some people because some people didn't show up to a fitting or things like that. There's a lot of tension in the air, a lot of people are definitely feeling some type of way. But that's just show business, because I felt some type of way in the beginning of this as well."
But, by the end of the day, it was obvious that Darian had made peace with the way the show was being run. Petty modeling organization rivalries, showrunners going over his head, models being "stolen" left and right. As far as Darian was concerned, it was all above him because, at the end of the day, he knew he had done his job. As we walked out of the venue around midnight, the only thing he was concerned about was people seeing his pieces on that stage.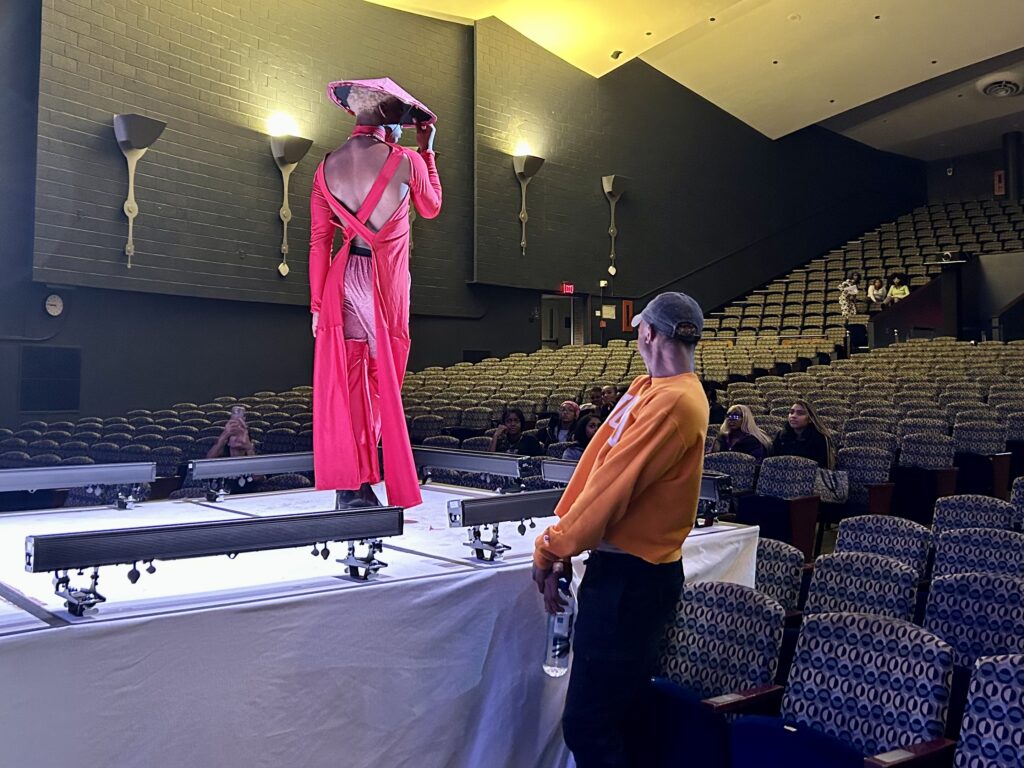 That was until we caught up the next afternoon. "Hey," he said as he hugged me. "You got a lot to shoot today." Earlier that morning, he had gotten not one, but two major phone calls. One, to customize an outfit for Glorilla's headlining performance at Yardfest the next day. The other is to do a fitting for the Dean of the fine arts department, Phylicia Rashad.
The next five hours before the show flew by pretty quickly with me trying to keep up with Darian as he ran around the venue getting everything situated. I had gotten word that the press pass I had requested was approved, but the plan I had to leave about an hour before the show to pick it up got derailed by the sudden appearance of huge security guards backstage. Apparently, Howard had decided to tighten up security more than Darian or I had expected. And me simply being his unofficial plus-one wouldn't allow me to stay backstage if I didn't have one of the limited wristbands they were handing out.
One of the showrunners announced that once he was finished handing out the wristbands to everyone who was on "the list", the unreasonably large officers would do a sweep of the backstage area tossing out anyone without the proper accessory. Darian spoke to the list handler about getting me one but he couldn't guarantee anything unless there were extras when he finished giving them out to those who were designated.
"I almost want to tell you to hide," Darian joked. As I laughed, a picture of DJ Jazzy Jeff getting physically thrown out of Uncle Phil's house kept replaying in my head. Suddenly the joke wasn't so funny and we concocted a plan. We had decided that I was going to leave to go pick up my press pass next door, which would only grant me access to the photography pit in front of the stage. Darian was going to run home and get ready for the show, and if there wasn't a wristband waiting for me when he came back, he was going to sneak me through the side door. It seemed like a good plan at the time.
Overly confident in said plan, I walked next door, into the room where Howard's PR reps were waiting. I greeted them, picked up my lanyard, and as I turned around to walk back out I heard a voice say "actually we want all the press to wait in here, and we'll walk you over to the venue ourselves." I saw our plan crumbling right before my eyes. I knew there was a chance that I'd be backstage, but I didn't want to tell them that and risk them taking back the press pass in case I ended up needing it. So I sat and waited for 20 minutes, looking out the window as a line of people start to form at the entrance. And that's when I got an idea. "I think I'm going to go outside to get some b-roll footage of the crowd," I abruptly blurted out. "Oh," the rep said. "Okay."
I speed walked out of the room and made a beeline for the side of the venue, hoping to see Darian already there waiting for me. But before I made it I got stopped by an older Black woman. "Excuse me, can you tell me how to get backstage?" she said. "My son is one of the designers and I flew here from Kentucky to surprise him." I was about to explain to her that it was unlikely she would get backstage without a pass when she cut me off. "I don't know, security's really tigh-"
"His name is Darian Clyburn."
"You're joking," was the first thing I thought to say. "Do you know I've been following your son around for two days now?"
I saw this as the perfect opportunity to get a "those who knew him when" type interview from someone who, arguably, knew him the best. If I didn't feel like fate was at play before, I definitely did now.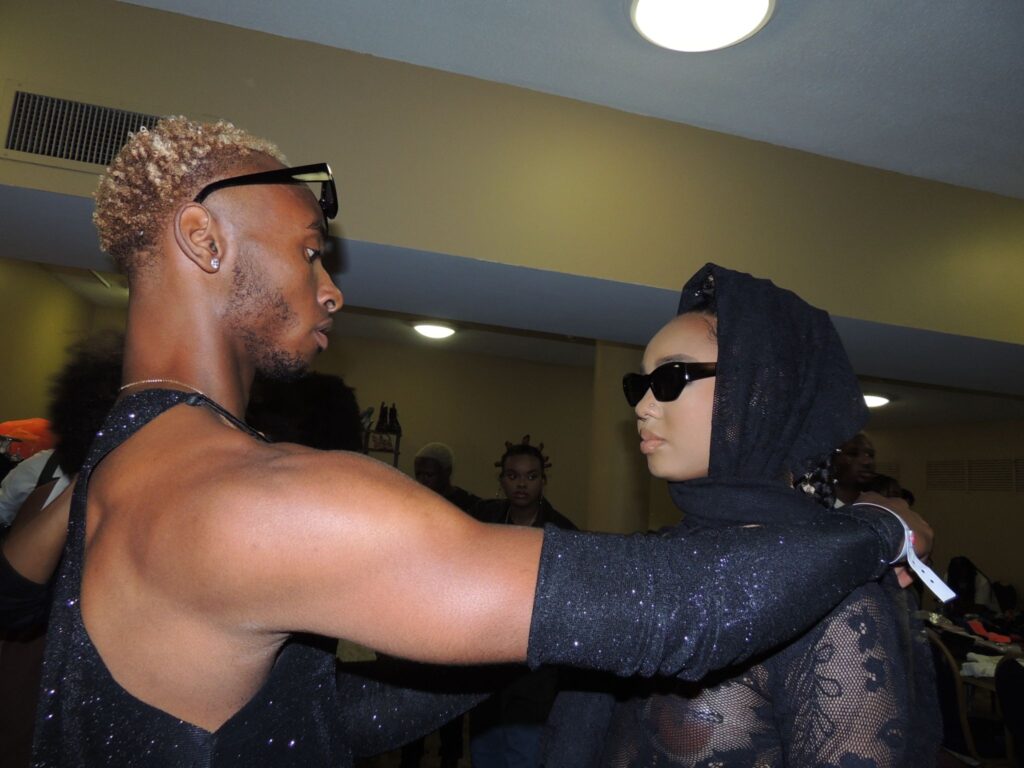 Of course, that didn't end up being a problem when Darian's first look from his brand, Romon, came down the stage, the entire auditorium erupted into screams of approval. The red mini dress with elongated sleeves was the main show stopper despite it being the first look of the collection. But the crowd reacted with as much enthusiasm for each look as they did the last. The only moment in which the cheering got significantly louder was when Darian made his closing walk at the end.
After it was all said and done, I asked Darian how he felt. "It was so much emotion, so much happiness. And I'm just not used to feeling that much happiness, that much thrill," he expressed. "I'm just proud, but it doesn't stop here. It's more so like thank you, guys, so much. And, you know, thank you, God.
But, also, everybody let's go because I want to take you for a ride. This is just the beginning."