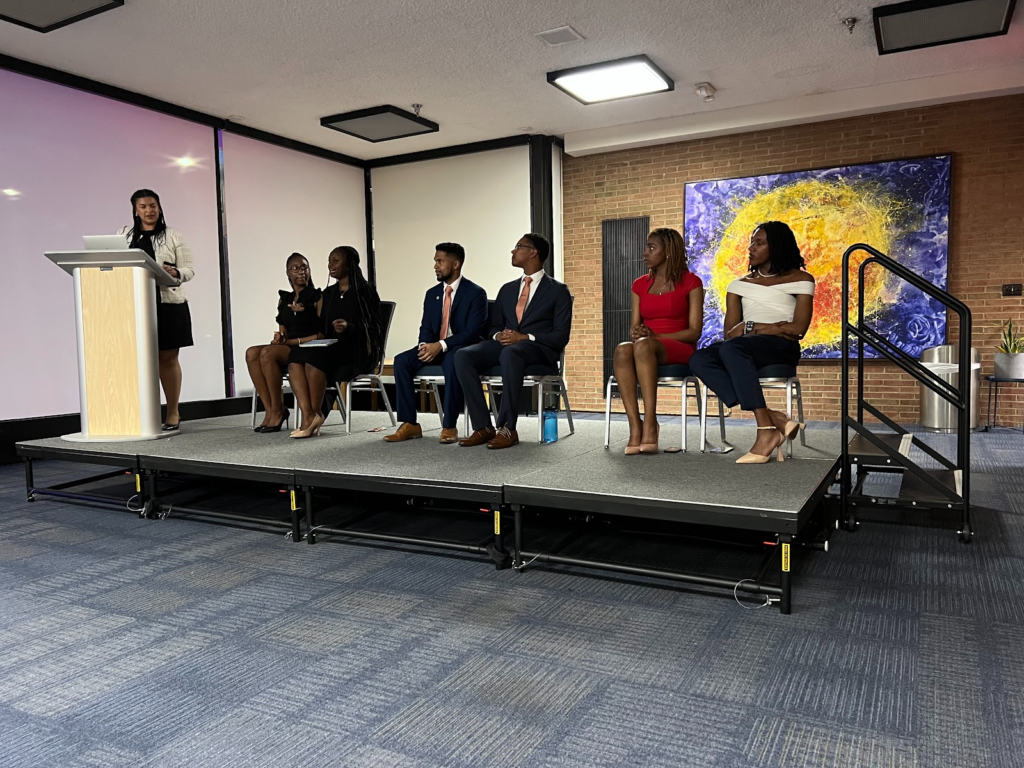 This year's campaign season was marked by incredible giveaways, including concert and flight tickets and popular sneakers, but is it enough to win the students' votes? (Left to Right: Ka'Nedria Boldin, Hassana Balde, Deshawn Carter, Hugh Goffinet, Nia Naylor and Murphy Jones IV.) Photo Courtesy of Harrison Donaldson.
In the age of GoFundMe's, housing disparities and Howard University's rising tuition, this springs' Howard University Student Association (HUSA) executive and royal court campaigns show that not all Howard students are financially created equal. Standard tabling events are competing with hopefuls conducting plane, concert ticket and other exorbitant giveaways, leaving some to ponder if this display of wealth can really buy students' votes in today's election. 
HUSA was established in 1961 and adopted its constitution in January of 1977. Over sixty years ago, the students of Howard University saw the necessity to create an entity that would provide for: broad involvement and adequate representation of all major student segments.
Today, candidates Ka'Nedria Boldin and Hassana Balde are running on the slate, "For the Culture," to establish For the Culture Week to celebrate diversity, HBCU Day to promote unity, a cookout-style version of the Soul Food Thursday, students' appreciation to staff, Elkay EZH20 wall-mounted water bottle refill stations around campus, residence hall liaisons and more. Their campaign has become known for their platform and their giveaways.
Boldin and Balde launched their campaign with concert tickets to Beyonce's Renaissance World Tour which, with Ticketmaster fees, are costing upwards of $3,000. They followed this giveaway with an American Airlines gift card giveaway. Their most recent giveaway included free supplies from Mercy Beauty and free eyebrow threading from Columbia Threading, both beauty businesses along Georgia Ave.
Recently, fellow HUSA executive president and vice president candidates Nia Nayolor, the current HUSA senate vice chairwoman, and Murphy Jones IV, the current Mister College of Arts and Sciences, announced their giveaway of a pair of Nike Dunk Low Retro White Black. These shoes are retailing for nearly $150.
Along with HUSA executive president and vice president campaigns, candidates for Miss Howard, instituted in 1929, and Mister Howard, incepted in 1976, and all other royal court positions have also turned to giveaways to attract student engagement. Kobe Kegler, a junior civil engineering major running for Mister Howard under the platform "Be H.E.R.D [Hope, Elevate, Restore, Dominate]," offered tickets to Drake's latest tour.
"Being that it marked the beginning of election week, I wanted to start things off with a bang and do a major giveaway. Drake is my favorite artist so I thought making a play on my platform slogan Be HERD was a clever way to get my constituents intrigued in who I am as a person. It turned out to be a much bigger success than I anticipated," Kegler said.
Kegler mirrors the tactics of For the Culture in the practice of giveaways to attract engagement, attention, and excitement amongst the student body and the results proved successful. Some students though, such as Javon Rivera, a senior political science major and sociology and business administration double minor, are assessing more than giveaways when making their decision on March 30, the official voting day.
"To me, a candidate's campaign strategy plays a huge role in how I support or vote for them. Supporting in ways such as following their social media platform and reposting their upcoming events. I vote for candidates based on what the school needs at that current time and which platform/candidate has the closest chance of making it happen. The problem with outward displays of wealth in these elections is that it eclipses the true purpose of the election: choosing a representative of your peers to help bring about a change at the university. Howard already has record numbers of students having to apply for crowdfunding such as GoFund me to pay for tuition, let alone for graduation, so these grandiose gestures in an attempt to win an election makes me side eye them just a bit," Rivera said.
From pop-up shops, to open mics, to panels on women empowerment, students had a wide variety of engaging ways to interact with candidates. To test how much it paid off will be assessed after results are counted when voting closes tonight at 8 p.m.