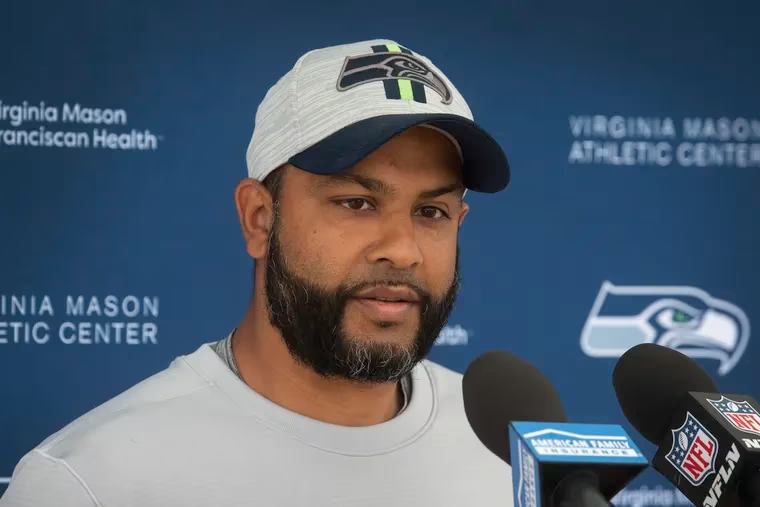 The Philadelphia Eagles – the NFC's representative in this year's Super Bowl LVII – hired Sean Desai as their Defensive Coordinator. Desai is the first coordinator of Indian descent in the NFL, but this isn't his first time holding a coordinator position.
Before his current position with the Eagles, Desai had coaching stints in Chicago and Seattle. In 2021, after former Indianapolis Colts head coach and Chicago Bears defensive coordinator Chuck Pagano retired, the Bears selected Desai to fill the vacant defensive coordinator role.
Desai made history as the first-ever Indian-American coordinator in the NFL. Before making his mark in the league, he was the running back coach/special teams coordinator for Boston College and the assistant director of football operations at the University of Miami.
Timmy Joseph, a former high school football player – who is of both African-American and Indian descent –, spoke to why he thinks we don't see more Indian involvement in American football.
"I think the main reason is [that] it's not as global of a sport, so [Indian] kids don't grow up playing it as much. Football is a new phenomenon in the Indian community, for real," he said. "Compare it to basketball or soccer, which both have more reach globally, so it is more prevalent in our culture. I do think we are starting to see more involvement nowadays since there is a new wave of first-generation Indian-Americans."
Desai's move to Philadelphia is a homecoming of sorts. His start in collegiate coaching came with the Temple Owls while he was pursuing a doctorate in educational administration at Temple University. Prior to that, Desai only had experience coaching at the high school level.
About whether the beloved sport is welcoming to the Indian community, Joseph said, "I think the environment hasn't really seen enough Indian-American players to be either accepting or non-accepting; but as time goes on, and more and more Indian players get involved in football, I am sure it will be very accepting. That's the beauty of sports–it doesn't matter what you look like. If you can play, you can play; and if you can coach, then you can coach."
Rutgers University graduate Shail Desai, also of Indian-American descent, shared his thoughts on Sean Desai and how people like him can potentially drive more Indian involvement in American football.
"I remember first hearing about [Sean] Desai when he was promoted in Chicago. It was a dope moment for the Indian community to see the first person of Indian descent in a coaching position at that level. Congratulations to Sean Desai on being a trailblazer and on the new job with Philadelphia," said Desai.
He continues, "I do think it will lead to increased involvement from the Indian community in terms of employment pursuit and opportunities. Sonia Raman's hiring by the Memphis Grizzlies will do the same. The community already loves American football and sports. However, I do think it takes more than just one to get continuous involvement in the sports business, sports entertainment, and overall sports industry. I hope to see more qualified people like Sean in roles that are rightfully earned. Cheers to Sean Desai again; Best of luck."
People like Desai and Raman are laying the foundation for driven sports enthusiasts of Indian descent, Desai, himself, is not only passionate about sports, but also social justice. In the wake of George Floyd's untimely death in 2020, Desai submitted a piece of mourning to The Athletic–a subscription-based sports website that covers teams and leagues on a local and national level. One thing Desai mentioned that stood out to readers was his newfound desire to no longer be an innocent bystander to racial issues and inequality:
"I'm in a better position to fulfill what my education was actually worth to me: to help provide access, equity, and opportunity to others… What's earned is access, and what you have is an opportunity," Desai said. "What you can create is impact."