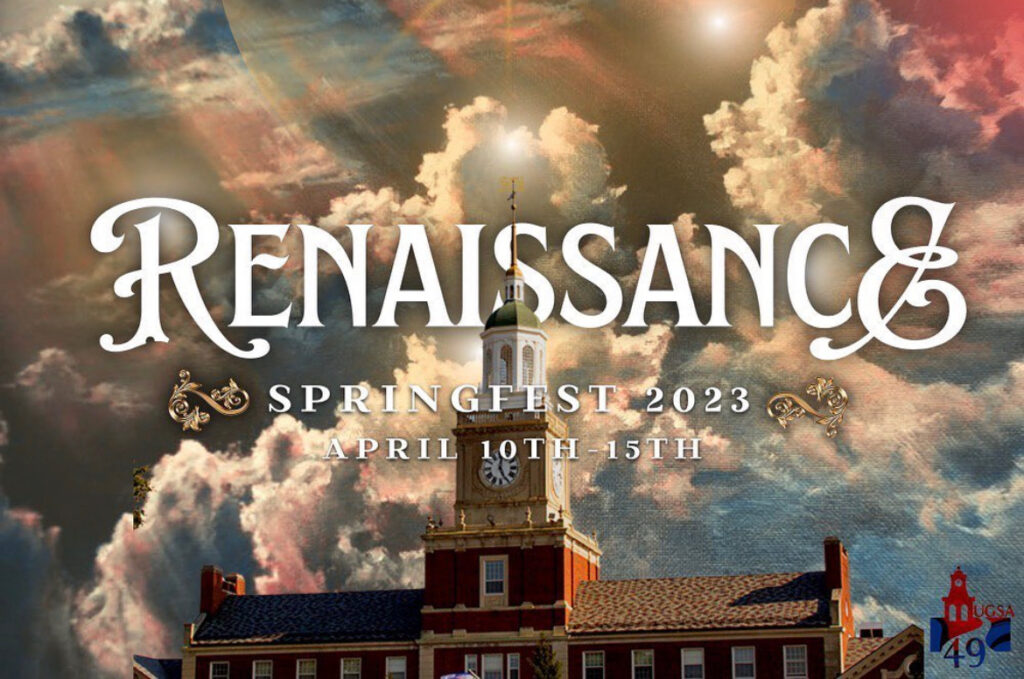 Springfest, Howard University's annual weeklong spring celebration, is back! Held from April 10th-15th, the theme of Springfest 2023 is "Renaissance." Howard's undergraduate student assembly (UGSA), the premiere programming body of the university, took to Instagram for the official announcement.
Springfest is a Howard tradition that celebrates the arrival of spring on campus. The week of events is emphasized to be a "for students, by students" affair.
"We've all heard about the Harlem Renaissance, but what about the Howard renaissance?" said Stephen Spence, UGSA Executive Coordinator. Many speculate the week of events will also follow a theme of revival and rebirth.
Annual events like the Truth and Service basketball game along with the fashion show are set to return. And for the first time ever, the Springfest Concert will be held in Greene Stadium.
The Springfest co-coordinators are Joseph Louisas III and Stephen Piner. The Yard Talk co-chairs are Maia Patterson and Oseghale Esene. The Talent Showcase is co-chaired by Cole Edwards and Phoenix Smith. Khalil Cooper and Michael Clark are co-chairing the Truth and Service Basketball Game co-chairs are. The Black Women Empowerment Expo is co-chaired by Amber Jones and Zoe Warner. The festival will be chaired by Joey Louis III, a junior from Miami, as appointed by Spence. 
The announced events will occur as follows:
Monday (April 10th) – Yardtalk, 5 p.m. in Cramton Auditorium
Tuesday (April 11th) – Talent Showcase, 5 p.m. in Cramton Auditorium
Wednesday (April 12th) – The Truth and Service Basketball Game, 7 p.m. in Burr Gymnasium
Thursday (April 13th) – Black Women Empowerment Expo, 7 p.m. in Cramton Auditorium
Friday (April 14th) – Cultural Extravaganza Springfest Concert, 3 p.m. in Greene Stadium
Saturday (April 15th) – The Golden Age Fashion Show, 7:30 p.m. in Cramton Auditorium
The world has recently reentered the cultural lexicon with the release of superstar Beyoncé's 2022 album, RENAISSANCE. This commonality has led some students to believe that the superstar's presence will be felt during the week of celebration.
"I'm so excited for Springfest. Since the theme is Renaissance, I do have an unrealistic expectation to see Beyoncé and Destiny's Child," senior Makailah Gause says. "I wasn't too excited about the lineup for homecoming, but I still had a lot of fun just spending time with my friends and attending events. But since Springfest is in the hands of UGSA, I know that it'll be giving Homecoming 2.0 but better, similar to last year's Springfest."
As many students speculate that the "Renaissance-themed" Springfest could be an ode to Beyoncé, students have high expectations for what the event lineup could also incorporate.
"I'm looking forward to the Renaissance theme, and I'm hoping there is a Club Renaissance-themed party or something that is inspired by Beyoncé's Renaissance throughout the week," says sophomore Imara Morris. "I also hope the concert is good. I am hoping for Beyonce, but I just hope it's fun and incorporates Beyonce's Renaissance, honestly."
While many students are awaiting the events of the "Renaissance" themed Springfest in excitement and anticipation, some students, including freshman Kennedy Norman who will be attending her first Springfest this year, are not too sure what to expect.
"When I first saw the theme Renaissance I was a tad bit confused and nervous because I'm not really sure what it's gonna be like," says Norman. "In my head, all I can think of are those old Renaissance festivals. I was also confused if it's like a Beyoncé Renaissance vibe or an actual renaissance, but I could see it ending up really cool and interesting. I think I had super high expectations for homecoming and, in terms of headliners, I was a little disappointed. But lots of upperclassmen told me Springfest will be better, so now I'm super excited and hoping it's gonna be great!"

For more information and updates, stay tuned with the official Springfest account and UGSA's Instagram account.
101 Magazine's Mya Trujillo contributed to this report.