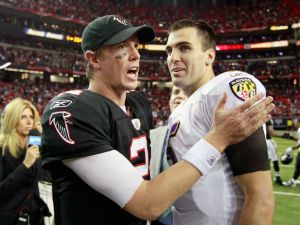 With the NFL draft approaching this week, certain teams have already solidified themselves as a "team to beat" after participating in this year's free agency frenzy. Several key acquisitions, re-signings and trades have occurred since the start of the offseason.
Some teams are loading up to compete in their respective divisions, and some have made moves that are establishing them as early Super Bowl favorites.
This isn't necessarily how the NFL standings for the 2013-14 season will play out, but here are the top three ranked teams that had the best pre-draft offseason in both the NFC and AFC.
National Football Conference
3. Seattle Seahawks.
Not too many people predicted an 11-5 season for the Seattle Seahawks under rookie quarterback Russell Wilson, let alone a playoff win. With the core of the team being young, the 2012 season showed that a bright future is on the horizon for the team.
After defensive end Chris Clemons went down with a torn ACL injury, it was apparent that the Seahawks would be interested in another pass rusher. Seattle signed former Detroit Lions defensive end Cliff Avril, who recorded 168 tackles and 39.5 sacks in his first five years.
After playing alongside Ndamukong Suh, Avril will be lined up with a newly acquired veteran in Tony McDaniel, as well as former Tampa Bay Buccaneer Michael Bennett, who managed to gather 9 sacks last season. Between Avril and Bennett, Seattle's pass defense will improve by having players who can rush off the edge effectively.
The headline acquisition for Seattle occurred March 12 when the Minnesota Vikings agreed to trade fifth-year wide receiver Percy Harvin for three draft picks. Harvin, who is one of the most dynamic players in the league, will be a weapon for second-year quarterback Russell Wilson as well an instrumental factor on special teams.
Another Minnesota Viking, Antoine Winfield, signed with the team and looks to add to the secondary of corners Richard Sherman and Brandon Browner. Winfield is a 10-year veteran who can help bring leadership to such a young team.
2. San Francisco 49ers
Similar to Seattle, the San Francisco 49ers have a staple of young, precocious players, as well as entailing enough veteran leadership that can possibly lead them to another Super Bowl.
On March 11, the Super Bowl champion Baltimore Ravens selected to trade veteran wide receiver Anquan Boldin to the 49ers for a sixth-round pick. Boldin, who is entering his 11th year in the league, has more than 10,000 receiving yards in his career and was a key factor in the Super Bowl victory against his current team.
Boldin will join Michael Crabtree, who had his first 1,000-yard season in 2012, as one of Colin Kaepernick's primary targets. He scored four touchdowns in the 2012 postseason and has some of the strongest hands in the league. After being a third-down monster for Joe Flacco, he should be able to do the same thing with Kaepernick as well as motivate guys in the locker room to achieve something he accomplished last year, winning a title.
The defending NFC champions also brought along veteran cornerback Nnamdi Asomugha, who is also entering his 11th year. Before being sent to Philadelphia, Asomugha played football in California for 11 years—four of them in college.
Despite Asomugha's decline in Philadelphia, his return to the Bay Area looks promising under defensive coordinator Vic Fangio. He's familiar with the area and won't require a ton of acclimation on the field either. Fangio tends to play a significant amount of man coverage, something Asomugha exceled in with the Oakland Raiders.
While it's unfair to predict that Asomugha will re-gain his title as one of the top corners in the league, he will be a decent fill-in for the San Francisco secondary and bring guidance to the defensive backs the 49ers are scheduled to draft.
Adding to last year's fourth-ranked defense, the Niners also attained 27-year old defensive tackle Glenn Dorsey. They took a risk in signing Dorsey, who played only four games last year due to a calf injury and has been ineffective in the pass rush. Throughout his first five years, Dorsey has recorded only four sacks.
Despite the slow start to his career he still has potential.  Dorsey, a fifth-overall pick, will be under better coaching than what he had in Kansas City and can learn from veteran defensive tackle Justin Smith.
1. Atlanta Falcons
After a tough loss in last year's NFC championship game, the Atlanta Falcons have made several moves in the offseason that they hope will get them a step farther, and then some. The Falcons are the only team in the NFC South to not reach the Super Bowl since the division was formed in 2002, but are becoming one of the favorites to make it to the big game in February after their pre-draft offseason.
Shockingly, the most significant signing for Atlanta was a 36-year-old tight end who elected to stay one more year, Tony Gonzalez. After his contemplation of returning ended, it's certain that many Atlanta fans were "Tebow-ing" as Gonzalez was through "Favre-ing."
Despite his age, the most prolific tight end to ever play the position has never missed a game with the Falcons and has shown that he's still capable of playing at a high level.
Gonzalez, who holds the all-time records for most touchdowns, receiving yards, and receptions as a tight end, has been a third down security blanket for quarterback Matt Ryan since his arrival—recording 326 receptions while averaging 10 yards a catch.
Shortly after Gonzalez announced his return, the Falcons signed free agent Steven Jackson to a three-year contract.
Jackson claimed the Falcons were a running back away from being Super Bowl contenders next year and plans to contribute to Atlanta's high-powered offense now that the deal has been made.
In his 10th season, Jackson remains the only active player with at least 10,000 rushing yards. He's also coming off his eighth consecutive season with at least 1,000 yards—sixth player in NFL history to do so.
With this acquisition, teams could possibly face problems on deciding whether to stack the box by containing Jackson or tend to the outside presence of Julio Jones and Roddy White.
As an all-purpose back, Jackson has also been known for his ability to be an effective element in the passing game, becoming the only player in NFL history to record 1,500 rushing yards and 800 receiving yards in a single season.
Therefore, the Falcons not only attain a 240-pound running back—complemented by another Oregon State Beaver alum Jacquizz Rodgers—but also another adept passing weapon to what is arguably the best receiving core in the league.
After the release of defensive end John Abraham, the Falcons signed another veteran player to help improve the team. Former New York Giant Osi Umenyiora reached an agreement with the team March 20 and plans to end his career as an Atlanta Falcon.
Umenyiora, 31, joins veteran Asante Samuel as the only players on the team to possess two Super Bowl rings. Not only should the accolades of the former Pro Bowler bring experience to the locker room, but his presence on the field is also still up to par as he looks to be a contributor off the edge.
Umenyiora's productivity in the pass rush has declined in recent years. The Giants defensive schemes made it difficult to have defensive ends Jason Pierre-Paul, Justin Tuck and Umenyiora all on the field.
Despite the lack of field time, the 11-year veteran has recorded 26.5 sacks over the past three seasons.
The Falcons are still expected to draft another pass rusher for long-term purposes, and what better guidance can they receive than that of a two-time Super Bowl champion.
Also on the defensive end, the re-signing of Pro Bowl safety William Moore is significant for the Atlanta secondary. While this particular re-signing didn't make top news, it was a pivotal action for the team going forward.
After missing four games last season due to injury, Moore still managed to record 75 tackles, eight pass deflections, four interceptions and two forced fumbles.
American Football Conference
3. Baltimore Ravens
The reigning Super Bowl champion Baltimore Ravens began the 2013 NFL offseason in a way that made fans think their front office didn't want to make the playoffs next year. Ravens general manager Ozzie Newsome had fans calling for both his job and his head after letting go future Hall of Fame safety Ed Reed.
But it didn't stop there, as Anquan Boldin, Dannell Ellerbe, Paul Kruger, Cary Williams, Brendon Ayanbadejo and Bernard Pollard, would all punch tickets out of Baltimore, too.
The extra cap space allowed them to re-sign quarterback Joe Flacco, who took his game to another level in the playoffs, to a monster contract. They also re-signed big play receiver Torrey Smith and Dennis Pitta.
Newsome continued to silence the doubters with the acquisitions of two former Oakland defenders in safety Michael Huff and linebacker Rolando McClain. Huff provides a very capable replacement at strong safety for Reed although it will still be difficult to replace the game-breaking abilities and veteran savvy of a player of Reed's caliber. Marcus Spears and Chris Canty, two imports from the NFC East, add depth and talent to a rebuilding defense.
Despite some of the aforementioned acquisitions, Elvis Dumervil was the real stud in this group. After an odd turn of events led to his departure from Denver, Newsome moved fast to acquire the pass-rushing outside linebacker who will be a replacement for Kruger and an excellent complement to the younger Courtney Upshaw.
2. Kansas City Chiefs
Kansas City ranks ahead of Baltimore because the Chiefs did not have the mass exodus of talent that the Ravens did early on.
Retaining receiver Dwayne Bowe was huge. He's arguably their biggest weapon, minus Jamaal Charles, and really could get this passing game going if Alex Smith is the answer at quarterback.
Speaking of Smith, many thought that Geno Smith would be the top draft pick by Kansas City until they got Alex Smith from the San Francisco 49ers. Fans forget that Smith was very productive at the helm for San Francisco early on before his injury, but the question remains: Can he continue that success away from Harbaugh?
First-time GM John Dorsey did not stop there as he went out and got cornerback Sean Smith, another nagging need of theirs. Staying on defense, they acquired defensive lineman Mike DeVito as well as another cornerback in Dunta Robinson.
Dorsey has been resourceful in his first stint as GM filling needs where they are hurting most. This has allowed him to save the first pick in the draft to pick up a future star like Texas A&M's Luke Joeckel to block on the blind side for Smith.
The Chiefs round out their offseason haul with two more receiving options in tight end Anthony Fasano and speedy wideout Donnie Avery. Finally, they signed quarterback Chase Daniel for a little insurance.
1. Denver Broncos
ESPN sports analyst Adam Schefter said it best when he tweeted, "Wes Welker lands a two-year, $12 million deal from the Broncos. Demaryius Thomas, Eric Decker, Wes Welker. Have fun, Peyton."
Receiver wasn't a pressing need for the Broncos this offseason but signing perhaps the most elite slot receiver in football in former Patriots wide receiver Wes Welker provides a huge arsenal for Peyton Manning. Denver's new addition makes it difficult for opposing teams to cover all of those options in a similar way as New England did with Welker, Gronkowski and Hernandez two years ago.
After finishing 13-3, the Broncos were close to the Super Bowl but fell short due to some very sloppy coverage. Although Champ Bailey, 35, is aging, adding Dominique Rodgers-Cromartie opposite him is a big time acquisition that will certainly boost their secondary. Rodgers-Cromartie, a young rangy corner in his own right, will certainly benefit playing next to the 12-time Pro Bowler.
One can't forget about the addition of Louis Vasquez along the offensive line, too. Vasquez and top lineman Ryan Clady, whom the Broncos franchised this off-season, will help ensure that Manning has the time he needs to work with his new weapon.
Throw in a few less notable defensive signings, like linebacker Stewart Bradley, and the Broncos come away with some major contributors and some high impact signings for next season.
Ultimately, the NFL offseason is just that, the OFF season. With no injuries or momentum at this point, it' s not an exact science. Still, it can be a good indicator of success. Based on transactions in the past two months, these teams should be in good shape to improve next season. The right moves might lead one of them to a coveted Super Bowl championship.