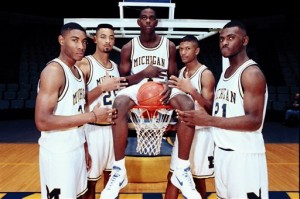 Was this year's national championship game really a Fab Five reunion?
Few understand the magnitude of exactly what happened in the Georgia Dome that night.
Although the Louisville Cardinals pulled out the win against the Wolverines, they shared the spotlight with five Michigan athletes who weren't even on the court.
These five men brought notoriety to Michigan's basketball program: Jalen Rose, Juwan Howard, Ray Jackson, Jimmy King and Chris Webber. Many basketball fans know them simply as the Fab Five.
Who are the Fab Five?
Depending on whom you ask, the answer may differ. But basically it is the name given to five black basketball players who were considered part of the greatest class ever recruited by a college team when they joined the University of Michigan in 1991.
Look them up; you'll be surprised how intriguing these young men have been.
In 2011, ESPN Films released a documentary on the Fab Five.
To make a long story short, Chris Webber, one of the members of the Fab Five, has been estranged from the university for a long time. But for this year's championship game, Webber joined the rest of the Fab Five at the Georgia Dome to cheer on the Wolverines.
Well, not exactly. While four of the Fab Five sat together , Webber was elsewhere.
He tweeted pictures of himself at the dome, but he appeared to be sitting in box seats.
Interesting right?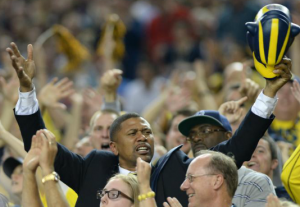 Maybe his absence had to do with former teammate
Jalen Rose's
recent comments about whether Webber would show during an
interview with Bill Simmons on "The Best BS"
for the Grantland Channel.
Rose references a major occurrence during the 1993 NCAA Championship game between the Wolverines and the University of North Carolina Tar Heels. In this game, Webber lost the game for Michigan by calling a timeout, when the team didn't have any left. This mistake was the end to Webber's college basketball career and the Fab Five.
"The elephant in the room has been Chris Webber," Rose said. "While he loves us like brothers and vice versa, there has been a communication separation that has basically taken place since we all were teammates.
"I think the timeout had a lot to do with it. I think he wants to disassociate himself with that moment and with that school, in theory with us, to kind of rebuild his life mentally to say, 'My career really started my rookie year in the NBA,' but that's really not how it works."
Maybe Rose's bold statements provoked Webber's presence at the game but his absence with his former teammates.
Who knows?
I'm sure everyone is just happy no random timeouts were called during this game. Regardless, Michigan has yet to win a NCAA championship, and Webber might want to get in touch with Ron Artest about his psychologist because clearly he still has some issues that need to be faced.
This has been Moments With Maxine Dior. Maxine Dior Chapman covers sports for 101 Magazine.