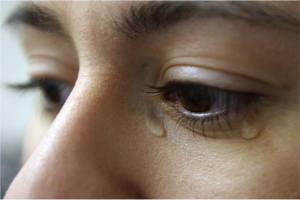 Khaji Dennis was an average teenage girl in search of love. At age 16, after catching the eye of a man in his early 20s, Khaji thought she finally found her true love. Instead she found herself trapped in a toxic relationship with a man who struck her multiple times and regularly undermined her sense of self-worth.
"He used to cuss me out in front of people, and that's really embarrassing," Khaji said.
"In his mind, I wasn't supposed to say anything or argue with him because that was embarrassing for him."
Even though he called her cruel names, hit her and publically humiliated her, she stayed with him. Like many victims of domestic violence, Khaji didn't realize her boyfriend was abusing her.
Domestic violence can happen to anyone. "Domestic violence is an epidemic in the United States that is impacting one in four women," said Karma Cottman, executive director of the D.C. Coalition Against Domestic Violence. "In the District, there are 30,000 domestic violence related calls each year."
Research completed by the Bureau of Justice Statistics shows that in the past nine years domestic violence cases have decreased by less than 1 percent. Additionally, 85 percent of domestic violence victims are women, and one in four women will experience domestic violence in their lifetime, according to joint studies conducted by the U.S. Department of Justice and the Centers for Disease Control and Prevention. However, these statistics underestimate how often domestic violence occurs because many victims don't come forward.
Police Lt. Michelle L. Robinson, the domestic violence coordinator of the Metropolitan Police Department in Washington, D.C., said her department averages 86 domestic violence calls a day.
"But, there are still a lot of underreported communities," Robinson said. "There are many reasons why some victims do not come forward, but based on the calls for service, victims or witnesses to intra-family situations do call us."
Still, many perpetrators often are not prosecuted for their crimes because victims are afraid to report what they've experienced. Robinson said many victims don't come forward, because they fear they will be arrested as well.
Over the past several weeks, domestic violence in the National Football League has dominated headlines. From incidents involving Ray Rice to Jonathan Dwyer, the NFL has been scrutinized for its history of improperly handling domestic violence cases involving star athletes.
In February 2014, TMZ released a video of then-Baltimore Ravens running back Ray Rice knocking his then-fiancé (now wife), Janay Palmer, unconscious and dragging her out of an elevator. Initially, the NFL suspended Rice for two games of the 2014-2015 season. However, in August, after harsh criticism following the release of a full-length video of the incident, NFL commissioner Roger Goodell suspended Rice indefinitely.
The Atlantic County prosecutor's office, which handled Rice's physical assault case, is under fire as well. According to a statement from the office, Ray Rice accepted a plea bargain, which spared him time in prison if he participated in an anger management program.
What happened to Janay Rice triggered a ripple effect of concern about domestic violence and extensive media coverage.
"This is an opportunity for us to make a cultural shift in America," Cottman, said.
Robinson said that because domestic violence is chronically underreported, society has to increase awareness of the signs, trends and symptoms of domestic violence.
"Society needs to change the role of being reactive and become more proactive by introducing all family members at an early age that violence should never be the answer to our problems," Robinson suggested. "It will take all pieces of our society to stop domestic violence."
Howard University has taken an active role in spreading awareness about domestic violence. In 2011, Howard University created the Campus Safety First Project to provide resources and support to students who have experienced dating violence, domestic violence, sexual assault and stalking.
The program holds events in each residence hall to educate and train students on domestic violence, sexual assault and stalking behaviors, said Akosoa McFadgion, the project manager.
"Regarding sexual assault, consent is required for any sexual act," McFadgion said. "We tell students to get the 'enthusiastic yes.'"
Alexis Carter is a reporter for 101Magazine.net.
Where to Turn

October is National Domestic Violence Awareness Month. Organizers emphasize that no one deserves to be violated or mistreated and that society can help prevent domestic violence through awareness and action. If you need immediate assistance, dial 9-1-1. If you are a victim of domestic violence, call the National Domestic Violence Hotline at 1-800-799-SAFE (7233).