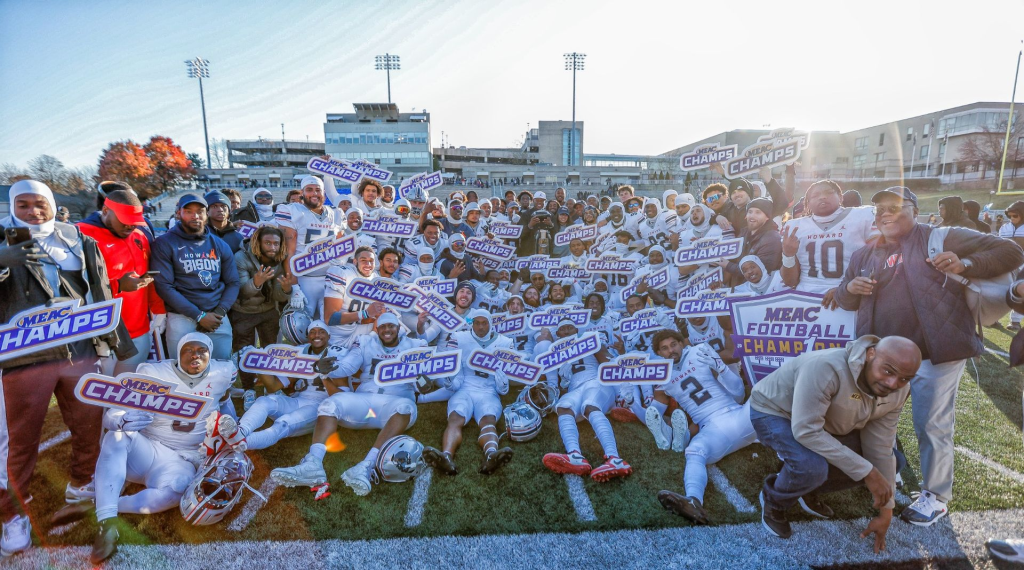 A season that got off to a rough start, was able to close with a win making them MEAC Conference Co-Champions. The Bison defeated the Morgan State Bears 35-6, on their turf where they could raise the MEAC Trophy.
The team was able to hold off the Bears' defense throughout almost the whole game, with a strategic plan.
Jevin Jackson, a Defensive Lineman says, "That was the plan going into the game, we told ourselves we stop the run game we'll win the game, so upfront we told ourselves do our job, we'll make it happen, that's what we did."
The team maintained the lead throughout the whole game ending the half 14-0, but at half time Head Coach Larry Scott said in his mind, the score was 0-0. He expected them to play more efficiently in the second half.
Quarterback Quinton Williams, was able to perform a hat trick, passing two touchdowns and catching his first career touchdown reception. The Bison had a plan for the kicking game throughout the match-up, using Phillip Richards to add extra points.
This marks a new beginning for the Bison. Head Coach Larry Scott who joined the program in 2020, has been using these past three years to build a new and improved team from the ground up. He brought in new staff and shifted the overall mindset of the group.
"This ain't the same Howard anymore and we're never turning back. We're excited about the future, it says a lot about these young men and their belief in what we're doing," said Coach Scott.
Although the Bison will not be competing in the Celebration Bowl in Atlanta, GA, they will receive rings for their season accomplishments. As the team heads into the off-season, they will pick back up for spring ball in no time.