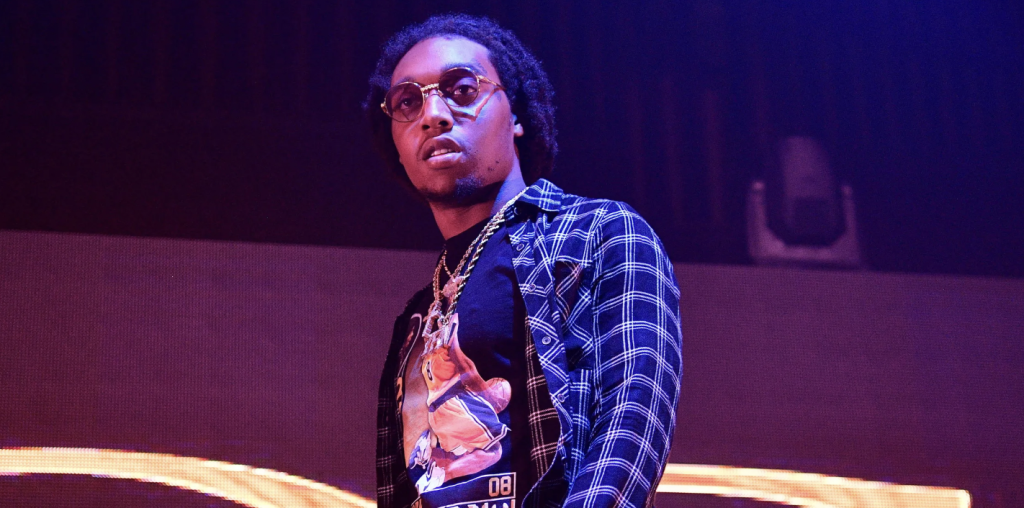 November began with news of the murder of rapper, Takeoff, one-third of the Migos group. Two months earlier, the public also reacted to and mourned for, another music artist by the name of PnB Rock, after he was murdered. Both passings evoked a large response from the public as celebrities, fans, friends, and family members of the deceased reacted to their grief on social media.
"This Takeoff sh*t so weird… I'm genuinely creeped out by the world. I cried. God bless that man's spirit, his family, and friends. SUCH A TALENTED SOUL … ion understand," said singer SZA in a tweet.
Rapper Meek Mills also reacted to Takeoff's recent death in a tweet. "Rip dawg you didn't deserve that…. Every time I see one of my friends bleed out on camera or killed on camera, I feel a sick feeling I can't even really explain… it puts me more and more back in survival mentality!"
Quality Control Music, the label of the deceased rapper Takeoff and collaborator with PnB Rock, posted this statement to their Instagram following the most recent death.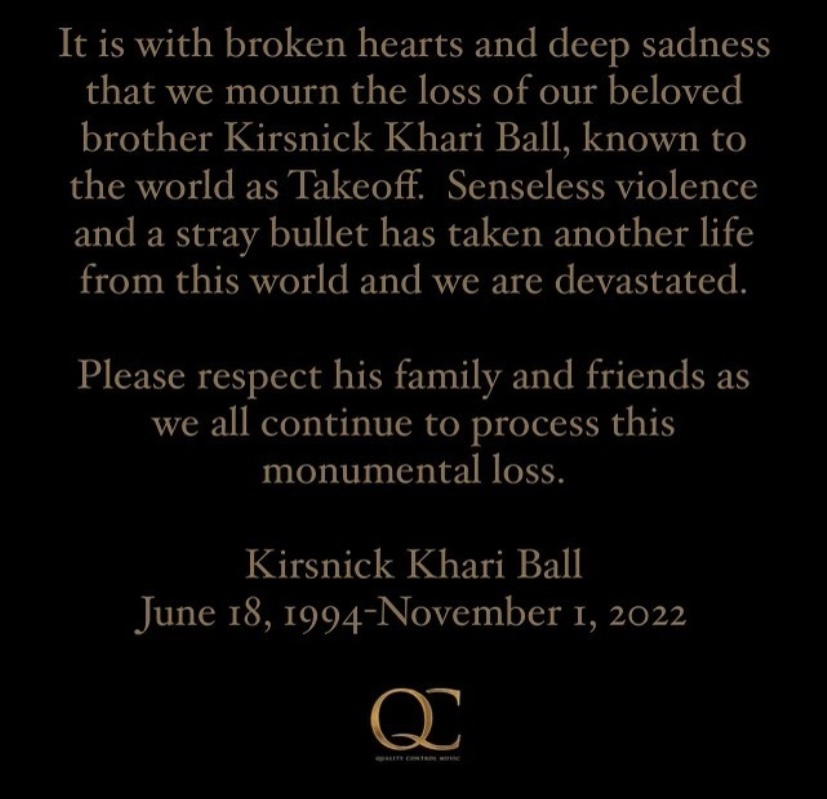 Gun violence within the rap community is not a new incident, however social media quickly allows it to become a trending topic of conversation. Rappers who were killed by gun violence within the last five years include XXXTENTACION (2018), Nipsey Hussle (2019), Pop Smoke (2020), King Von (2020), and Young Dolph (2021). All of these rappers were either with trusted members of their crew or within their own community when they were murdered.
Many rappers have commented on the current influx of the gun violence epidemic within using their platforms, despite claims that their lifestyle and music invite violence. In 2012, rapper Kendrick Lamar wrote in his song "Money Trees", "Everybody gon' respect the shooter/But the one in front of the gun lives forever."
Atlanta rapper, 21 Savage, also went viral on social media for tweeting, "Atlanta we have to do better[,] put the f****** guns down," in response to all of the gun violence in his hometown. Many were quick to call the rapper a hypocrite, for his own songs contain lyrics detailing his use of weapons. 21 Savage dismissed these claims of hypocrisy by saying his lyrics were never endorsing these things.
"I ain't never promoted violence. I just rap about what I've been through, or what I've heard about, what I've seen. That ain't me promoting violence. That's not me saying, 'Yeah, violence is cool,' or whatever. Yeah, I say a lot of shit on songs," said 21 Savage.
Multiple studies claim there is a correlation between listening to violent music and acting in a violent manner. However, this has also led to the belief that hip-hop music overall is the root of destruction in Black communities. Fox News journalist Geraldo Rivera infamously criticized Kendrick Lamar for his performance at the 2015 BET Awards Show. Rivera stated that "hip-hop has done more damage to young African Americans than racism in recent years."
Writer Michael Boucher has analyzed why violence has become a persistent topic in music and claims that it's what sells.
"People like to listen to lyrics of this nature, and for most people, they can explore a world that they are not a part of."
Many artists are prompted to rap about their personal experiences, which tend to include violence, however, this content is also seen to be popular. It has aided artists to gain a bigger following and get more streams, which generates more revenue for the artists' labels. This comes at a cost, for there has been an increase in gun violence that even those who seem to glorify these things can recognize.
"[There are a] lot of killings and shootings going on. I ain't never seen nothing like this. My whole life, being in Atlanta, I ain't never seen it at this point that it's at right now…it makes me depressed," said 21 Savage.
After Takeoff's death, the music blogger DJ Akademiks hosted a live stream in honor of Takeoff to express how there should be an end to violence in hip-hop and rap. He advocated against being fans of rappers such as Tay-K and YNW Melly who are both in jail for murder charges following their release of popular songs detailing killing people with guns. Even the statement posted by Takeoff's former label mentioned, "senseless violence and a stray bullet has taken another life from this world and we are devastated."
The hip-hop community is beginning to realize the correlation between their lyrical content and what is going on in their communities. The world now waits to see if this devastation will influence a community to change its ways.