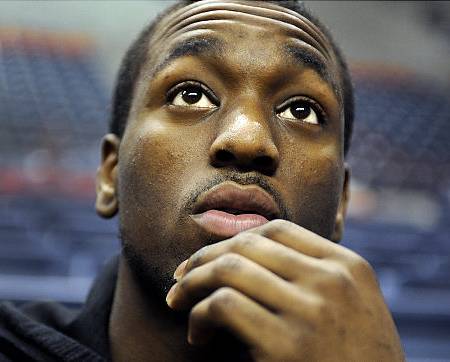 The blacktop in both New York and Washington, D.C., referred to as "Hallowed Ground," is where the style and savvy of basketball legends are born.
Julius "Dr. J" Erving made a name for himself playing at the famed Holcombe Rucker Park in Harlem. Kareem Abdul Jabaar, back when he was Ferdinand Lewis Alcindor Jr., wrestled in the paint at Dyckman Park in New York City. And Darryl "The Truth" Berry was all over the city, shining at The Rucker, Goat Park and thesmurf-size court at West Fourth Street.
Likewise, D.C. players such as Elgin Baylor, Jojo Hunter and Adrian Dantley etched their names on some of the toughest courts in the nation's capital. Stories of Kevin Durant hanging 46 points at Berry Farms and Corey Fisher scoring a whopping 105 in a street-ball game dominate the urban basketball landscape. 
In recent years, however, the basketball legends of these rival cities and their prized fans ask the question, "Who's got next?"
The latest product of New York City's street-ball culture is Kemba Walker, who earned the name "E-Z Pass" while dissecting defenses at The Rucker. Walker has been a staple on Gotham's street-ball circuit since he was 10 years old. 
Recently, however, it's been his scoring, not his pinpoint passing that's turned heads.
If you left to use the restroom or quench your thirst with a soda during UConn's 89-73 victory over Vermont, or even during the second half 83-79 victory over Wichita State, you likely missed a few Kemba Walker buckets.
The Bronx boy and New York Gauchos product has been scoring the rock at a frantic pace lately, stuffing the stat sheet like a Thanksgiving turkey.
Walker dropped 29 points in the final 20 minutes at the Lahaina Civic Center in cushy, surf culture Maui in a Thanksgiving holiday tournament. The direct result was a much-needed victory for the Huskies, preventing UConn Head Coach Jim Calhoun's face from turning beet-red, as it did following a Niels Giffey turnover at the XL Center in Hartford, Conn., the previous week. 
Wichita State could be in dire need of the deep tissue massages that Hawaii is known for, given the immense stress Walker caused in that second half.
Despite being saddled with early foul trouble in the first half, Walker finished with a game-high 31 points in 23 minutes, managing to do so on just 16 shot attempts.
Against Vermont, Walker, one of the few point guards to perform at the Apollo, Rucker, and Madison Square Garden, scorched the nets to the tune of a career-high 42 points.
"It was pretty special to see a guy get 42 points. It almost looked easy for him," Calhoun said. "His quickness and speed were just so different from everyone else on the court. It was just a magnificent performance."
Walker, a high-motored playground basketball adherent, was once pigeonholed by a house-load of haters as a question mark for his weak jumper.
Now the 6-foot-1 Walker is dissecting, dominating, devouring and dicing up defenses as if it were another day on Gotham's street-ball circuit.
"I don't think anyone can stay in front of me," Walker said. "That's what I do: get by guys. I try to make something happen." 
Walker poured in 88 points in a local New York tournament, leaving the other team scratching their heads in bewilderment.
While the feat of hanging an 88-spot on a team may seem largely unattainable, the one-time Apollo performer is certainly no amateur.
Walker was rendered unguardable against a Wichita State team that seized a 60-51 edge on a Toure' Murrylayup with 9:54 remaining, instigating a full timeout from fiery, longtime game general Calhoun.
With a relentless arsenal of forays to the cup and a few pull-up jumpers, Walker scored 15 of the Huskies' ensuing 24 points during a seven-minute power surge.
He was an accurate depiction of a buckets bagger with a swagger. As Rick Pitino once described him, Walker was "hell on wheels."
The highlight of Walker's individual 7-2 streak was a deep trey ball, which knotted it up at 76-all with 2:46 remaining.
His focus never drifted.
Walker's bulging, burning eyes were pasted on the prize of fighting to live another day in this highly competitive tournament.
Sure, the Huskies had not faced cream-of-the-crop competition yet.
Still, Walker's eye-opening antics have proven one vital truth: This youth-laden Huskies team will go as Walker goes.
That was evident in the victory over a Vermont team that features one of the most underrated players in the country in forward Evan Fjeld.
Walker scored 36 points in the game's first 30 minutes, draining 4 of 9 from beyond the arc, making 15 of his 24 shot attempts.
During one possession, Walker misfired on a three and chased down a tipped ball around the rim, recovering the rock just in time to bank home an open lay-up.
"I think I take better shots (this year). I get better shots. I don't go too far in the lane anymore," said Walker, following the win over Vermont. "I think, as the season progresses and guys realize what shots they can take, (the scoring) will spread out a little more."
No question, Walker is playing like the best point guard in the nation. And this will be confirmed if he beats out other contenders for the 2011 Bob Cousy Award from the Naismith Memorial Basketball Hall of Fame in Springfield, Mass.
Walker leads by action, intensity and encouragement, pushing the younger players' development. He's also one of the team's top students, maintaining the 3.0 GPA he recorded last semester.
Wait, you have five sisters? Meet Walker, and you may just tell the Rice High School product he's entitled to an introduction.