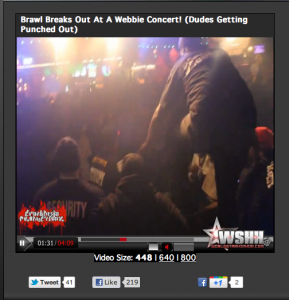 A brawl broke out on the court at the Howard University basketball team's last home game of the season after a nail-biting game, narrow Bison victory and an exchange of words between the opposing players. As the mass of six-foot-some-odd men threw arms at each other, the crowd egged them on from the stands, screaming, shouting, celebrating and singing Lil Scrappy's unofficial southern fight anthem, "Head Bussa." In the height of the excitement, a young Bison attempted to be a pseudo journalist and recorded the fight on his iPhone. Within an hour of the fiasco, he had uploaded the video to YouTube.
The video had more than 300 hits within the first five minutes of its upload, and the link flowed down Twitter timelines like running water. One comment under the video read, "Wow, I hope this makes it to WorldStar!"
Stop right there. Why is this okay? It can't be good that this is the natural reaction in the aftermath of a scuffle including our own friends and collegiate family?
The student apparently received so much backlash on Twitter for letting out the university's goods that he made the video private before the end of the night.
Smart move, sir.
WorldStarHipHop.com, or WorldStar for short, is a hip-hop blog started back in 2005 by Lee "Q" O'­Denat. The site has blossomed (for which I use the word lightly) into a YouTube-esque, air-it-out, public video forum for all things deemed ratchet. From mall brawls and family barbecues to low-budget music videos and unwarranted social commentary, much of the content on this user-generated site is NSFW (not safe for work), but in my opinion, never suitable for watching.
WorldStar was ranked the 278th most visited URL in the United States, pulling in approximately 1.1 million people per day, according to Alexa, a web traffic tracking service. Instead of picking up a book, both young and old use their free time to peek at a video or two, and laugh at the black eyes, sexual innuendo and sad proof of our downward-spiraling generation.
But why is this habit of watching foolishness so marketable?
"I don't visit it as much as I used to," said Karim Alammuri, a Howard University journalism student. "I used to go on it everyday in between classes. I have nine classes."
What draws Alammuri into the site is its shock value.
"It shocks me how videos like those will matriculate to the Internet and be so popular," he said. "Some of the stuff isn't always bad, but 90 percent of the stuff they have on there is ignorant."
Stephen Miller, an Apple employee scoffs about the promotion of WorldStar among peers. "WorldStar is a joke. If someone puts a link to WorldStar on anything, they're not my friend," he said.
"What's the point of WorldStar Hip Hop?" asked Miller. "What does that exposure gain anybody? There's no context; it's just entertainment. Let's put this out, laugh at it, hope it's not real and keep it moving."
People of all ages, regions and races have access to the site and the ability to post material, allowing anyone to witness negative portrayals carved out. Black people are recurring victims.
"There's a vessel for that stuff to be congratulated or adored, if you're talking bout little kids who don't get any affirmation," Miller said, "but then they get talked about for having a video online."
Back in January of 2011, 50 Cent, owner of competitor site ThisIs50.com, tweeted that he didn't think "WorldStar was good representation of black people as a [w]hole."
I'm with 50 on that one.
A wide-spreading epidemic. A disease of the mind. That, in its entirety, is the exact definition of WorldStarHipHop—or at least it should be.
Generation Y, especially potential black leaders, please do better.