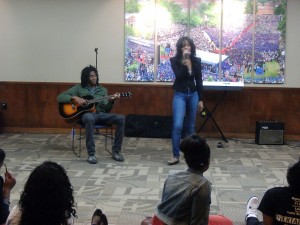 Ari Lennox sang during a guest performance at the music and poetry showcase sponsored by Howard University's entertainment industry organization, Endustry Power Players (EPP).
EPP held auditions for the event, so the show was primarily composed of Howard students, many of whom performed hip-hop and R&B covers and original songs without microphones, as audience members sat on the floor or cushions in a small room  on the lower level of Cramton Auditorium.
Lennox, however, introduced different genres to the showcase with covers of "Sparks" by Coldplay, "Pursuit of Happiness" by Kid Cudi, "Prototype" by Andre 3000 and her original "Random Heartbreaks."
"I usually get very rock-ish when the beat is very live and there are a lot of drums," Lennox said. "If it's a nice soulful groove, you're gonna here my Erykah Badu influence come out."
Lennox moved and danced all around the venue during her performance, even stopping to pull a student up to perform with her.
"I would love to perform at every college in the world," Lennox said. "I just want to vibe and chill and have fun, and I would like to do more college events because I would like to be around young people."
Christian rapper MPH (Man Praisin' Hard) hoped to bring a new perspective to college life by performing his original song "All My Love."
"I'm inspired because I feel like everybody here at Howard has their own culture," MPH said. "There's a lot of drugs and drinking to get on their level … and I kind of have a different message, not talking about why my level's the best, but where my level is."
Despite the uniqueness of his genre, he noted that he was not nervous before performing or auditioning.
"I've always kind of been in the circle where I was the only one, and it motivates me to go hard," said MPH.
Cortnei Brockington, freshman psychology major, was hesitant before auditioning for the show.
"I swore I would never perform in front of a Howard crowd," Brockington said. "I've seen so many bad things happen on stage to Howard performers.  But I saw the sign and I was like, 'I've never sung here; people don't even know what my talking voice sounds like, much less my singing voice.'"
After performing an acoustic medley of "Thinking About You" by Frank Ocean and "Unthinkable" by Alicia Keys, Brockington received loud applause.
Flawed Logik, a soul band of Howard students, performed a slow arrangement of "Crazy" by Gnarls Barkley, complete with a saxophone and chilling vocal rendition from Darynell Bell, freshman biology major.  The show also included performances from Jackie Blaque, Tyheim Brown, Makaela James, Taz, Rok Bailey and Elliot McKnight, before ending with Ari Lennox.