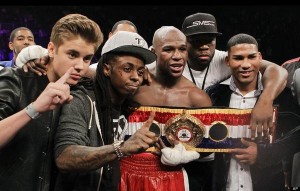 Photo Credit: thisis50.com
Floyd "Money" Mayweather Jr. defeated super welterweight champion Miguel Cotto in a thrilling fight that lived up to its hype. Mayweather picked apart Cotto in dominant fashion Saturday night, winning his eighth world title. Mayweather won by wide margins dictating the pace and overall narrative of the fight.
Two judges scored it 117-111 and the other 118-110. Total punch stats were one sided as well with Mayweather narrowly out-landing Cotto. Total punches landed were 179 of 687 punches to 105 of 506. His tools of destruction were sweeping right hooks and left uppercuts.
Cotto was a solid contender and fought a heartfelt fight, but his offensive activity was nullified by Mayweather's solid defense. Still, Cotto managed to bring the best out of Mayweather. At his post-fight press conference Mayweather praised Cotto's toughness.
"He came to fight; he didn't just come to survive. I dug down and fought him back."
Mayweather, wanting to give fight fans their money's worth, delivered big time Saturday night. Relishing the spotlight, he entered the arena with a star-studded cast of friends escorting him into the ring. Rap superstar 50 Cent, pop sensation Justin Beiber and WWE wrestling star Triple H were all in tow behind Mayweather, brandishing his seven world titles as he casually strolled to the ring.
Once the bell rang, Mayweather put on a dazzling performance that is sure to become a standout in his career. In round 2, Mayweather made the adjustments necessary to penetrate Cotto's defense, stinging him with sweeping right hands. Cotto, buckling from the blows, inched backwards and came back with his own flurries.
By the fifth round, Cotto was clearly backing up from Mayweather's offensive barrage. He landed few clean solid punches, but accomplished something few fighters can do against Mayweather. In round 8, Cotto caught Mayweather with a stiff jab effectively making Mayweather bleed profusely from the nose. The was the first time many, if anybody, have seen Mayweather bleed in his 16-year career. Though bloodied, Mayweather smiled in his corner at the cameras.
Dictating the pace of the fight, standing toe to toe, fighting on the inside and outside, and taking away the pop of Cotto's punches, Mayweather dazzled viewers with raw skill and athleticism. He used his high boxing IQ to pick Cotto apart, making the tough champion look like an amateur for 12 rounds.
Mayweather closed the show in the 12th round, staggering Cotto with uppercuts to the head and bringing thunderous applause from the crowd. When the bout was over, the two fighters hugged and thanked their opponent's team. Mayweather praised the effort put forth by Cotto.
"You're a hell of a champion." Mayweather said. "You're the toughest guy I ever fought."
Mayweather lived up to his commitment to give fans an entertaining show. His overall story still continues to grow, but Mayweather has given the world a reason to appreciate and marvel at his success with Saturday's performance.
What's more astounding than Mayweather's victory on Saturday is the amazing amount of positivity Mayweather has generated for himself in the process. He managed to turn a 90-day prison sentence for domestic violence into an opportunity to cement his legacy.
Not only did he keep his perfect record safe, but he also managed to become the highest paid boxer ever.  Saturday's fight guaranteed him $32 million up front. He will also receive shares of Pay-Per-View sales, a number many experts expect to break the previous record set by Oscar de la Hoya and Mayweather in 2007.
In total, an estimated $40 million payday awaits Mayweather. And in ESPN's "Money issue," Mayweather is crowned the highest-paid athlete in the United States. He managed to make the most of a tremendous negative in less than five months.
Despite his success, Mayweather will have to turn himself in June 1 to begin his 90-day prison stint, stemming from a domestic assault charge with the mother of his kids. At the post-fight press conference, Mayweather spoke candidly on his circumstances.
"June 1st — it's just an obstacle that's in my way," Mayweather said. "Only thing that it can do is make me stronger as a person  —say to myself next time I'm faced with that situation, approach it a different way."
Mayweather will be heading to jail, but he left a better mark on some spectators' perception of him. He downplayed his bad boy image to let the world see the hard-working, talented, smart businessman that defines boxing today.