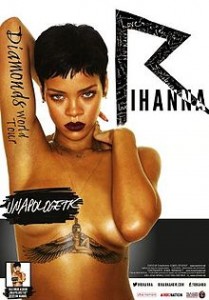 In 2005, the almighty Jay-Z took a teenage girl from Barbados under his wing.  The girl, Robyn Rihanna Fenty, made a little spark with a catchy, reggae-pop song titled "Pon de Replay."  In the eight years since then, she has dubbed herself a "bad girl" and is sticking to the script in more ways than one.
From nearly naked selfies to pictures of her smoking marijuana, there is no line that Rihanna is not willing to cross. But now she may have stepped too far.
In a classic case of victim-turned-bully, Rihanna threw indirect shade via Instagram at Teyana Taylor, best known for her party on MTV's "My Super Sweet 16" in 2007.
Two weeks ago, Teyana posted a video of her singing efforts — a bit of Anita Baker's classic ballad "Caught Up in the Rapture of Love." Rihanna, in turn, made fun of it. She posted a video of her makeup artist in a wig and snapback hat, "singing" the same part of the song.
In a flurry of subtweets, Rihanna refused to mention Teyana, but her diehard navy sounded off. Teyana, however, chose a very direct path. Simply put, Teyana and her deep voice were not going out without a fight:
"Don't play wit me rihanna f— all this industry s—, YOU & I know each other VERY well. Throwing subs 4 wat? u got my #, don't show off."
Fiercely warning Rihanna to stop in several tweets, Teyana insinuated that she was unlike other women in the entertainment industry who might simply turn the other cheek. Twitter buzzed with tweets, from Rihanna's navy to people who liked Teyana's firmness. It was entertaining to say the least.
It is no secret that Rihanna's success has molded her into a cocky public figure. "I don't want to be a role model," Rihanna told Ellen Degeneres on her show in November of 2011.
The first thing that comes to mind when many people think of Rihanna is the 2009 domestic abuse case involving her then beau, singer Chris Brown. She continues to make her "bad girl" mark on the world beyond that incident and her second stab at dating Brown.
With the help of social media, a variety of beauty trends and her nearly perfect wardrobe, Rihanna has evolved into an entertainer full of variety, spunk and sass. Seven platinum albums later, she has released a clothing line with London-based designer River Island and highly anticipated fall collaboration with M.A.C. All of this is building her into one of the most legendary and controversial artists of our generation.
It's true that Rihanna is a baddie and that Teyana Taylor can't sing. Though I am heavily anticipating the Oct. 3rd release date of the M.A.C. collection and swoon over almost all of Rihanna's pictures, I have to humbly admit that she may need to pump her brakes when dealing with Teyana Taylor. Rihanna may find herself getting mopped off the floor next week, because home girl is not playing with her.
Though we don't know the entire story, it is known that both of them have dated Drake and that Teyana and Karrueche, Chris Brown's current girlfriend, are very close.
Inevitably, the last tweet Rihanna posted dealing with the situation was a simple one:
"I hate broke b——."
And with that, she began to market products from her cosmetics line.
If my net worth was said to be $90 million, I guess I would ignore threats and continue on with life, too. And I would have security for people like Teyana Taylor.
Jasmine Roberson writes about cultural issues for 101 Magazine.
Flashback: Watch Teyana Taylor back in 2007 on the MTV series "My Super Sweet 16."