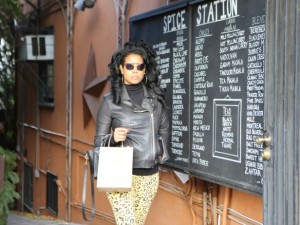 Kelis Rogers is hosting a new show on the Cooking Channel called "Saucy and Sweet With Kelis." The music superstar shows her love for food by preparing tasty meals in her very own kitchen.
But just because she has a new cooking show, doesn't mean she has stopped making music. Expect an April release of her new album "Food," which has a culinary theme.
To check out her recipes, take a peek at the premiere and learn more about her favorite restaurants around the world, visit the Cooking Channel's website.
— By Janelle Berry
Red October … in February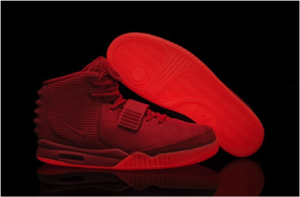 Without warning, Nike released the all-red version of the Air Yeezy 2 (most commonly known as the Red Octobers) a few weeks ago on its Twitter page. In only seven minutes, the $245 shoe sold out. This is the sixth release of the controversial shoe collaboration between Nike and the Yeezus artist Kanye West.
The shoe was highly anticipated by sneakerheads and other shoe critics last October, but anticipation led to much disappointment when Nike never placed the shoe on the calendar for sneaker releases.
Fans and supporters of the collaboration were disappointed, but Kanye West kept them interested by wearing the sneaker during his Yeezus tour and by providing exclusive pairs to celebrity friends Kevin Hart and Tyreke Evans, among others.
West also created a Willy Wonka effect by providing special tickets in certain Yeezus albums that guaranteed fans a pair of free Red Octobers.
But when problems between Nike and West surfaced in West's interview with Sway, the drama threatened those 50 lucky fans' chances of receiving the sneaker.
Sitting in the studio with Sway, Kanye discussed the issues with being a rapper, activist and designer. He openly discussed the technicalities behind his $120 APC plain white T-shirts, issues he experiences as an artist and fashion designer, the loss of $13 million invested in his fashion line and problems with manufacturing his famous Air Yeezys for the masses.
"They try to marginalize me," West said. "Nike told me they ain't sure [when the Red Octobers will be released]." He then went on to discuss how Nike did not want pay him royalties for his shoes.
Kanye West looked into the camera and noted that his signature is also required before any shoe could be released. And his threats at Nike were not empty. Weeks after the interview with Sway, West signed a deal with Adidas citing that he "loves Nike" but that "the new [him], with a daughter, takes the Adidas deal because he has to provide for his family."
Despite this deal, the Red Octobers were still released and have sold out. They can now be found only online for resale ranging from $4,000  to $16.3 million. Yes, $16. 3 million is correct.
— By Tyrone Hankerson Jr. 
10 Top Winners at Sochi