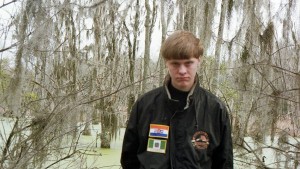 Dylann Roof, 21, was arrested earlier today and taken into custody in Shelby, South Carolina, for the killing of nine people Wednesday night at an historical African-American church in Charleston, South Carolina. At approximately 11:15 a.m., Roof, of Lexington, South Carolina, was taken into custody without incident during a traffic stop, according to Charleston police chief Greg Mullen.
The shooting too place inside Emanuel African Methodist Episcopal Church, an historic church home to a predominantly African American congregation. Rev. Clementa Pinckney was among the nine people killed inside the church.
Syliva Johnson, a cousin of Pickney, said she spoke to one of the only three survivors of the shooting who told her what happened inside the church.
Johnson says the survivor told her that a man came into the church, asked for Pinckney, and sat next to him during a prayer meeting for an hour. He then began shooting and reloaded his gun five times, according to the survivor.
A man begged the shooter to stop, who then replied, "You rape our women and you're taking over our country. And you have to go," according to the survivor.
According to Dot Scott, the Charleston NAACP President, another survivor was told by the shooter, "I'm not going to kill you, I'm going to spare you, so you can tell them what happened." Scott says she heard this from the survivor's family.
According to one law enforcement official, witnesses told authorities that the gunman stood up and said he was there "to shoot black people."
Authorities also released a mug shot of Roof from Lexington County taken after a trespassing arrest in April of this year. According to another arrest warrant from an incident in February, Roff had an unlabeled pill bottle with a drug believed to be suboxone, which is used to treat opiate addiction. The status of this case is unclear.
Emanuel African Methodist Episcopal Church, also known as "Mother Emanuel," has staked its roots in Charleston since 1816, where it has been a headquarters for civil rights activities over its many years of existence. The church has been burned down, destroyed by an earthquake, and banned by the state over the past decades. Still, it perseveres as the largest African-American church in terms of seating space in Charleston today.