President Joe Biden's plan to provide up to $20,000 in student loan forgiveness was stopped by two federal courts in early November.
A federal judge in Texas on Nov. 10 was the first to block the student-loan forgiveness plan, which was already on hold after the 8th Circuit Court of Appeals issued a temporary stay in October. The Job Creators Network Foundation, a conservative group, filed the lawsuit arguing that the Biden administration violated federal procedures by failing to seek adequate public input on the program.
The second to block the president's plan was the 8th Circuit Court of Appeals in response to a lawsuit jointly filed by six Republican-led states that argued the Biden administration was overstepping its executive powers leaving millions of borrowers curious about what happens next.
Here are a few things to know if you applied for relief.
What happens now?
The student-loan relief application has already been taken down from the Federal Student Aid website. Applications that have already been filed are currently on hold while the appeal works its way through the courts.
"Courts have issued orders blocking our student debt relief program," said the Education Department in a statement. "As a result, at this time, we are not accepting applications. We are seeking to overturn those orders."
Experts say student loan forgiveness has the potential to end up before the Supreme Court, meaning this could be a lengthy process.
When do payments resume?
Most people with student loan debt have not been required to make payments since the COVID-19 pandemic, but payments and the accrual of interest will resume in January of 2023.
What if I already applied?
According to the Department of Education, over 26 million people applied for debt cancellation since the applications opened. According to the Biden administration, close to 16 million people already had their applications approved; however, court actions stopped the relief from being delivered.
Many applicants have been notified of their approval and received the following email.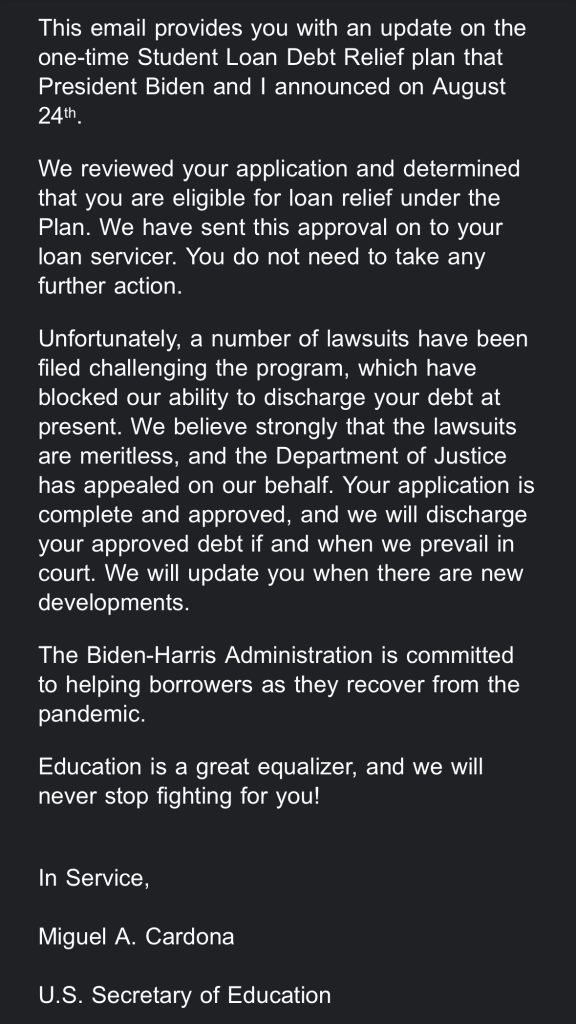 The Education Department will "quickly process their relief once we prevail in court," White House Press Secretary Karine Jean-Pierre said in a press conference.
The White House and advocates for student debt relief expect to continue fighting for President Biden's plan, but experts say this has the potential to end up before the Supreme Court, so it may be a lengthy process.
Who qualifies if the appeal succeeds?
The debt forgiveness plan announced in August has the potential to cancel $10,000 in student loan debt for those who make less than $125,000 or households with less than $250,000 in income. Pell Grant recipients would get an additional $10,000 in debt forgiven, for a total of $20,000. And borrowers qualify if their loans were disbursed before July 1. 
About 43 million student loan borrowers are eligible for some debt forgiveness, with 20 million who could have their debt erased entirely, according to the Biden administration.
Is it possible the debt won't be canceled?
Yes. The courts have the potential to block the entire loan-cancellation plan. The Biden administration has not confirmed whether or not it will explore other options for canceling debt if it loses the appeals. Other advocates point to other ways the debt might be forgiven, including through the Higher Education Act.