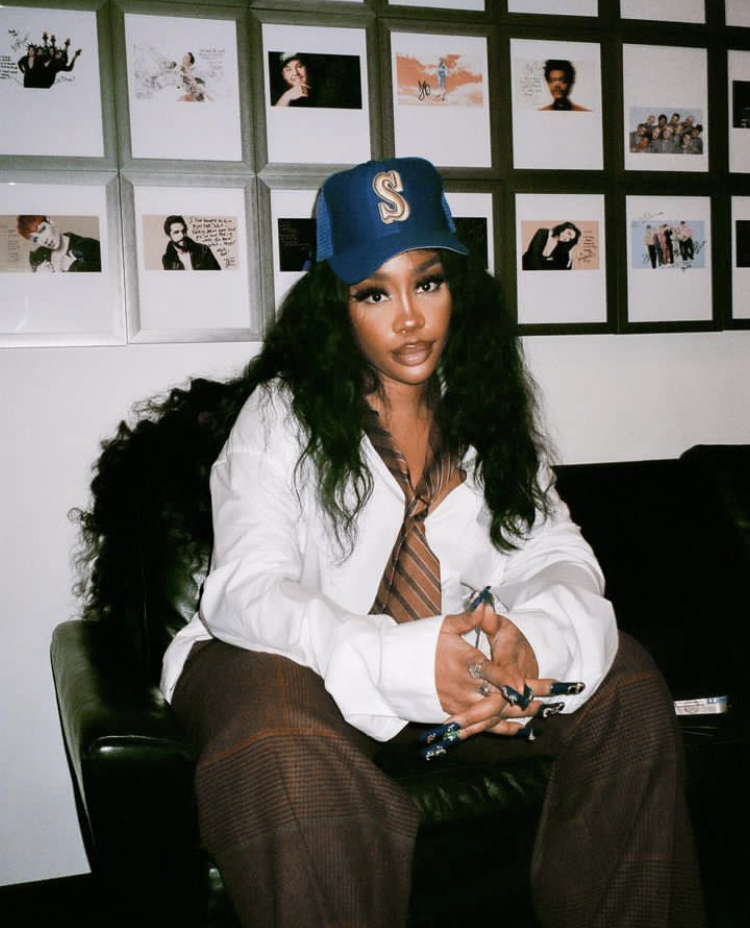 On Dec. 9, artist SZA released her sophomore album, SOS. Her second effort comes five years after her first album, the critically acclaimed CTRL.
The bar for this album was set extremely high. CTRL is still on the Billboard 200. Multiple songs from the album have received over 200 million streams and gone platinum. It has been hailed as one of the best alternative R&B albums of all time, and SZA's songwriting skills have been the focal point of that praise. One can only imagine the pressure she was under for this album.
SOS contains 23 songs filled with SZA's usual topics: love, jealousy, heartbreak, insecurity, and yearning for fulfillment. Despite this list of deep topics, the album feels…off. Some of the songs feel like someone went to an AI bot, put a few lyrics from CTRL in, described SZA's songwriting style, then asked it to write a song. The runtime is only an hour and eight minutes, making it feel bloated.
There is little-to-no topic evolution from her previous works. The album opens up with a braggadocious SZA rapping and singing about a "warning shot" and coming back for everything she's owed. A few songs later she is lamenting about the loss of her lover, then "Smoking on my Ex Pack" plays. It's not to say that SZA can't write about these topics anymore, but it's difficult to suspend disbelief when it's presented in such an unorganized format. I don't think I would have noticed or paid much attention to the content evolution on the album had it been sequenced better.
However, I doubt that this randomized feeling to the album is a deliberate choice on SZA's behalf. The artist notoriously had issues with her label, Top Dawg Entertainment (TDE). It was reported that the release of CTRL came after her label sat her down and forced her to pick 17 songs. SZA hadn't released a project in three years when TDE did this.
In an interview with Hot 97, SZA stated that many of her potential features didn't turn their verses in on time. SZA is one of the top artists in the world; it's difficult for me to believe that Don Toliver, Phoebe Bridgers, and Travis Scott are the only artists that could manage to appear.
Travis Scott's skills would've been better utilized outside of adlibs on "Low", but instead he delivers an introspective verse a la Frank Ocean on "Open Arms". The song "Love Language" samples "Hit Different", a single of hers that didn't appear on the album. This can be seen as either iconic or lazy, it's really up to interpretation. "Shirt", a one-off that was teased for a year before it was released, received a confusing and tardy music video. The music videos combined with the art surrounding the album make it hard to pinpoint an exact aesthetic for this era of her music.
The beautiful thing about SZA's art is that her superb musical skills make up for it all. To me, CTRL is an album that can be mentioned among works like The Miseducation of Lauryn Hill and Blonde. These are once-in-a-lifetime bodies of art that are so complete and set the bar so high, any follow-up by these artists almost feels unnecessary and can never amount to their predecessors.
What I see as SZA's less than is still greater than most. I love the theme of SOS and the idea of this album as a distress signal. The cover art shows her alone on a diving board in the middle of the ocean, looking towards the sky in a hopeful manner. You can hear morse code and the sounds of a flare gun throughout the album. SZA explores genres in a way we haven't seen her before. She switches between rap/singing in the vein of Beyoncé and Mariah Carey, to alternative angst that reminds me of Avril Lavigne and Mazzy Star.
Despite its flaws, this is still an excellent alternative R&B album. SZA's inherent talent helps her to narrowly avoid the infamous sophomore slump in music. Perhaps the assorted feeling of the album was intentional and helps to communicate where the artist's head lies. There are extremely relatable tidbits placed throughout. I'm sure the sounds of SOS will dominate playlists in the near future.
Faves: "Kill Bill", "Seek and Destroy", "Blind", "Snooze", "Gone Girl", "Nobody Gets Me", "Forgiveless"
The opinions expressed in this article are the writer's own and do not reflect the views of 101 Magazine.