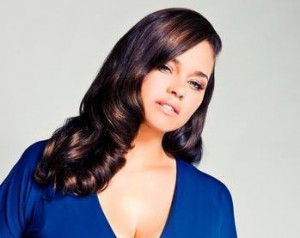 Kaela Humphries signed with Ford Modeling's Plus-Sized Division
They rock runways, grace the covers of magazines and pose for racy pictorials all while breaking beauty boundaries and changing stereotypes. Plus models are having a major moment right now in the fashion industry. Fashion influencers like Dita Von Teese  are using them in runway shows, major magazines are using them in multi-page spreads and Ford Modeling just signed former Kardashian sister-in-law Kaela Humphries to its plus-sized division. These women have the world in agreement—big is beautiful.
Big Support
Many critics of the modeling industry believe that images in the media of rail-thin models create body image issues among young women. Activists have started creating materials with curvier women on them and portraying them as symbols of beauty. Dove's Real Beauty campaign also aims to combat negative stereotypes of skinny being beautiful; the popular toiletry brand features real women in all their commercials.
"Plus-size" celebrities have also helped relieve some of the stigma of being curvy. Voluptuous "Mad Men" star Christina Hendricks has become a sex symbol since her bright red mane and size 12 frame first appeared on AMC's award-winning drama in 2007. Her portrayal of the sensuous Joan Harris (nee Holloway) has left women envious and men wanting more.
Even the media have even been making efforts to include more real women in their ads and pictorials. In 2009, Glamour Magazine printed a photo of a regular-sized woman in her underwear, smiling. The photo created buzz on the Internet and on mass media outlets, and the magazine was flooded with positive letters and inquiries. The model in the photo, Lizzie Miller, became known as "The Girl on Page 194."
Plus model Tara Lynn recently graced the cover of Elle France. The major fashion mag called her "The Body," a nickname previously owned by the tall and slender supermodel Elle Macpherson. She was also featured on the cover of Vogue Italia, a magazine that rivals the influence of its American counterpart in the fashion industry.
"All women have different body types, and you just need to embrace it and make it the healthiest that you can make it," Miller said, "and not feel like you have to be pressured to be a certain size what the media says you have to be."
What Is a Plus Model, Anyway?
The industry term for a regular model from size zero to four is a "straight size," and any model over a size six is considered a plus model. A size six may seem a little small to be "plus," considering that the average American woman wears a size 12, but plus models come in a great variety of sizes and shapes.  Many designers prefer their plus models in the 14-16 size range because these models are more marketable to curvier consumers.
From Pressured to Plus-Sized
Many straight-size models feel that they need to be extremely thin because if they are not they will not get work. Unfortunately, some women turn to unsafe methods in an effort to stay thin.
"I think there are some people who are naturally that thin, but for me it was extremely, extremely hard," plus model Kate Dillon said in an interview on the Ellen Show. Dillon was a straight-size model until she developed an eating disorder that changed her perspective on the modeling industry's standards.
Dillon's disorder began when she was told that she was "too fat" to be a model. "Part of what was difficult for me as a skinny model was that here I was sort of starving myself and hurting myself to try to fulfill this image and this illusion for the fashion industry," Dillon added. After her recovery, Dillon returned to modeling, this time at a healthy weight.
Crystal Renn also had an eating disorder as a straight size model before becoming a plus model. "I got down to a double zero to do my job," Renn said. "I remember being so thin that they actually had to pin the clothes to me, which I think a lot of people were actually excited about, because at least I was getting into the clothes."
Many models fall into a cycle of portraying what many believe to be a false standard of beauty. Airbrushing, photoshopping and digital imaging have caused body image standards to become incredibly high, leaving women's self-esteem incredibly low.
"It was only when this job was made aware to me that I knew that I had to change my life," Renn said.
Curvy Couture
Encouraged by the reaction to photographs of plus-size women and "real beauty" campaigns, designers are starting to take notice of the real beauty revolution.
"I think we're getting more real all over the place," designer Betsey Johnson said in an interview with CBS News. "Let's dress more women, because if it's left up to just dressing our 'skinny Minnies,' we'll be out of business. There ain't enough of them."
Johnson has created a lingerie line for curvier girls. Other designers are also venturing into plus wear. Popular women's wear designer Michael Kors has been a pioneer in plus fashion, and Calvin Klein's garments have become a staple in most department stores' plus departments.
Big Ain't Beautiful
Despite these wins for the plus community, not everyone is as accepting of the "healthy is beautiful" phenomenon. Amanda Platell, a controversial popular columnist for the UK's Daily Mail, is a self-proclaimed "fattist."
In an August 2009 article (http://www.dailymail.co.uk/debate/article-1205112/My-visit-Fat-Central-mission-whos-really-blame-obesity-crisis.html), Platell writes, "I find obese people unappealing in almost every regard. They are physically unattractive, they lead unhealthy lives, they take up too much space on public transport." She goes on to say that "fat" people have a "lack of self-control and even less self-respect." Most of the 204 comments that Platell received on the Mail's website were supportive of her statements.
It is widely regarded that "fashion people" dislike curvier women. While the industry insists that it works to accommodate all shapes and sizes, it is hard to ignore the "anti-plus" commentary of some of its most highly revered influencers. Chanel designer and fashion icon Karl Lagerfeld came under fire recently for saying popular British singer Adele was a bit too "fat" during his recent turn as the global guest editor of Metro International newspaper. Popular fashion blogger Bryanboy has also been openly critical of overweight people on his Twitter account. In the past, he has even taken TwitPics of bigger people and made fun of their appearance. The opinions of these industry professionals influence other industry tastemakers and the public.
Real Women Revolution
Despite any negative commentary, plus models seem to love their job because it allows them to love themselves.
"I love being a plus sized model because I feel that I can just really be myself and represent that there's a very diverse range of beauty," Dillon said with a smile.
Plus models are giving the everyday real-sized woman a voice. Teacher and mother-of-one Sheila Wilson thinks that plus-sized models give curvy girls confidence and provide a more attainable standard of beauty. "Plus models really show young women that there is not just one type of person who is beautiful. Beauty is beauty no matter what shape or size you are."
Men, women and the fashion industry are all starting to take notice and have begun to agree that plus models are not only relevant, but also essential to a world in which the average woman is not a size zero. Because of these trailblazers, real-sized women everywhere are embracing their beauty and beginning to believe the words of MIKA's 2009 hit: "Big girl / you are beautiful."