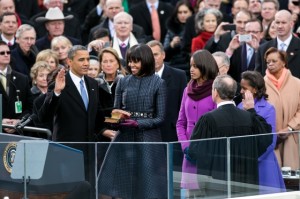 Supreme Court Chief Justice John Roberts administers the oath of office to President Barack Obama, who places his hand on the Bibles of the Rev. Dr. Martin Luther King Jr. and President Abraham Lincoln.
Barack Obama's campaign staff was overjoyed to see their candidate sworn in on Inauguration Day to resume his historic presidency, after an oftentimes-brutal campaign with Republican Party hopeful Mitt Romney.
"It was a grittier campaign than 2008 — less hope and change, more Romney is evil and crazy," remarked former Colorado staffer Stephen Simpson.
Simpson's comments echo the general sentiments of the 2012 Obama campaign, which fought an arduous battle with an increasingly desperate Republican Party. Simpson went on to congratulate himself and other staff members on a job well done.
"As a staffer, I felt like watching this Inauguration was a completion of the job that I started by joining President Obama's campaign."
On the actual speech itself, staffers were hard to impress, as they'd seen and heard the 44th president of the United States speak several times. One campaign member, who refused to give his name, put it this way: "Honestly, it was nothing new to me. After working for the campaign, I've heard the president speak several times on the same issues that he emphasized during his inaugural speech."
Events for the 2012 campaign staff during inauguration weekend included networking sessions, White House tours, a staffer's ball and a conference on aiding the president's legislative agenda.
The Obama campaign's grassroots organizing produced a historic victory for the nation's first black president, as he won 332 electoral votes and carried the majority of the states and districts he won in 2008 (including Romney's home state of Massachusetts).
A Miami Obama staffer commented on what he'd learned of organizing from the 2012 campaign: "Aside from professional growth, the campaign has rewarded me by displaying the difference that grassroots organizing can make in any given community."
And what a difference it did make; Obama's 2012 campaign managed to again carry the lion's share of minority voters. Many have attributed this difference to the campaign's wide-sweeping, bottom-up approach.
Attendance at this year's inauguration was markedly down from the first time President Obama took office in 2009. "The most glaring difference in this inauguration and his last is the decrease in attendance," Simpson said. "This ceremony is projected to have brought in roughly 800,000 attendees, which is down from the 1.8 million people who attended just four years prior."
This years festivities weren't nearly as packed, nor as monumental, as they were four years ago. This brings into question American sentiment towards the president's first term and expectations for his second. Staffers were mostly optimistic about their expectations for the upcoming term, expressing their hopes for the president's forthcoming agenda.
"I think it takes two terms to really get your agenda," said Memphis staffer Holly Coleman. "It's easy to be critical of a one-term president, but in two I believe that he can get everything that he wants to get done, done."
Coleman went on to express her hopes for the next four years. "In the next term I'm hopeful that Obama can get to the education reforms that I know he's interested in, as well as bolster the ailing middle class."
With his second term just beginning, President Obama faces challenges from all angles, but his campaign team is right behind him.
"Wherever the president decides to take both the White House and the Democratic Party within the next term, I have faith that it will be in the right direction," Simpson concluded. "I foresee President Obama dedicating his second term toward fully restoring the American economy and enacting comprehensive immigration reform.
"Obama has the skills and tools to get the job done; he just needed the time. Now, the president has been granted it."
See more inaugural coverage by 101 Magazine, The Hilltop and HowardUniversityNewsService.com, plus a mashup with Boston University and New York University.