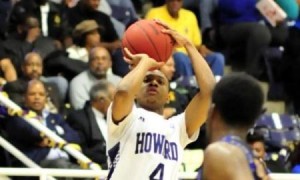 Despite the return of senior Calvin Thompson, the Howard University men's basketball team suffered a 56-53 loss to Delaware State on Saturday. In the last game of the season, also known as senior night, four Bison players fought hard in their finale in Burr Gymnasium.
In addition to Thompson, who dislocated his ankle in January, Anton Dickerson, Tre Lee and Mike Phillips are among this year's senior class. Each started the game for Howard (7-23, 4-12 Mid-Eastern Athletic Conference).
Thompson and Phillips orchestrated a 10-3 run to begin the game as they capitalized against early turnovers by Delaware State (13-15, 8-6 Mid-Eastern Athletic Conference).
Howard assembled the largest lead of the game at 14 as Phillips knocked down two free throws with 5:23 remaining to bring the score to 25-11.
After a field goal by Hornets guard Albert Thomas, Prince Okoroh sent the lead back to 14 with a put back layup, which happened to be Howard's last basket of the half.
Delaware State went on a 9-0 run to end the half at 27-22.
After an exceptional first half start, Howard's drought continued into the second half as Delaware State started a 7-0 run and took its first lead of the game.
"The seniors did a great job starting the game giving us a big lead, but that sluggishness came into the second half," said Howard head coach Kevin Nickelberry.
After Delaware State's 16 consecutive points, Phillips tied the game at 29-29 with a key field goal to slow down the Hornets' momentum. Phillips finished his final game in Burr Gymnasium with 16 points and 6 rebounds.
The game remained close throughout the entire second half with 11 different lead changes and eight tie scores.
Despite Howard's ability to keep the game close, the Bison could not contain 6-foot-7 Marques Oliver and 6-foot-10 Kendall Gray inside the paint, who combined for 16 points and 12 rebounds.
Howard also struggled from the free throw line in the second half, which has affected the team throughout the season down the stretch.
"You close games by getting stops and making free throws, and we did neither," Nickelberry said.
Howard shot 83 percent from the free throw line in the first half and 42 percent in the second half.
With 39 seconds remaining, Thomas sent the lead into the first two-possession game of the half by scoring off a Howard turnover, 51-47. Thomas led the Hornets with 14 points and 5 rebounds.
Although the seniors weren't able to catch a victory in their last home game, they look to compete in the MEAC tournament on March 11.
Coach Nickelberry believes getting everybody completely healthy is pivotal for the upcoming tournament. In his second game back from injury, Calvin Thompson scored 12 points and recorded three steals.
"He played well," Nickelberry said. "Slowly but surely he's getting back to what Calvin does. He's a big talented extra body."
Health, shooting efficiency, finishing down the stretch and sustaining early leads are each key factors going into the tournament.
Howard needs to "get everybody healthy, continue to press more and get these guys to play with as much confidence as they can," Nickelberry said.
Khari Arnold is a sports editor and reporter for 101 Magazine.