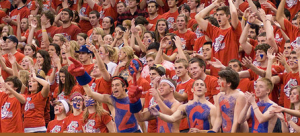 Gonzaga fans look to become the first school in history to win a national title after going undefeated in the conference, winning the conference tournament, and becoming the No. 1 seed in the Big Dance.
Simply put, it's that time of year again.
Some fans keep up with college basketball all season while others tend to tune in as March approaches. Nonetheless, filling out a bracket for the NCAA Tournament is something every die-hard sports fan has done at least once in their lifetime.
Whether you analyze every matchup or make your bracket just for the thrill, here are a few tips to know.
Upsets are inevitable. The top three shocking upsets in last year's tournament include the first round exit of No. 2 seeds Duke and Missouri, and No. 4 seed Michigan.
Last year's No. 15 seed and MEAC (Mid-Eastern Athletic Conference) team Norfolk State defeated Missouri in its first NCAA tournament appearance. This year, North Carolina A&T is representing the MEAC as they search for their second NCAA tournament victory. In their 10th appearance in the Big Dance, the 16-seed Aggies will face off against No. 1 seed Louisville Thursday.
Not saying an upset will happen here exactly, but keep in my mind as you make your bracket that anything is possible.
Not once has all four No. 4 seeds passed the Round of 32 together and advanced to the Sweet 16. In fact, over the past five years, at least one 13-seed has dominated a team in the Round of 64. Keep that in mind if you have St. Louis, Syracuse, Kansas State and Michigan all going deep into the tournament.
Also over the past five years, a No. 12 seed team has won in the Round of 64. In fact, 1988, 2000 and 2007 mark the only years a 12-seed did not advance to the Round of 32. They've surprisingly reached the Sweet 16 as often as 7-seeds. Therefore, it wouldn't be a bad idea if you have Oregon, Ole Miss, California or Akron making noise in the first few rounds.
In the end, No. 1 seeds should still have the upper hand with your picks when it comes to winning it all. Over the past 15 years, only five times has a No. 1 seed failed to win the championship.
With thought of upsets still in your mind, will Gonzaga, Kansas, Louisville or Indiana be the last one standing in your bracket?
Khari Arnold covers sports for 101 Magazine and The Hilltop at Howard University.