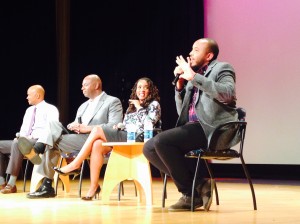 Justin Simien has just completed his first movie, "Dear White People," and it is already creating a buzz with positive reviews.
Simien has also landed a spot on Variety's "10 Directors to Watch" list and won the Sundance Film Festival's 2014 Special Jury Award for Breakthrough Talent.
"Dear White People," which opens Friday in select markets, is 148 minutes of what Simien describes as "a satire about being black face in a white place." While the film has garnered a lot of media attention, Simien's goal is to expose more than racial politics.
"I want people to leave in a state of self-examination," he said in a phone interview on Friday.
"Dear White People" takes place at the fictional Winchester University and mainly follows four African-American students (played by Tessa Thompson, Tyler James Williams, Brandon P. Bell and Teyonah Parris) at a predominately white campus. The characters seem superficial initially, but reveal themselves to be much more as the film progresses.
The film is about finding one's identity, Simien explained earlier during a screening at the Smithsonian Museum in Washington. He also experienced this type of soul searching while studying film at Chapman University in Orange County, Calif. He first drafted the script for "Dear White People" in 2006, and it wasn't as satirical. His concept trailer on YouTube went viral, attracting more than a million views and $50,000 in donations toward producing the film.
Simien was drawn to visual storytelling at an early age. He amusingly recalled his efforts to express his creativity by drawing comic books — a skill that he never fully developed — after seeing movies like "Beauty and the Beast." He later attended a performing and visual arts high school in Houston, where he was exposed to the elements of play productions. It was then that he realized those same components could be applied to film. "That's really where it solidified and where I figured out the kinds of movies I wanted to make," he said.
Notable filmmakers like Ingmar Bergman, Spike Lee, Bob Fosse and Stanley Kubrick also inspire Simien. It's no surprise that his favorite directors are known for not shying away from complex topics such as race, violence and illness.
"I love movies that leave me feeling some kind of way. That's what it's all about … when you can leave an audience feeling like they have to figure something out," he said mentioning films like "Do the Right Thing" and "Eyes Wide Shut."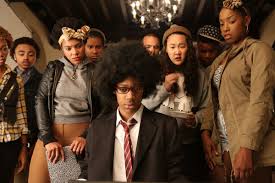 A Sense of Freedom
Creating a film about racial and identity issues can come along with a great deal of pressure. "Any person of color with ambition feels that responsibility, but it can un-do you if you don't check it," Simien said. "White filmmakers don't make movies with that pressure of having to somehow reflect their entire race and because of that, there's a sense of freedom in those movies." Simien believes that black filmmakers deserve that same freedom to create complicated films about the black experience.
In his film, Samantha White (Tessa Thompson), a bold mixed-race student, hosts a controversial campus radio show called "Dear White People," which addresses the insensitivity of white students. Simien initially related to Lionel Higgins (Tyler James Williams), a gay student who hasn't quite found his place at the university. After he started to promote the film, he began to relate to White. "She starts to have to represent an ideology in the film, and somewhere along the way she didn't get a chance to check in with herself," he said.
Simien has found himself in similar situations as the film gained more attention, because people often see him as a spokesman for issues affecting all African-Americans. However, he says that he's had to remind himself that he's not. "My job here is to tell the truth, drop a bomb and kind of run out the window and you all tell me what to do because I don't know!" 

He still longs for more multidimensional black roles in film. The characters in "Dear White People" even express this while standing in line at a ticket booth. "Can we have a movie with, you know, characters in them instead of stereotypes wrapped in Christian dogma?" Thompson's character asks.
"Even though it's noble to constantly project positive images, if you're not telling the truth, you're not really doing anyone a service," Simien explained. "Art doesn't really function if it's intentionally meant to be propaganda or a morality play."
However, Simien doesn't believe that those kinds of films shouldn't be made. He simply wants more diversity when it comes to black films. "There should be room for Spike Lee, Tyler Perry, Lee Daniels and Steve McQueen all in the same year," he said
"We have to support this movie when it comes to theaters," Simien said. "Dear White People" will be released in Atlanta, Los Angeles, New York and Washington, D.C., on Friday and nationally on Oct. 24.
"I hear a lot of people tell me about how disappointed they are in the representations of the culture and the truth is that we can't let movies like this come and go."
Robyn Hutson covers TV and film for 101Magazine.net.