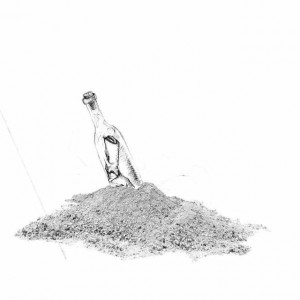 When many young adults think of jazz, they probably picture their grandparents forcing them to listen to so-called "good music" or Kenny G playing some corny elevator tunes that not only lack excitement but are absent of creativity. Neither of these images draw the youth towards this essential and revolutionary genre. However, on May 28 of this year when Donnie Trumpet and The Social Experiment released their widely anticipated debut album Surf on iTunes, perceptions of jazz changed for many young Americans.
The Social Experiment is a group of musicians and friends from Chicago that began to gain national attention when one of its members and rap's brightest young stars, Chance The Rapper, started to put their songs on his SoundCloud page. At first, it seemed as if Chance was just a feature rapper for the band, then it was thought that he was the leader of The Social Experiment, but it wasn't until his February appearance on The Breakfast Club radio show that his participation in The Social Experiment became clear. Chance stated that he is just a member of the group and that his friend, Donnie Trumpet, the band's trumpet player, was the leader. This clarification could explain the heavy usage of brass instruments in the Social Experiment's singles and on their album Surf.
Despite the strong instrumental and jazz presence throughout the project, Surf is technically a rap album. Sticking to the latest rap trend of surprise album releases, Surf was dropped with no warning and was marketed with little promotion. However contrary to other sneaky hip-hop releases where the unconventional drop is paired with pretty standard pricing, Surf appeared on iTunes for free.
The price tag was not the only thing that separated Surf from other recent rap albums; upon listening to the first song on the album, titled "Miracle," it is immediately apparent that the Social Experiment is actually a full fledged jazz band with a multitude of talents and not merely the backup band of Hip-Hop's young favorite, Chance. By the second song, "Slip Slide", in which Busta Rhymes and B.o.B are the first of many unannounced features, listeners begin to see the brilliance behind the element of surprise within Surf. Fans, craving to find out what other hidden gems The Social Experiment have tucked away in their album, pay careful and meticulous attention to each detail in every song. Surf, with each song having potential for star-studded features, keeps fans interested and eagerly combing through each song and verse.
Along with the endless surprises throughout the album, the Chicago-based collective seamlessly weaves together jazz and rap in ways that have seldom been done before. A perfect example of this would be the track "Familiar," which is laced with an infectious jazz beat that seems right up Chance the Rapper's ally. But Chance surprises his fans when he welcomes another Chicago-bred rapper King Louie on the track. King Louie, a rapper who's music is often falls under the Drill Music sub-genre of Hip-Hop, contributes his raspy rapping abilities to the song. Straying a bit from his usual dark and grim lyrics, King Louie provides his verse with energy that's more congruent to the fun-loving style of Chance and The Social Experiment. Then, just as listeners are recovering from King Louie's fantastic verse, you hear the ad-lib of Quavo, one-third of the Atlanta trio Migos. Quavo, a rapper who's verses are frequently categorized as Trap Music, delivers a sing-song auto-tuned verse with Trap Music origins that meld well with the lively and merry energy Chance creates earlier in "Familiar." These contributions from two of Trap and Drill Music's residing kings show the surprising and impressive versatility and adaptability of not only King Louie and Quavo, but also The Social Experiment's music as a whole.
"Familiar" is just one of the many impressive tracks on Surf that showcase the talent of rappers as versatile artists all while bringing the genre of jazz back to the forefront of African-American art and culture. This could not have came at a more important time for both genres. Consider that Hip-Hop remains the fastest growing genre of music in America, yet it fails to receive artistic respect by much of the American population due to it's underground roots (among other things). Meanwhile, Jazz, the genre that contributed and led to the birth of Hip-Hop, has been losing its popularity and pull among youth for some time.
By producing Surf, The Social Experiment uses the popularity of rap to bring attention back to the dazzling and brilliant genre of jazz while also promoting the artistic ability of today's rappers. The blending of jazz and rap on Surf was certainly a risky project for the Social Experiment to take on, considering the trajectory of a lot of current rap music. This risk, however, was certainly met with reward. The popularity and critical acclaim the album has received laid the foundation of excitement and anticipation for The Social Experiment's solo projects. Much of this excitement is, of course, focused on Chance's debut solo album which has no rumored release date as of now. But if Surf is a predictor for future projects, then the new wave of rap that his album will usher in will be worth the wait.
Xavier Hamilton is a contributing writer for 101 Magazine.