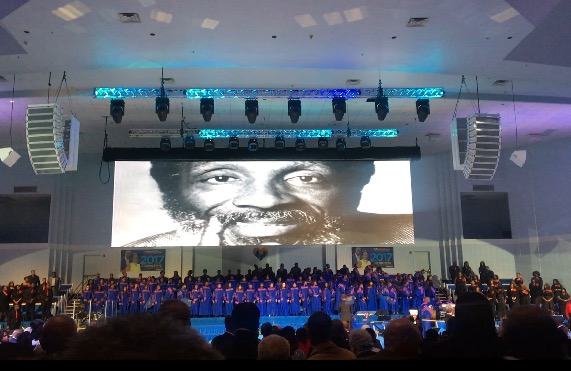 In a sign of the many lives he touched, hundreds from all over the nation came to celebrate the life of comedian and activist Richard "Dick" Claxton Gregory, who used his comedy to spread his truth about injustice on college campuses and elsewhere.
Gregory, 84, died in August, leaving behind his wife Lillian Gregory, and 10 children, who were all in attendance for the service at the City of Praise Family Ministries in Landover, Md., yesterday. Attendees honored and praised each member of the Gregory family, especially his wife, who was championed as his backbone and a mother of the movement.
Gregory's activism broke many racial barriers and brought attention to issues throughout the years.
Though the celebrity tributes included actor Joe Morton, singer India Arie and U.S. Rep. Maxine Waters (D-Calif.), the most touching and memorable tribute came from his daughter, Ayanna Gregory.
Ayanna sang a song called "A Ballad for My Father" from her play "Daughter of the Struggle" with a photo montage of her father and family. There wasn't a dry eye in the house, as she highlighted the sacrifices that her father made for the African-American community.
Dr. Martina Washington, 57, was particularly excited about Ayanna's performance because she had seen the play multiple times. Washington said it was easier for her to embrace the song, since her own father and Gregory knew each other pretty well.
"It's just been really touching to my heart and overwhelming. Just, the love and the stories — everybody has a story about Dick to share and it feels good," she said. "But, when Ayanna got up there and sang that song? It was over."
Numerous people honored Gregory's family and legacy, including the children of his former friends and activists like Malcolm X and the Rev. Dr. Martin Luther King Jr.
Martin Luther King III; Ilyasah Shabazz, daughter of Malcolm X; Rain Pryor, daughter of Richard Pryor; and Reena Evers-Everette, daughter of Medgar Evers, all took the stage to send love to the Gregory family, while sharing what he meant to their fathers.
"I bring greetings of peace and power from the Shabazz family," Ilyasah Shabazz said. "He [Gregory] raised his voice for Malcolm and Martin Luther King Jr. and Medgar Evers and all others who were slain by bullies and bigots because they could not do so for themselves … let us not forget the indelible mark that he left on this world."
Being that Washington, D.C., was the last place where Gregory lived, Mayor Muriel Bowser and Delegate Eleanor Holmes Norton (D-D.C.) honored him on behalf of the district.
"We loved him and he loved us back," Mayor Bowser said. "There is one word that I will always associate with Dick Gregory and that is 'free.' He was free in thought and word and deed and now, his soul is forever free. Let all Washingtonians live up to what he did for us until we, too, can call ourselves free."
Though various tributes were fiery, hilarious and heartwarming, Waters shared her plans to "clean up" the White House. She began by jokingly saying she would need more than the speakers' proposed time limit of three minutes.
"I'm at a time now that I wish I could sit with Dick, because I've got work to do. I'm cleaning out the White House. We're sanitizing the White House," she said, drawing cheers from the crowd. "Ladies and gentlemen. Yes, I'm here tonight because I'm reclaiming my time. I'm reclaiming our time. We've got to reclaim Dick Gregory's time … so, Dick, talk to me, advise me. I'm listening."
The overall atmosphere was indeed a celebration of Gregory's life, which is what his family, specifically son Christian Gregory, acknowledged that it would be. "We thank him for a life of sacrifice and while we celebrate his life, we acknowledge all of the pain but still all of the glory," Christian said. "What a pleasure it is that a man who gave so much, lived to be 84 years old."
Ayanna Alexander is a reporter for the Howard University News Service.